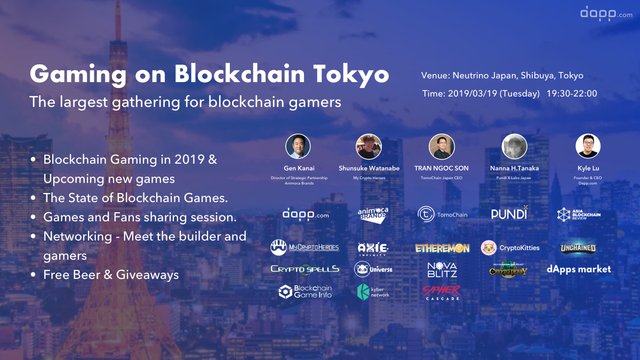 【English】(日本语 ▼)
Dear Gamers & Blockchainers in Tokyo!
Join us to talk about blockchain games and dapps - Here is what you will get from the largest gathering meetup for blockchain gamers.
Blockchain gaming in 2019 and upcoming new games!
The state of blockchain games.
Games and fans sharing session.
Networking - Meet the builder and gamers!
Free beer and giveaways!
===Agenda===
19:00 - 19:30 Registration
19:30 - 19:45 Opening & Introduction
19:45 - 20:30 Speaker Session
MCH, game usability and normal social games - My Crypto Heros
Sandbox, decentralized gaming made by players - Animoca Brands
Gaming on Blockchain - TomoChain
How would Pundi X ecosystem facilitates dapps - PundiX
20:30 - 21:30 Games and Players Session
Game developer & fans sharing from Axie Infinity, Ethereumon, CryptoKitties, Gods Unchained, Blockchain Cuties, CryptoSpells, Nova Blitz, CryptoDerby, Cipher Cascade, and more!
21:30 Q&A + Networking
===Guest Speaker===
Shunsuke Watanabe – Engineers at My Crypto Heroes
Kyle Lu – CEO & Founder of Dapp.com
TRAN NGOC SON: CEO of TomoChain Japan
Nana H.Tanaka - Pundi X Labs Japan
Gen Kanai - Director of Strategic Partnership at Animoca Brands
And gamers representing their favourite games!
Signup on Meetup: https://www.meetup.com/Dapp-com-Community-Meetup/events/259722242/
【日本语】
東京のGamers&Blockchainersの皆さん、こんにちは。
ブロックチェーンゲームとdappsについて話すために私達に参加してください - これがあなたがブロックチェーンゲーマーのための最大の集会集会から得るものです。
2019年のブロックチェーンゲームと今後の新しいゲーム!
ブロックチェーンゲームの状態
ゲームとファンがセッションを共有します。
ネットワーキング - ビルダーとゲーマーを出会おう!
無料のビールとプレゼントをご用意しています。
===議題===
19:00 - 19:30登録
19:30 - 19:45オープニング&イントロダクション
19:45 - 20:30講演者セッション
MCH、ゲームの使いやすさ、そして通常のソーシャルゲーム - My Crypto Heros
サンドボックス、プレイヤーによる分散型ゲーム - Animoca Brands
ブロックチェーンでゲーム - TomoChain
Pundi Xエコシステムはどのようにdappsを容易にするでしょうか - PundiX
20:30 - 21:30ゲームとファンの会
Axie Infinity、Ethereumon、CryptoKitties、Gods Unchained、Blockchain Cuties、CryptoSpells、Nova Blitz、CryptoDerby、Cipher Cascadeなどからゲーム開発者とファンを共有!
21:30 Q&A +ネットワーキング
===ゲストスピーカー===
•渡辺俊輔 - My Crypto Heroesのエンジニア
•Kyle Lu - Dapp.comのCEO兼創設者
•TRAN NGOC SON:トモチェーンジャパンCEO
•田中奈々 - Pundi X Labs Japan
•Kanai Gen - Animoca Brandsの戦略的パートナーシップ担当ディレクター
そして自分の好きなゲームを代表するゲーマー!
About Dapp.com:
A one-stop platform for the dapps you'll love. Explore and enjoy thousands of ranked blockchain games, social network, tools & more built on Ethereum, EOS, STEEM, NEO & TRON.
https://www.dapp.com/
About My Crypto Heroes マイクリプトヒーローズ:
The No. 1 dapp game in Japan - A quick and casual worker-placement RPG. 🎮
https://www.mycryptoheroes.net/
About TomoChain:
TomoChain is an innovative solution to scalability problem with the Ethereum blockchain, and other blockchain platforms.
https://tomochain.com/
About Animoca Brands:
Animoca Brands (ASX: AB1) leverages gamification, blockchain, and artificial intelligence technologies to develop and publish a broad portfolio of mobile products including games such as The Sandbox, Crazy Kings, and Crazy Defense Heroes as well as products based on popular intellectual properties such as Garfield, Snoopy, Thomas & Friends™, Ever After High and Doraemon.
https://www.animocabrands.com/
About Pundi X:
Pundi X helps transform retail businesses with its blockchain-based point of sale solution. Making cryptocurrency accessible to everyone.
https://pundix.com/