Morning Meditation: Jesus Stills the Storm, and the Drama of Cryptocurrency
Mark 4:35-41:
"On that day, when evening had come, he said to them, 'Let us go across to the other side.' And leaving the crowd behind, they took him with them in the boat, just as he was. Other boats were with him. A great gale arose, and the waves beat into the boat, so that the boat was already being swamped. But he was in the stern, asleep on the cushion; and they woke him up and said to him, 'Teacher, do you not care that we are perishing?' He woke up and rebuked the wind, and said to the sea, 'Peace! Be still!' Then the wind ceased, and there was a dead calm. He said to them, 'Why are you afraid? Have you still no faith?' And they were filled with great awe and said to one another, 'Who then is this, that even the wind and the sea obey him?'"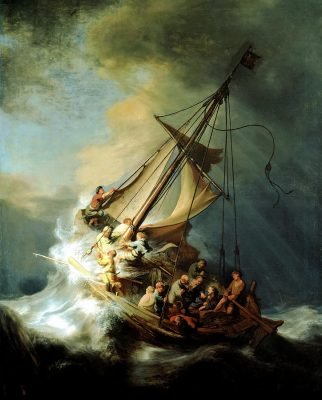 It is recent times when the doom and gloom of the crowds remind me to step back. Take a break from the screen and phone or meet up with a friend. Work and money ebb and flow. Jesus had the audacity to SLEEP while the boat was being swamped! Didn't he see the storms all around him? Why wasn't he panicking too? That tells me something. It gives me a reminder that following the panic of the crowd isn't the only path to take.
The panic is only amplified across the Internet, when one feeds upon another in a darkening spiral. I'm sure that this is the type of panic that the Apostles felt that only worsened matters. They had nothing else to put their faith in and so resorted to despair and desperation. How dark it is before the dawn!
My friends are still here, family is still here. I've always made it to the other end when all hope seemed lost. And I barely remember what troubled my heart even a year ago. In the moment, it felt so direly important at the time. But there are friends and family who calmed my heart and have stood by over the long haul. Don't lose sight of the real people who are there for you, and the enduring God.