Ice Plant - Edible, Medicinal Succulent
Mesembryanthemum crystallinum
With its crystal-like fluid pockets on the surface of its leaves and it's white to pink daisy-like flowers, this unique plant resembles an underwater anemone.
---
---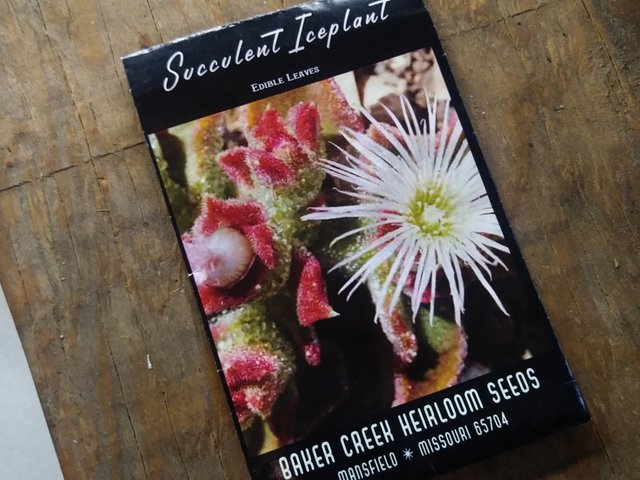 ---
---
Native to Africa, ice plant was likely spread to North and South America by sailors who made ballast dumps, containing the plant, close to the shores. Potted ice plant was common on ships making long voyages. It was used to prevent and treat scurvy.
In the early 19th century, before commercially available soap and chemically synthesized sodium carbonate (soda), ice plant was used in the Canary Islands for making soap and producing soda. The crushed leaves of ice plant make an excellent soap substitute.
Culinary Ice Plant
The leaves, flowers and seeds of the plant are edible. There's also a small fruit that is left behind by the flower, and it is also edible.
Ice plant is highly salt tolerant and actually draws the salt out of the ground. So, the leaves of the plant taste salty and are slightly acidic tasting.
The leaves of the plant can be stir fried, steamed or eaten raw. They can even be pickled like cucumbers!
I found a recipe I'm very interested in trying. I'm not sure what to call it, but here it is.
1/2 lb ice plant leaves
1/2 garlic clove minced as finely as possible
3 TB soy sauce
2 TB rice vinegar
1 TB sugar
1 TB oil
1 TB sesame oil
1 TB roasted sesame seeds - optional
Mix it all up and toss it with the ice plant leaves.
Easy peasy. :)
BONUS
I'm going to send one of you some ice plant seeds! All you have to do is leave me a comment, and tell me why you want to grow it. That's it. At payout time, I'll choose a winner randomly. (Sorry, this contest is open only to those in the U.S.)
Medicinal Succulent
The medicinal claims for ice plant range from a treatment for psoriasis to a preventative for liver disease. Let's look at some of the claims and studies.
In a study published by the U.S. Library of Medicine and the National Institutes of Health, a cream made from ice plant showed significant dermatological effect in terms of moisture and softness when compared to basic skin creams.
In another study by The Laboratory of Galenic Pharmacy, Faculty of Pharmacy Monastir, Monastir, Tunisia and the Laboratory of Plant Adaptation to Abiotic Sresses, Center of Biotechnology of Borj Cédria (CBBC), Tunis, Tunisia, showed that Mesembryanthemum crystallinum has antioxidant and staff fighting antibacterial properties.
Research published by pubmed.gov reports an antiobesity effect of ice plant. The study also shows that the plant is rich in pinitol which lowers blood sugar, and myo-inositol which prevents fatty liver disease. It also shows promise in the prevention or reduction of the symptoms of metabolic disease.
Many people use a face cream with the juices of the crushed leaves of ice plant to prevent aging and tone the skin.
I have never used ice plant medicinally, but I'm excited to add it to our home apothecary!
Thanks for stopping by! Have a wonderful week!