---
INTRODUCTION
---
Music; they say; is the medicine of the soul, and I have proven this assertion to be true. This can explain my love for music and anything related to music. Believe me, there is no feeling as uplifting as listening to a soothing music when you do not know any other thing to do. However, music is one of the heavily pirated contents on the internet - sharing and distribution of pirated musical contents has become like a norm, and this has delt a heavy blow on the music industries. Artists and producers are on the receiving end, and one may ask "what is the way forward?" A solution has been found for this: The integration of blockchain technology into music platform; I'm talking about VOISE.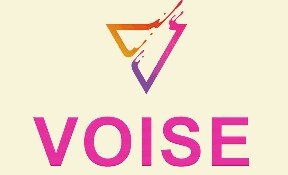 ---
WHAT IS VOISE?
---
VOISE is a decentralized musical platform created by the duo of Andre Ledoux and Qamar Kaleem and runs on the Ethereum blockchain technology. As against the conventional music platforms like Mp3juices, Naijaloaded, and Naijaflaver that host musical files in a centralized server; which can be prone to piracy or even cyber attack, VOISE hosts the individual music in a peer-to-peer framework. This will allow the independent producer or artist to have absolute right over their contents; which is where the monetization comes into play. In sharing of musical files, instead of hosting it in a localized server, it is sent directly to the end-user, thereby circumventing any form of middleman.
To lay hold on any artist's song, a demand will be placed on the VOISE platform, and the request will be filled through a specific smart contract, and the song will be released to them, and of course, payments are made in cryptocurrency. VOISE platform is powered by an internal token; the VOISE Token, which is currently trading on major exchangers like Cryptopia, Bit-z, Live Coin, and HitBTC - at the time of making this review, VOISE is worth $0.0006 per token. Other cryptocurrencies are supported by the platform though, but service charges will apply. The good thing about VOISE platform is; the price of each artist's song goes to the artist and not the platform itself: no wonder it has earned a comfortable place in the StateOfTheDApps ranking.
Uploading of songs and the usage of the platform is open to everyone, but your level of influence is dependent on the VOISE Tokens at your disposal. Just like in the Steem blockchain, your influence is a direct function of your Steem Power (SP), so also in VOISE, the tokens you have is equated to the influence your command. These tokens can be used to purchase musical files of your choice, or even supporting an upcoming artist or your favourite artist.
---
HOW VOISE WORKS
---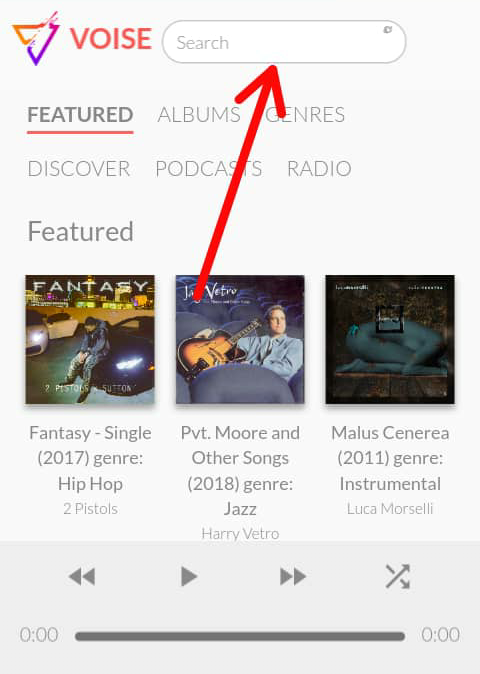 Just like the aforementioned music hosting sites, VOISE incorporates a protocol that enables users to browse through songs, which can be sorted by artists, genre, or by popularity with ease. The platform itself also functions in full capacity as a crypto wallet where you can store your tokens and can be transferred between wallets. In this case, it is not a prerequisite for you to install third-party wallets like metamask plugin, because your transactions will be made manually in the internal wallet. Also, VOISE incorporates a search engine of low precision index - that means; you can search for the songs you need by just using the keywords, and it will list some possible search results to choose from.
When choosing a song from a playlist, you have the option of playing a free sample of it (which is usually a cropped version of the song), and if it fits into your choice, you can place a demand for it, and pay with your tokens. Another amazing feature incorporated into VOISE is the "Decentralized Autonomous Organization" - this enables people to place a vote of songs they want to be featured on the platform through a decentralized voting process. This is where the influence of your token comes into play. The more VOISE tokens you have, the larger the weight of your vote (just like it is applicable on the Steem blockchain).
---
GETTING STARTED WITH VOISE
---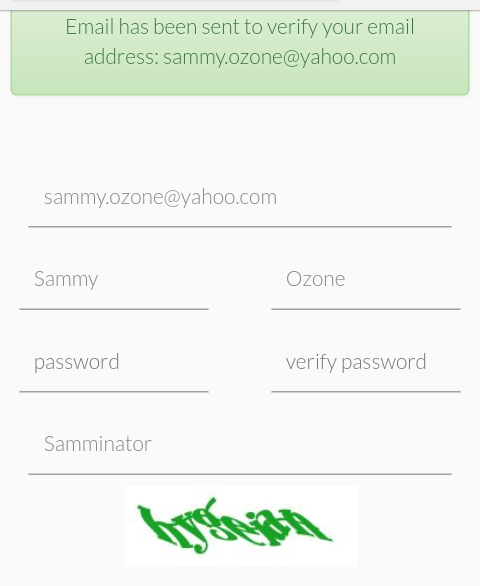 VOISE works on both the desktop and the mobile platforms, but much more than that, VOISE Android App has been launched, which has made it easier to interact with the platform on-the-go. The Android App can be downloaded from Google Playstore or from the download interface of the portal. The App is currently in the beta stage and the iOS App is hoped to be launched soon. To get started with VOISE, you need to sign up to the Portal and input your details which will also be used to create your VOISE internal wallet for transactions. Once this is done, you can go ahead to interact with the platform - either as a user or a content creator (musical artist). If you are a musical artist, you do not have to worry again about piracy, because with VOISE, the distribution of contents can only be done via P2P network. Here's an infographical representation of how VOISE works.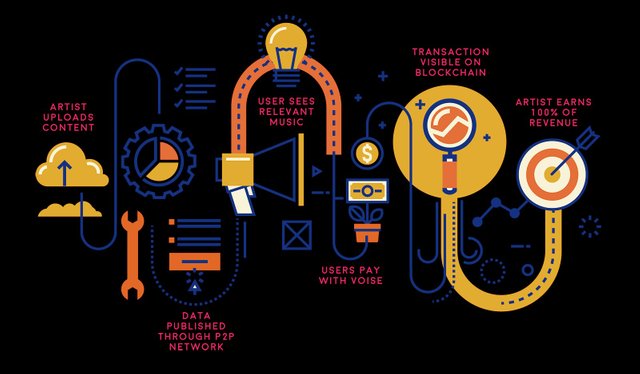 [property of VOISE]
---
FINAL REMARK
---
I will give a big kudos to VOISE for incorporating the blockchain technology into music platform - no doubt, this is set to revolutionize the entire music industry. There are some updates that will further increase the adoption of this platform: Firstly, it will be nice to incorporate live podcast feature into the platform; where live audios can be streamed in real-time. With this, it can be adopted for e-conferences. Secondly, it will be nice to incorporate a kind of digital signature into songs uploaded on the platform, so that they can be traced back to their sources, and will further prevent piracy. On the overall, I give VOISE a 4/5 rating.
---
Disclaimer: The content of this article is not meant to serve as financial advice, please do your own research.
Images are properties of VOISE and are used for the purpose of reviews