MBDs- Monster Backed Dollars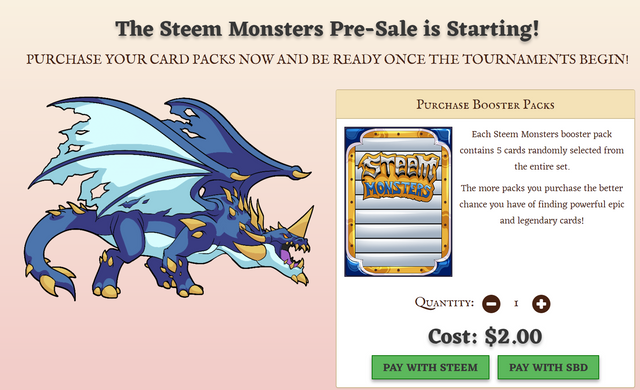 I may have just created an actually pegged asset... Can we just shoot the shit for a second on Monster Backed Dollars?
What am I talking about?
Ok, I've joked about creating Aggroed Backed Dollars. It would be a commodity that would live on the blockchain and always represent exactly $1. We can't do that with SBDs at this point because there are a lot of variables in the system and shit is super complicated. There has been some debate over the reverse conversion, but it isn't pretty. There isn't a clear consensus on what to do with it. People want a stable currency because it's good for merchants. Bloggers want a high SBD because it's good for post payouts. Investors want a stable currency that sometimes spikes like crazy. There are multiple stake holder groups and they want different shit.
So, it's ugly, and the fate of SBDs are unclear.
Steem Monsters
I created Steem Monsters with @yabapmatt to just have a game... we thought this thing would do well. We had no idea it would explode like this. Yaba says he thought it might happen... I did too, but not alpha, and surely not before the intro post closed. We're nearing $30k USD! This is fucking unreal.
So, I'm going to increase the price per starter kit. I don't know when. I'm not in a rush. Probably after each major milestone I'll increase the price. So, next major one is auction house... when that's ready I'll up it. But the booster packs I have zero intention of raising the price on any time soon. $2 is fair. I'm not here to overcharge... but if that's a stable price point then there's some stuff we can do with it.
MBD
Let's say we open up the option to buy a large volume of packs. Maybe put in a discount to sweeten it some. Price of Steem spikes and you want to take it out of volatile steem, but you don't want to put it in SBD because that's volatile too, and you don't want to move it into an exchange because you're gonna lose some anonymity, and you don't want to cash it out to USD using coinbase because you're worried about tax implications... Maybe you're willing to use tether and Bittrex, but you also have some concerns about that.
Just hear me out for a second. We're building an auction house. What if you could buy 20k packs at a discount. Then you could hodl them when the price of steem is high, sell them when it's low, and now you basically have a hedge against fluctuating prices. Let's assume some buyers dried up... you could start unpacking the cards and buying and selling legendaries etc. You probably wouldn't want to do that for 20k packs... but it could theoretically be an option. The fact that we'd be making bank on cards would allow us to pump tournament payouts through the roof and that would keep demand for cards and the game quite high.
Packs become the new $2 bill. I'm just spit ballin' here. But if we have thousands and thousands of users this could be a way to lock a currency price in place and it's digital asset backed. How's that for a crazy idea? Wanna trust your savings to bulk purchases of Steem Monster Booster Packs otherwise known as MBD?