My Vision Board 2018: To A Better Me and A Prosperous 2018
---
I'm late for this Vision Board 2018 Contest initiated by @maverickinvictus, but I still want to post it for two reasons:
1 It's my first time to create a vision board and I enjoyed doing it. Conceptualizing is so hard but full of fun. Creating it on my phone is the hardest since I don't have a stylus. With that, I want to share the fruit of my labor. :)
2 I want to post it so that I can see it anytime. I might lose it or grandma might throw it when 2018 is about to end. But, if I post it here, I will always remember the day that I made my first vision board on 2018.
I'm a person who does not claim that, Oh this year will be my year! I'm more of a fish who swims naturally with the river's flow of current! I don't know what lies ahead my future and I'm trusting God on that.
Also, I easily got depressed and disappointed whenever there's something I want to do but I can't and will not be able to do it. That is why I just go with the flow.
However, ever since Steemit happened, I always try to do the things I usually not do. And one of this is creating a vision of 2018. So yeah, here is my 2018 Vision Board.
l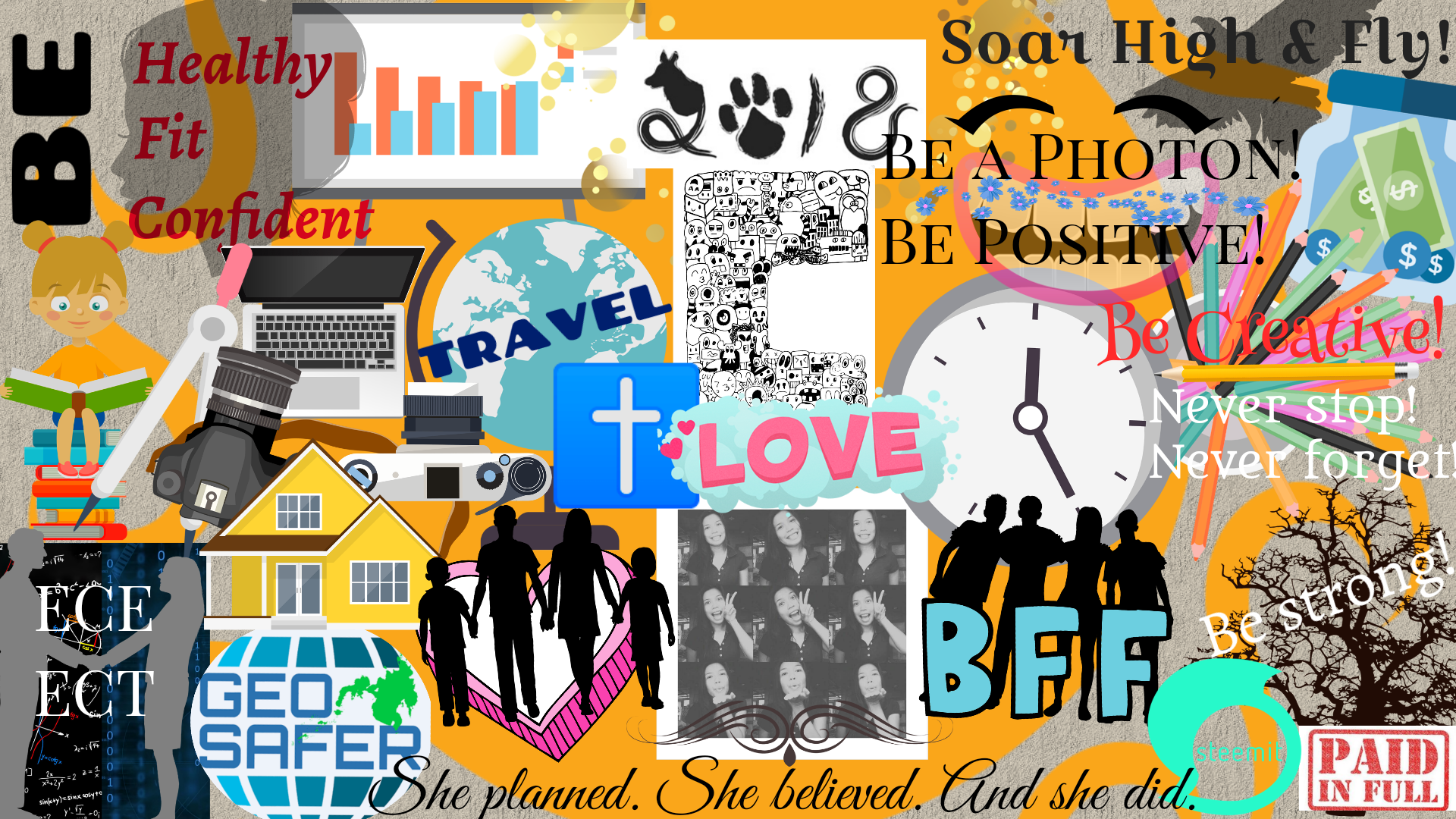 ---
BE HEALTHY, BE FIT AND BE CONFIDENT
---
Oh it's the fact that I'm not getting younger any longer , so I need to burn these unwanted and to eat healthier foods! I already started going to a fitness gym on January 3 this year and I'm planning to enroll swimming or muay thai this year also!
I also think to be able to gain more confidence is to become fit and healthy.
---
READ, LEARN and GROW
---
Knowledge is never ending. I want each day to be a day of new knowledge and I want that for this year. I also want to read non-fiction good books or even fiction is okay! I need to feed my bibliophile side of me.
---
ECE, ECT & MY LOVE
---
My love is our endearment, when we are alone or when no one can hear us. We are both Electronics and Communications Engineering (ECE) Graduate and both of us haven't taken the board exam yet. With that, I want to study again Mathematics, Electronics and Communication even though we won't take the Board Exam yet. I also put ECE and ECT in between as a reminder that we need to save and study for these titles.
---
INVESTMENTS
---
I already have two business circulating on my mind. The first one I want it to be achieved this year and for the second one, it is a hard but I want to save another money for this!
Moreover, Online shop and mini store are some of what I already invested. It was a nice investement with my two lovely colleagues.
---
PHOTOGRAPHY, ANIMATION & VIDEO EDITING
---
I want to involve myself in the field of multimedia. I want to capture the beauty, God has given to us. I've been dreading to learn animations and video editing. With that, I need to save more for a new laptop, a hard core one! I'm planning on buying this year.
---
TRAVEL
---
We all love to travel. You get to know their cultures and traditions! Traveling is to learn and to know yourself even more. For this year, I want to travel alone, to travel with my family and to travel with my partner.
I also want to travel with my old man, Lolo Panyong. I want to visit him again not later than the month of May and be able to attend on his birthday this August! The travel time is quite long with roads that are butt-cracking but I still want to see him again! Soonest!
---
HOUSE RENOVATION
---
I want to renovate our house. Mama already told me to think and design for a better floor plan and interior design. I may not be able to fully renovate it but I want to start the renovation this year!
---
EAGLE
---
I want to jump and fly high! I need to go out from my comfort zone. I was given a task this month, at work, and I want it to be done smoothly. I don't have the hundred percent confidence but I will still strive harder and harder. I need to be a better version of yesterday!
---
BE A PHOTON, BE POSITIVE!
---
If I want to soar high, I need to be more positive in every way. I need to believe in myself that I can do it and no matter how difficult the trials are, I can overcome it knowing that God is in me and with me always!
---
SAVE
---
I have lots to save this year,
for the board exam review
for the business/investment
for my travel in Japan (2020), hopefully!
for my sisters' future
for my parents and grandparents
for my future.
---
BE CREATIVE
---
I want to learn again. I want to draw, sketch, calligraphy and paint like it's part of my system. Realism is my first target then realistic coloring and then painting.
---
NEVER STOP, NEVER FORGET
---
This is sort of a broad phrase.
Never stop believing.
Never stop learning.
Never forget to cheer up.
Never forget to look back.
Never forget the people who helped me.
Never stop helping my loved ones
Never forget that God is with me carrying me and my burdens.
Never stop pursuing what you love.
Never stop growing.
It's a long list, actually! This serves as one of my inspirational phrase, perhaps.
---
FRIENDS
---
I want to be a bit friendlier this time. I'm a person who doesn't care if you will not say hi to me, that's because we are not that close. I'm planning to teach myself how to mingle with others on our first meeting and such. I want to make new friends.
Also, this year, I am hoping to have a reunion or quality time with my closest friends and best friends.
---
TIME
---
I need to start using my time wisely. I only have one body yet I have a full time job (researcher), a part time job (steemit blogger, hahaha), a teacher for our youngest sister (6 years old), a tutor for my grade school sister and sometimes to my college sister, a woman with an online business and a woman in love. Hehe.
Procrastination is strictly prohibited this time. I also need to exercise on being a punctual. If I want to have a productive 2018, I need to be on time and manage my time wisely. (I'm still open for a 2018 Planner gift, Paolo Coelho Freedom!! Hehe)
---
BE STRONG
---
I put a tree on it because a tree has deep roots and a strong trunk as its foundation. Thus, I need to have a strong mind and heart to pursue and do what I love the most! I must never bend nor break. Yes, it is inevitable that sometimes human tend to bend, but I must never forget that I must never break!
---
LOVE and CROSS
---
With that, to be able not to bend and break, I need Jesus. His love is so pure and He will never leave me behind.
I also want this year to be much closer to Him than before. I want to be active again as a Christian Youth Fellowship (CYF) and participate in every leadership and conference activities.
I put The Cross, Jesus, and the word Love, heart, at the center of my shameless pictures and my doodled first lettee of my name which is letter C to indicate that Jesus must always be in my heart.
---
PAID IN FULL
---
I don't want to go deeper into this topic but all I can say is I want to help my family even if my hair turns grey as early as 20's and even if it means to have two or three jobs!
---
Geo-SAFER Western Mindanao
---
I want to be a proud researcher that contributes to the project in her own little ways. I want to work with no more distractions.
---
STEEMIT
---
To have a high reputation
To help my friends who still have low earnings.
To be more productive.
Because Steemit is a staircase of learning and earning.
---
The Background: Grey Color and The Sun
---
If and only if, some of these will not be accomplished, there will be another year to start. So I just need to cheer up and strive harder and remember to be strong and never stop and never forget phrase!
Hopefully, I will be able to say this before 2018 ends,
She planned. She believed. And she did.
---
That's it guys!
May we all become the better version of ourselves everyday and have a productive and prosperous 2018!!
---
---
💋 kneelyrac 💋
---
---
Hi everyone!!
I encourage you all to support and vote
Terry @surpassinggoogle, @blocktrades and also @precise as your witness.
Just click here and type 'steemgigs', 'blocktrades' and 'precise' on the first box.
---