Tree Mountain - A Living Time Capsule by artist Agnes Denes. "The tree is made by nature, mathematics by people. And combining the two is creating this beautiful alliance between humanity and nature. That's why my forests are mathematical expansion systems, all of them." - Agnes Denes In 1992, 11,000 people planted 11,000 pine trees on an artificial mountain near Ylöjärvi, Finland forming a mathematical pattern based on the golden ratio. The golden ratio appears in all forms of nature and science including flower petals, seed heads, pine cones, tree branches, hurricanes...The trees will bear the names of the planters and remain their property through succeeding generations. The trees can change ownership—people can leave their tree to their heirs, or transfer it by other means, even be buried under it—but Tree Mountain itself is legally protected for 400 years. Photos and illustrations are from the original planting and recent photos. Photos: CC BY-SA 2.0: Strata Suomi and Agnes Denes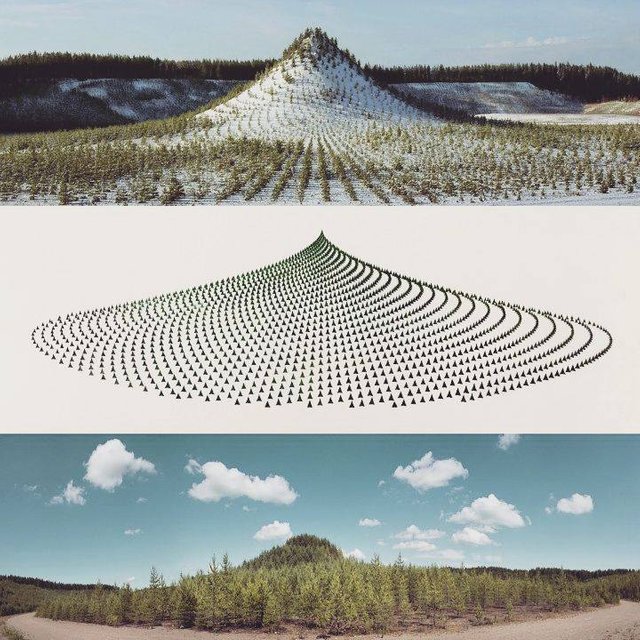 1992 ile 1996 yılları arasında Agnes Denes'in "Ağaç Dağı" adlı projesi kapsamında Finlandiya Ylöjärvi yakınlarındaki çıplak bir arazi, 11 bin kişi tarafında, 11 bin ağaç dikilerek matematiksel bir modele uygun olarak yeşillendirildi.
Bölge 400 yıl koruma altında bu arada...
Sanatçının amacı, elbette insanların iklim değişikliği, çölleşme gibi sorunlarla yüzleşmesini sağlamak..
Ayrıca bknz.
http://www.strataproject.org/agnes-denes.html
http://www.agnesdenesstudio.com/works5.html