In this video I go over an example on differential equations and show that the family of functions y = (1 + cet) / (1 - cet), where c is a constant, is a solution to the differential equation y' = 1/2(y2 - 1). The process of proving that it is indeed a solution is to simply take the derivative of the family of functions and ensure that it satisfies the differential equation, which I show that it clearly does.
---
Watch on DTube:
Watch on BitChute:
https://www.bitchute.com/video/yCxVQRE3q9dv/
Watch on BitTube:
https://bit.tube/play?hash=QmQeHLZ8RHYK7Eem9LvwkByWGwx19tU5RgGbbdVB1Wprcw&channel=111547
Watch on YouTube:
https://youtu.be/n575RKO48Ro
Download PDF Notes:
https://1drv.ms/b/s!As32ynv0LoaIhsFwy6vbLODQ0spUnA
---
View Video Notes Below!
---
Download These Notes: Link is in Video Description.
View These Notes as an Article: https://steemit.com/@mes
Subscribe via Email: http://mes.fm/subscribe
Donate! :) https://mes.fm/donate

Reuse of My Videos:

Feel free to make use of / re-upload / monetize my videos as long as you provide a link to the original video.

Fight Back Against Censorship:

Bookmark sites/channels/accounts and check periodically
Remember to always archive website pages in case they get deleted/changed.

Join my private Discord Chat Room: https://mes.fm/chatroom

Check out my Reddit and Voat Math Forums:

Buy "Where Did The Towers Go?" by Dr. Judy Wood: https://mes.fm/judywoodbook
Follow My #FreeEnergy Video Series: https://mes.fm/freeenergy-playlist
Watch my #AntiGravity Video Series: https://mes.fm/antigravity-playlist
Follow My #MESExperiments Video Series: https://mes.fm/experiments-playlist>

---

NOTE: If you don't have time to watch this whole video:

Skip to the end for Summary and Conclusions (If Available)
Play this video at a faster speed.
-- TOP SECRET LIFE HACK: Your brain gets used to faster speed. (#Try2xSpeed)
-- Try 4X+ Speed by Browser Extensions, HookTube.com, Modifying Source Code.
-- Browser Extension Recommendation: https://mes.fm/videospeed-extension
Download and Read Notes.
Read notes on Steemit #GetOnSteem
Watch the video in parts.
---
Modeling with Differential Equations: Example 1
Show that every member of the family of functions:

is a solution of the differential equation:

---
Solution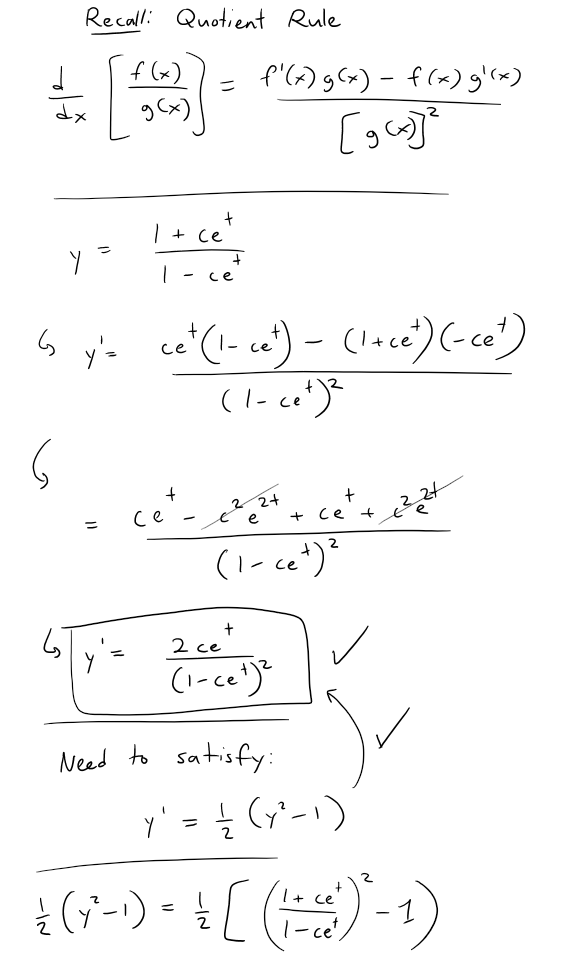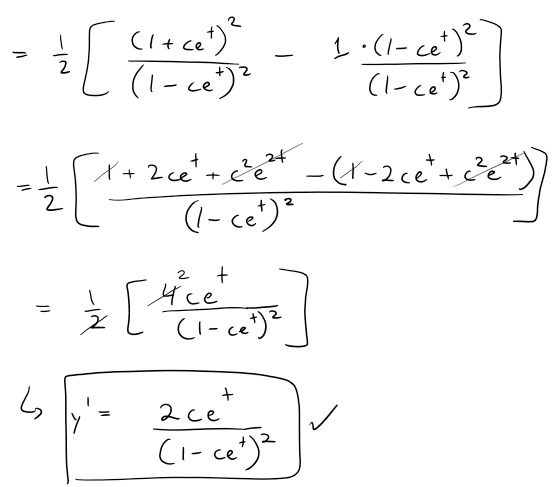 Thus for every value of c, the given function is a solution of the differential equation.
The figure below shows graphs of seven members of the family of solutions: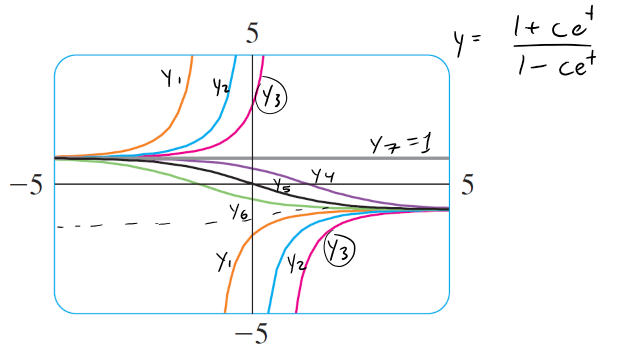 The differential equation shows that if y ≈ +/- 1 , then y' ≈ 0.

This is shown by the flatness of the graphs near y = 1 and y = -1.