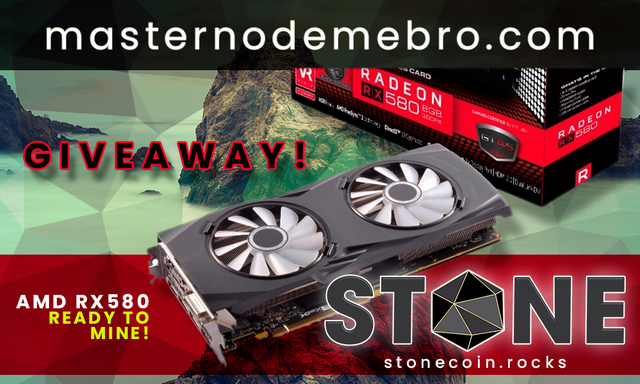 What's up STONEr's!
As most of you know, STONE is competing in the MasternodeMeBro18 tournement against Deviant Coin. As of right now we are trailing slightly behind at 44%.
As STONEr's, we know all too well about being the "underdog", so we are asking for every community member masternode holder or not to please take a moment to show some love and vote!
You can vote for STONE here: MasternodeMeBro18
To help incentivize the STONEr Nation we're going to giveaway an AMD rx580 GPU!
If you have spent time getting to know CryptoTYM, you know that he's an avid miner, starting with his first Bitcoin Asic miner in 2015. Now, he's decided to donate a beautiful ready to mine (or game) AMD rx580 GPU (Manufacturer tbd) from his rig and ship it anywhere in the world (see rules) to one lucky winner!!
Prizes:
#1 Grand Prize: AMD rx580 8GB ddr5 $350 value!
#2: 750 STONE
#3: 500 STONE
#4: 250 STONE
#5: 100 STONE
We are discussing adding more REAL prizes soon, but we're still working out the details. Look out for our upcoming announcement to find out more.
Contest Rules:
STONE must receive at least 800 votes in the MasternodeMeBro18 Tournement - OR - WIN the final round. Competition ends Sunday, October 21st at 12:00pm MST!!

Each eligible STONEr must send 10 STONE to the donation address. We will use your transaction in a random.org drawing LIVE on Crypto Weekly show Thursday 10/25/18 8PM PST! Send 10 STONE to the address listed below:
Sctto2iRzgXGp5G58PamuD7K4r69mbQSAS

The winner must listen to the Crypto Weekly show Thursday 10/25/18 8PM PST live or recording to obtain the random.org verification link.

Winners need to send a signed message using the address that sent the 10 STONE to CryptoTYM#3689 in Discord by Monday 10/29/18. The message should be signed with "STONE MasterNodeMeBro18 Winner!" If the winner does not reply the next runner-up will receive the GPU. A video will be released showing you how to do this.

Shipping may be limited to countries that have a major shipping carrier. If your country does not have FedEx, DHL, UPS, or the ability to receive USPS please do not enter the contest. Also, any tariffs, customs fees, taxes, or shipping costs to the recipient will not be reimbursed. Please find out if your country will impose such fees before entering, as we will only pay to ship it there. The GPU is being shipped from California USA.

STONE core team members are not allowed to participate.
Get STONE
So you just found out about STONE and showed love by voting, but you don't have any STONE. There are 2 ways to get STONE so you can make sure you're eligible to win the rx580:
Join the STONE Discord and let us know you voted! One of our community liasons will Tip you with the STONE tip bot. Make sure to participate in the discord to keep earning FREE STONE!
You can buy stone on either Crypto-Bridge or Crex24.
OK great, get out there and vote STONE! We only have until Sunday, October 21st at 12:00pm MST!!
Image created by @fabiyamada using fancycrave1 photo as the background