Release of Masternode Hosting Service at Social Send Platform
Hello there,
After working for around a month and a series of tests, we have successfully released non-custodial masternode hosting service at Social Send Platform: https://socialsend.net. You can read more about our masternode hosting service in our previous article: https://steemit.com/bitcoin/@socialsendcoin/masternode-hosting-at-social-send-platform.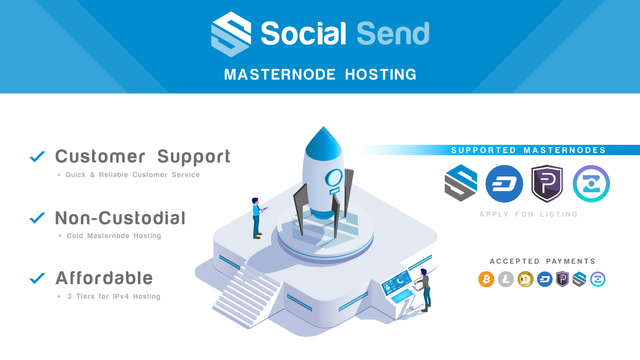 We have decided to release the hosting service for SEND, ZENZO, PIVX and DASH. Now, the question may arise why only these pairs? DASH and PIVX are the base of masternode space. There have been hundreds and thousands of forks of these two projects. And since they deserve enough respect. As respect to these two great projects, we have decided to release these two at the first release.
As you all know we have a great alliance with ZENZO project for more than a year. We have been working together on marketing, airdrops and dev support form time to time. And there should not be any doubt on releasing SEND together with these other projects.
Similarly, we can add more projects and release it as per the request of users. There is no listing fee for adding your coin in the masternode hosting. We will integrate it on the request of our community.
To make it easier for our users to make a payment, we will be accepting payments in Bitcoin and following altcoins:
LTC
DOGE
PIVX
DASH
SEND
ZENZO
Let us know about the project you want to integrate in our platform, feel free to share your feedback with us. Discord is the best place to get in touch with us: https://discord.com/invite/xJthHER.
Join our social channels:
Social SEND Platform: https://socialsend.net/
Social SEND Informational Website: https://socialsend.io/
Social SEND Discord: https://discord.gg/xJthHER/
Follow SEND Twitter: https://twitter.com/SocialSendCoin
SEND Facebook: https://www.facebook.com/SocialSendCoin/
SEND Telegram: https://web.telegram.org/#/[email protected]
SEND Instagram: https://www.instagram.com/socialsendcoin/
SEND Reddit: https://www.reddit.com/r/SocialSend/
SEND Medium: https://medium.com/social-send-official/