DogeCash Bimonthly Review Series Volume 2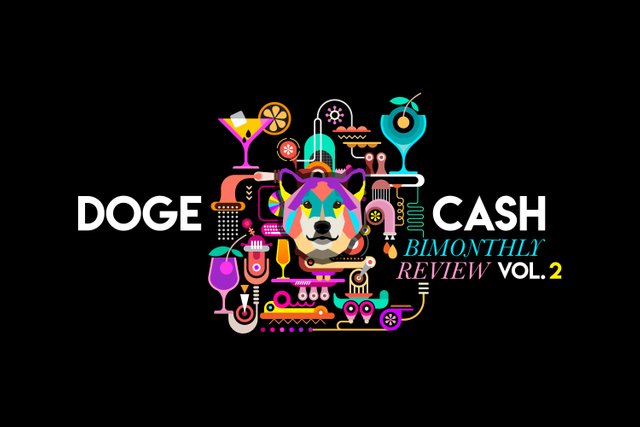 Hello Doges! We are now just over a month post launch and what an awesome few weeks it has been. Once the frenzy of this seminal point subsided, our team dove into the nitty gritty to put some substance behind the bark. Our second volume will give you some insight on what we have been up to and what you can expect in the near future!
Accomplishments
Governance Platform Development - We are ahead of schedule with the rollout of our governance platform. We will be conducting the first coin holder vote for the first ecosystem platform component very soon. A formal announcement with a curated list of platforms will be made in the next few days. Remember: 1 coin held in a DogeCash Official Wallet = 1 vote toward the platform of your choosing.

We have added a new team member, Gustavo Calcines! He will take the role of Marketing Team Lead. He aims to start a brilliant marketing plan to get DogeCash in front of a larger audience. He comes from a background of great professional success. To learn more about him, check out his team bio here: https://dogec.io/team/

The dogecash.io domain has been claimed by our project. There was some minor confusion with the prior owner but that should be completely resolved.

The number of masternodes in the DogeCash network has more than doubled in one month! On 10/9 there were 65 masternodes on the network compared to the 165 masternodes currently. That is 165% growth!
Social Growth
Twitter - Followers on 10/9 – 270 →Followers on 11/6  –  522 Percent Change=+93%

Discord - Members on 10/9 – 645 →Members on 11/6 – 1150 Percent Change=+78%

Telegram– Members on 10/9 – 54 →Members on 11/6 – 127 Percent Change=+135%
Our community growth was awesome this past month. We exceeded our goals and beyond. Our main focus now in regard to social growth will be on Twitter. This is the most important platform in getting the vision of DogeCash to a larger audience so its growth is of utmost importance!
Listings
Delta and Blockfolio — Portfolio Management and Tracking https://twitter.com/dogecashcoin/status/1051169404464062464
Gin Platform — Turnkey Masternode Hosting
https://p.gincoin.io/
Beam Platform — Masternode Investor Loyalty Platform
https://beam.works/
Apollon Platform — Masternode Investment Platform
https://apollon.one/
CoinGecko — Cryptocurrency Valuation and Ranking Website
https://www.coingecko.com/en
LiveCoinWatch — Cryptocurrency Research Platform
https://www.livecoinwatch.com/
Coinlib — Cryptocurrency Valuation and Ranking Website
https://www.livecoinwatch.com/
CoinPaprika — Crypto Research Platform
https://coinpaprika.com/
WorldCoinIndex — Cryptocurrency Index Website
https://www.worldcoinindex.com/
NodeHub — Masternode Hosting Platform
https://nodehub.io/
Do you have a website or platform you would like DogeCash listed on? Let us know in our Discord at discord.dogec.io! That's it for this update, if you want to come say "Woof!" come and do so in any of our social channels!
WEBSITE: dogec.io
DISCORD: discord.dogec.io
WHITEPAPER: whitepaper.dogec.io
EXPLORER: explorer.dogec.io
WALLET: download.dogec.io
TWITTER: twitter.dogec.io
TELEGRAM: telegram.dogec.io
GITHUB: github.dogec.io
BITCOINTALK: ann.dogec.io
YOUTUBE: youtube.dogec.io