Why Join Hilux Coin Masternode Community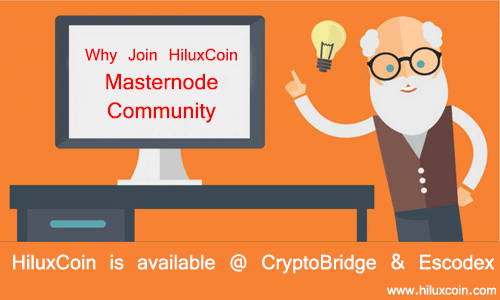 This article originally appeared on Bitnewsportal.com
http://bitnewsportal.com/why-join-hilux-coin-masternode-community
Hello, Goodmorning everyone. Welcome again to Bitnewsportal Blog, The home of the best projects and airdrop opportunity. Today we will features the top reason why join Hiluxcoin masternode community.
Many of us have criteria and standards before we jump to a cryptocurrency project, The first thing we check is the developer activity since this is the most important thing for a cryptocurrency project, Is the dev team joining the common discussion in the community? If the answer is yes you can safe to assume that you are in good hands. Since Dev support is an important whenever you encounter wallet error or difficulties in using their wallet. Hiluxcoin developer are always available in answering community question specially from newbies that is just starting out in the cryptocurrency industry.
The next we look is the roadmap what is the futures plans and goal of a cryptocurrency. Hiluxcoin provided a clear and precise roadmaps for their projects and in just a short period of time they already achieve more developmental milestone for the projects from their official web wallet, Insights explorer and the Hilux coin marketplace all this in just a short period of time.
Currently Hiluxcoin is launching a series of community promotions to further fuel the growth of the community. As of now everything is not yet announce by the devteam so i cannot disclose such information but rest assured that you will read it first here at Bitnewsportal Blog.
Well anyway, that's all for today. I hope you find this article uselful and informative regarding hilux coin project.
Thank You for reading….
Useful Links
Website: http://www.hiluxcoin.com
Twitter: https://twitter.com/HiluxC
Discord: https://discord.gg/suHxjKE
Bitcointalk: https://bitcointalk.org/index.php?topic=4780650.0
Hilux Marketplace: http://market.hiluxcoin.com
Find this useful? Don't forget to Retweet, Share and Like in different social media channels.
FOLLOW ME ON TWITTER!
https://twitter.com/BitNewsPortal
Disclaimer
This is not a investment advice and should not be use as a basis for your investment decision, Always excercise your own due diligence. Thank you for Reading