Bear "nodes" Best!! - PolisPay and state of the markets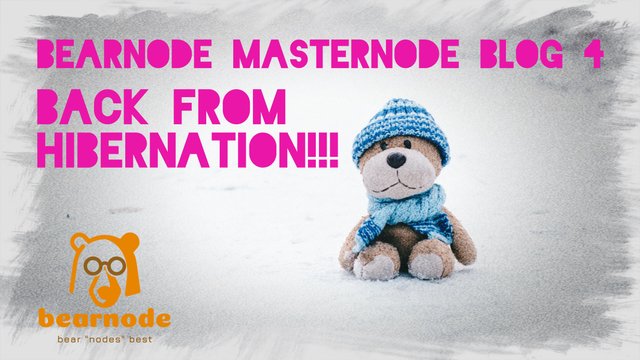 So real life reared it's head and put a pause on my bearnode blog, but after the end of the winter away; I'm back!
Despite my lack of communication I haven't been idle. My masternode investment biz is ticking over, and although this sector is super volatile, there are a few diamonds in the rough, riding out the crypto winter and doing good things.
My favourite node of the moment is POLIS, and their upcoming launch of the PolisPay platform, but before we dive into that, let's have a look at the bigger picture.
The Cryptocurrency market has been moving sideways for a while now. There's been ups and downs but we look like we are either at, or very near, the bottom. Like the first sniff of spring, there's a feeling in the air that warmer days are coming. However, we may not be out of the woods yet… Like many unseasonably warm February days, there's the danger of a last cold snap to bring us back to a chilly reality.
But regardless of any upcoming short sharp dips, brighter times are on the horizon. Slowly we are seeing institutional players moving into the game, with JP Morgan touting the idea of their own stable coin, Bakkt on the sidelines to launch as the CFTC reopens after the US government shutdown, Fidelity lining up their imminent custodial crypto desk next month, etc etc etc… There's sh*t happening…
To sum it up - things are mid to long term looking pretty bullish in the Crypto World (despite some potentials new lows to come in the very short term!!!).
Right - let's get into PolisPay:

This is one the first actual real world uses for a Masternode project and it's exciting…! I'm a big fan of POLIS. Its price has been one of the few MN projects that has been stable over the last few weeks and months and has actually been gently increasing. It's got a great community and despite anonymity from the devs, they are active and progressive, and PolisPay is right round the corner… So let's look at the PolisPay features:
1 - The PolisPay wallet can be linked between desktop and mobile applications.
2 - You can then send and receive the supported cryptos securely in your wallet.
3 - You can store your cryptos securely in the wallet, and "shift" between different cryptos in your wallet.
4 - You can also monitor your POLIS nodes on the wallet.
5 - And the most important thing is you can turn your crypto that's in your wallet instantly into fiat and then spend this with your PolisPay Mastercard, globally, anywhere it's accepted…. BOOM!!!
Check it out for more details here:
Oh yeah and to make it even cooler it won't just support POLIS, so far you'll be able yo use it with DASH, GIN, MNPCoin, COLX, LTC and of course our trusty BTC, with more coins to be added over time… Like I said, it's exciting…..!
Things are moving into an open Beta very soon, before general release, but I know people who've already used this successfully.
So to sum up, brighter days are coming - despite some potential pain before this - and finally we are seeing the emergence of actual real world uses in the Masternode sector… This is what we desperately need to take the Masternode world up to the next level…. I'd love to hear any comments or thoughts below…
Until next time, node away, steer clear of the scams, and ride out the rollercoaster that is the Masternode sector!!
BNB
Some more useful links:
https://twitter.com/PolisBlockchain
https://medium.com/@PolisBlockchain
https://ftalphaville.ft.com/2019/02/14/1550156933000/JPMorgan-jumps-on-the-stablecoin-bland-wagon-/
https://bitcoinexchangeguide.com/bakkt-crypto-trading-platform-expects-march-approval-by-cftc-barring-any-government-shutdown/
https://www.coindesk.com/fidelity-in-final-testing-period-for-crypto-platform
(Disclaimer - do not treat this as financial or investment advice - and do you own research!!! Really important…..)