Many years ago, a couple of days before Xmas, I decided to jump into my car and drive all the way to Frankfurt am Main (Germany) to get to a party at the - at that time - famous underground techno club U60311, or in short U60. That club is closed by now, but back then, it was the place to be after Omen closed years before. It was the place where amongst others Chris Liebing had its events. An old tube station, converted into maybe the best techno environment Frankfurt ever had. Ok, I may not have experienced all the clubs in Frankfurt, but I think I'm not far from the truth with such statement.
Anyway, this particular day/evening, just before Xmas, the reason to go to Frankfurt, to this U60 club, was The Advent. A Portuguese electronic producer, live performer and DJ living in the UK, was booked for a live act. This was the first time I would hear him in real life, and a four hour drive was something that didn't stop me.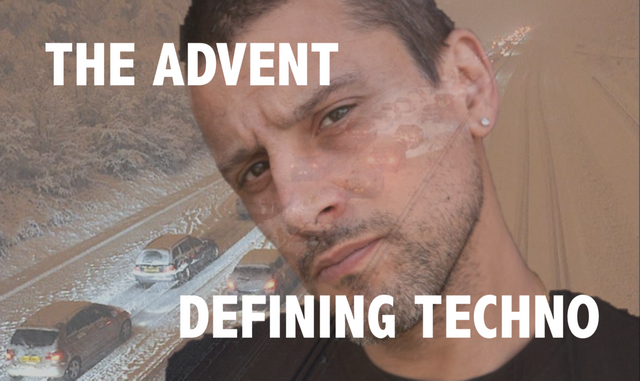 Half way enroute on the Germany Autobahn (highway) snow started to come down and very quickly the Autobahn was completely white and the cars came to an almost complete stop! I remember I already started to think I would never make it to Frankfurt in time. In a split second I decided to take the upcoming exit, just hoping I would not slip of the road. As it turned out, I took a great decision! The Autobahn was a couple of hundreds of meters above ground level, and the temperatures lower to ground level was above zero, hence the snow was instantly turned into water with clear roads. Although it took me at least an hour more due to the roads being small country roads, I was able to make it all the way to U60 and not miss anything of the performance of The Advent.
I was soooo lucky since some of my party friends where travelling to U60 as well, but they took some kind of party tour bus. They made it to Frankfurt almost 12 hours later, just at the time U60 closed it doors and everybody was finding their ways home again.
I had a great time at U60, I remember quite vividly. The Advent was just Super Super Super! The sound of this guy back in the days (I think it must be sometime 1999 or 2000) I truly liked! I tried to find some recording on Soundcloud that represents this guys sound I fell in love with, but it was quite hard. At that time Soundcloud didn't exist, and anyway, those days recordings were not made often. The digital recording devices and smartphones didn't really exist. But with some searching, I found this recording from a gig at Tresor Berlin that gives a kinda ok flavour of what I was hearing at U60.
This will for SURE move your FEET from the FLOOR
I Hope You'll Like It!

Artist: The Advent
Set: Tresor
Year: 2008
Country: Portugal
(source)
Music
Discography
Gigs
Artist