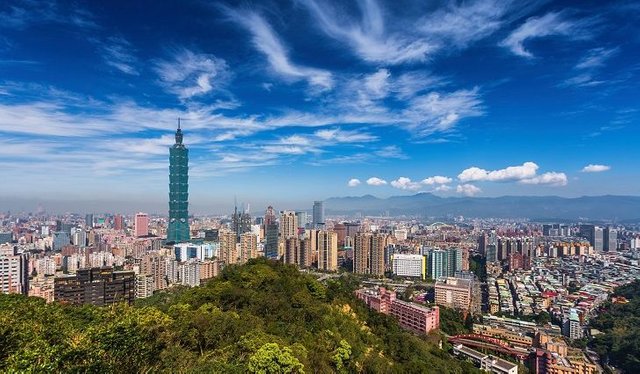 If you want cheap and plentiful massage spas, Taiwan will not make it easy. Although I'm not an expert on the country, and I only had a week there, in general, I had a tough time finding a decent massage at a price I could afford.
 I was in Taiwan with three nature photographer/birdwatcher friends for an eight-day expedition visiting several of the natural parks. We were not very close to cities most of the time and knew nothing of the local language, but whenever we stayed in a city overnight, I made a point of searching for the nearest spa. I managed to get to two spas and my experiences were less than satisfactory.
Our arrival into Taiwan was into Taipei International Airport. Nearby is the city of Taoyuan. It's a good place to find reasonably priced accommodations. Near our hotel, I discovered a place with a sign that said 'Thai Massage.' It looked pretty seedy (and was probably a sex massage place). The aged 'masseuse' who greeted me at the door kind of scared me! She said  (in English), that two hours would cost me 1400 TWD (almost $50 US). It seemed expensive and I wasn't feeling well, so I passed on this one.
Next, we found ourselves in Tainan City, a big city about 200 kilometers southwest of Taipei. On-line, I found the '5 Stars Foot Health Massage Club.' It's at the corner of Jinhua and Zunhuang in the city centre area. It's close to the 'Princess and Elephant' Hotel where we stayed. I went in at about 8 pm with high hopes, not having had a massage in weeks. I was greeted at the desk and shown a short massage menu in English and Chinese that included foot massage and full body massage for 800 TWD ($26 US). I chose the latter, a one-hour session, ignoring the rest. A woman led me to an area with comfortable chairs and had me sit down. A man of about 50 came by soon after and poured hot water into a tub in front of me and signaled that i should put my feet in the tub to soak. With a remote control, he put the big screen TV to 'National Geographic' channel and handed me the controller. He returned shortly thereafter with a cup of hot tea, then he tucked a small towel into the back of my shirt at my neck, and applied another towel, a hot and wet one, to the back of my neck and started kneading various pressure points. This continued onto my shoulders and upper back. For about ten minutes, I received a head, neck, and shoulder massage while in the fully clothed, upright seated position. It was strong and felt good, even though I'm not crazy about getting male masseurs working on me. I was hoping this was just the warmup while my beautiful masseuse was preparing herself for my massage! 
Then it was time for the next part. An older woman came by and directed me in halting english, saying 'one or two!' 'One or two?!' I thought she was asking me: did I want one or two girls. I said, one is enough! No, no. One oh two. And pointed upstairs. Oh, go to room One Oh Two, 102!
Okay, the woman leads me up to room 102 and there's a peaceful little space with a massage table, towels, some shorts and quiet classical music playing. I'm left alone and I disrobe and put on the little shorts. This is where my lovely taiwanese masseuse will come in, I'm thinking, and lead me into an hour of ecstasy!
Wrong! In comes the same man again! Darn! He begins the hour massage (the tea and foot soak wasn't part of the hour). It's all hand pressure with no oil. I'm covered with a thin cotton sheet and he begins by applying shiatsu-like pressure to various points on my back and arms along with hard sliding moves with palms and fingers, rolling muscles around. It actually felt pretty good.
This goes for about 15 minutes, then it's time to turn over. More work on my arms, then he grabs both legs at once lifting and stretching them away from my torso. There are some high lifts of individual legs to stretch but no real kneading on legs or feet. He finishes off with some head massage work.
He was busy for an hour and did a commendable job but I was really hoping for a Thai-style lady-performed full body oil massage.
When it was over, the guy said something I didn't understand and he left. I waited a minute, then got dressed and walked out. He was standing in another waiting room with another cup of tea, so I sat down and drank it, then went down to the lobby to pay. I slipped the guy a big tip of 400 TWD (not knowing what the proper amount was) and paid my 800 TWD to the lady at the desk. All in all, a competent massage but not what I wanted.
Another attempt at finding a massage was in Taoyuan on my last night. I found a place not far from our hotel called Dihao Spa. I walked in and asked for a massage. It was early evening and there were no other customers. A couple of slackers were working the desk. I asked 'Massage'? They grinned at me and did the 'finger thrusting in and out of a hole' sign and said, 'You want pretty lady?' I shook my head, no, just a massage. Okay, they produced a price card, 800 NT. I nodded.
One of the lads nodded and led me upstairs to another attendant who gave me a key to a locker and pointed to a room with a hot bath. There were a couple of other guys soaking in the steamy tub. I joined them for a few minutes, then went back to the locker room. The key wouldn't open the locker so I fetched the attendant who came back with a second key and opened the locker for me. He thought I was leaving. No, I want a massage! 
He returned with a pair of too short pajamas which I wrestled myself into. He led me to another room upstairs. This was a larger room that looked like a nightclub with lots of tables and chairs but no other customers. I sat down and two new guys came in. After a long, rather comic series of attempts to communicate with a cellphone translating app that I had to type into, we established that I was in need of a plain, ordinary, 1 hour massage, from a woman, with oil preferably. Okay, wait here.
Half an hour later, a stocky, elderly woman came in, perhaps in her sixties. The men asked, okay? I nodded. I wasn't going to pass up an opportunity to get a massage in this country! She led me into another room where there was a massage table. She put a fresh sheet over the contraption and had me lay down signaling I should take my top pajama off but not my bottom. The masseuse then covered me with an array of towels.
For the next few minutes, she proceeded to give me a hard thumb and finger massage to the back of my neck and head. Then she undraped some of the towels to expose my back and applied a little bit of oil and gave me a strong, sometimes painful back massage. Then she peeled my pajama bottoms partway down and gave my buttocks a massage. This was followed by a couple of weak leg bends, and then it was over. There was to be no massage on the front side. She abruptly left without warning. The massage was over. 
I was presented with a bill for 1350 TWD (about $45 US) which was obviously more than the original estimate, but I figured there was probably an extra charge for oil and who knows what other charges. When you can't speak the language at all, there are bound to be misunderstandings. At least I got one massage from a woman!
I suspect that Taipei, the capital, is going to have more massage establishments. I didn't spend any time there, unfortunately. Wherever you are, go online and see what you can find or ask your hotel manager or favorite taxi driver to take you somewhere. You're not going to find $5-10 an hour massages in this country. Try more like $30 and up. 
Taiwan is beautiful and one of the cleanest Asian countries I've seen but it wasn't the easiest place to get a good and cheap massage!