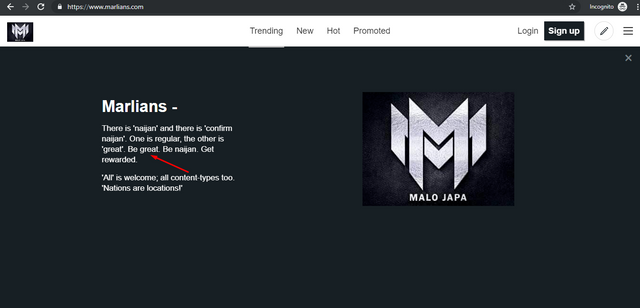 Why not earn some MARLIANS along with your CREATIVECOIN on your 'creative instances'. Marlians.com celebrates activities that  'mine the human'. You now have more reasons to exert your '5 senses';  graphics, writings, drawings, photography etc. For help, contact these  'certified' uloggers; @derangedvisions, @dreemit, @blueeyes8960, @shadowspub or enjar here! 
You too can oversee a community. Get 'certified' by completing these 4 simple-steps. 
You will find the quoted-words on 'https://www.marlians.com/created/creativecoin', a small community on 'marlians.com' focused on curating content from 'https://www.creativecoin.xyz'. 
Thus, we invite all users of '#creativecoin' to continue using the tag in conjunction with '#marlians'. The addition of '#marlians' to your 'creativecoin posts', allows your posts appear on 'marlians.com', enabling you to earn some MARLIANS along with CREATIVECOIN, STEEM/SBD
So far, we have given some MARLIANS stake to @derangedvisions, @dreemit, blueeyes8960, @shadowspub, enjar; 'a collective stake of 14,000 MARLIANS', to enhance their '#creativecoin' curation-efforts
We have also staked some 15000 CREATIVECOIN across '@surpassinggoogle & @marlians.ccc' enabling us to reward '#creativecoin posts' found on 'marlians.com' with some CREATIVECOIN too.
In summary, where you add in #marlians to your #creativecoin posts, you can earn CREATIVECOIN, STEEM/SBD and some MARLIANS too
See this: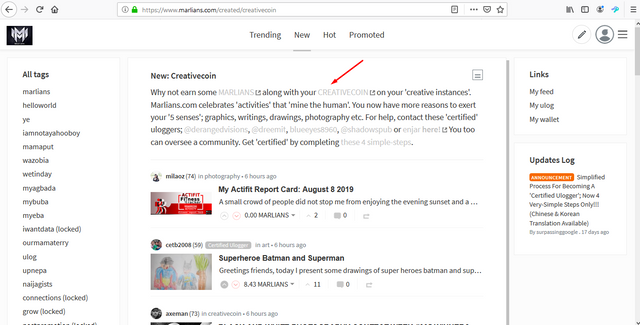 NOTE
Serious 'certified users' who have existing communities, 'communities of interest' or want to start our fresh communities, can always contact me on this discord server (@surpassinggoogle#1660) for help to start.
With 'certified' users, we move together and share 'even limited resources' both 'on steem' and 'outside of steem'. Once your 'communities' are flourishing and you want to upgrade to building an enterprise, we will help further, referencing you to steemgiggers who can help (even for free) and where you need developers, we will help further with an entire enterprise called 'macrohard.pro'.  
Let's grow together.
READ our colorlesspaper here, and learn more about our plans for 'certified' users. 
When Should I Use The #marlians tag?
We welcome and support 'all content-type' and 'all locations'. We value each human.
We are also about "uniting communities". This means that we will welcome and support content from other steem tribes and this is already in motion. 
We are a home and a close-knit family 'moving together' and this means that we will share "even our limited resources". To this effect, we are evolving a portfolio in 'steem-tribes-stake' that we use to curate 'content from other tribes' found on 'marlians.com' and our portfolio currently looks like this:
Your Boy Terry
Get Certified
First 1000 certified uloggers will get 50 MARLIANS. This aside other ongoing drops.
Steps 1: Send '5 STEEM' to '@marlians' with this memo; '1 month certification'. 
Step 2: Do a 'ulog' via 'marlians.com' discussing the process of 'how you became a certified ulogger'. Make sure to use '#ulog'. 
Step 3: Subscribe to 'UloggersTV YouTube'. 
Step 4: Fill up this google form. 
If you desire, you can DM '@surpassinggoogle#1660' on discord when you are done with the steps, to hasten the process.
Note: Where you get certified now, your payment ("one month certification") hasn't started counting yet but you will already be 'certified'. This is a bonus. We will notify you when "the one month" starts counting (after we have setup our automation-tools). 
See our list of 'certified uloggers' on 'https://ulogs.org/discover'  
To Get Some 'MARLIANS'
Here are the steps:  
Visit 'https://steem-engine.com/?p=market&t=MARLIANS' and login using the keychain extension or directly using your private posting key.
Click on the 'DEPOSIT' button to deposit STEEM. Note that you can also deposit BTC, ETH, LTC, EOS etc with steem-engine.
Go on to buy some MARLIANS.
Kindly subscribe to UloggersTV on YouTube
Kindly vote on the 'steemgigs' witness
If you can translate this post into other languages, feel free to do so. You can also show me on discord, so that i can resteem it.