Pay For Gigs, Custom-Requests, Microtasks With The 'MARLIANS' Tokens. I Will Avail Of Some. This Is For Everyone!
In recent times, the going has been so bad especially with regards to my health and fitness. This is not new. Marlians.com came about in these times and i grew weaker, which isn't new.
In the last two weeks or so, i haven't been able to be actively present on marlians.com, i kept growing weak. This doesn't mean there is no healing. It just means that i am off and on, and working towards attaining a healing. It is a gradual process but it will happen.
Marlians.com is a long term project focused primarily on 'real human growth' as opposed to bulls or bears. This is why we are building around a solid 'growing' core made up of humans i.e our greylist of certified uloggers. 
However, this also comes with long-term effort on my part especially at the outset. It is the harder route but it can be testimonial. At the outset, we need to instill 'love for marlians.com and what it represent' in 'certified uloggers' (for a start), till they start to take on the mantle of ownership, relishing the success of the project. This is going to be a slow and gradual process.
Now that i have not been fit, that has been hard but ongoing. 
If you missed out on my last update regarding Marlians.com, please watch this video:
In general, i believe that we will succeed. It will just be slow and this particular success isn't measured primarily in 'bulls or bears'. We will take keen interest instead in 'real human growth'.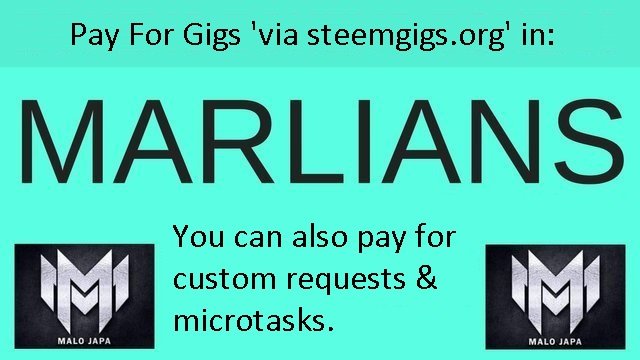 Speaking of the MARLIANS token, you will have noticed that we have a feed labelled 'STEEMGIGS' on 'marlians.com'. This is one more feed that intends to give the MARLIANS token some utility. 
Basically, it will display posts like 'gigs, microtasks, task requests etc' that accept/pays in MARLIANS. This is a beauty.
Recall, steemgigs.org? You can simply go on there and create a gig, microtask or custom request and choose 'MARLIANS' (for pricing) but please remember to add in '#marlians' as one of tags before you publish your post, enabling your post to appear on marlians.com
Where it is inconvenient for you to publish your 'gig, microtask or custom request' via steemgigs.org, you can do so via marlians.com or whatever steem-interface you like but in that case, make sure to add in '#steemgigs and #marlians' among your tags.
We will look to curate these posts too and more importantly, i will like to avail of your gigs to create awareness. 
This means that i will buy some MARLIANS on the exchange to pay with. 
Note that on steemgigs.org, 'everyone has something to offer'. It is not for 'only experts', meaning that you don't have to be an expert to offer a gig. Plus, you can create simple fun gigs to hone your expertise, attempt something or simply to have fun or inspire a dream etc. 
Also note that on steemgigs.org, you can also create 'custom requests or microtasks' en-route 'building your dream' and you can request to pay participants in MARLIANS. 
Below, i will leave some sample 'gigs, custom requests, microtasks' to help you establish that 'everyone has something to offer' and help you exercise or explore your inventivity.
Gig Sample
I will help you create a list of all your old posts for 300 MARLIANS
I will write your brand name or website on my classboard for 400 MARLIANS
I will help you translate your post to chinese for 500 MARLIANS
I will write your username on a beach in MIAMI for 600 MARLIANS.
I will take pictures of my locations for you, for 700 MARLIANS.
I will re-enact your script in a video for 600 MARLIANS.
I will show your 10 working airdrops for 1000 MARLIANS.
I will write your articles for 1000 MARLIANS.
I will design your logo for 1000 MARLIANS.
Custom Request Sample
Help me proofread my post, for 500 MARLIANS
Help me design my logo, for 1000 MARLIANS
Help me donate your old books to children, for 10000 MARLIANS
Write a review of my website, for 5000 MARLIANS.
Print my business-card and distribute it in your location, for 100000 MARLIANS
Microtask sample
Help me resteem my steem post, for 100 MARLIANS
Follow me on twitter, for 100 MARLIANS.
Suggest me a slogan, for 100 MARLIANS.
You get the idea!
I will look for these entries on 'marlians.com' and look to curate them and i will certainly like to avail of these gigs too etc. In that case, i will be buying MARLIANS from the market to pay for these gigs.
And you can too. The more such posts we have, the better. If you publish these genre of posts 'via steemgigs.org', it is better because these posts are searchable on the site, even after 7 days. The site has a search-engine and maintains a database of these gigs. Simply add in '#marlians', if you are publishing your post via steemgigs.org, so that we can find them on marlians.com
Stay awesome.
Your boy Terry
Support Us