Wemark: marketplace for digital content


In today discussion, I will talk about content creation and how the marketing companies has been treating the content creators and the solution Wemark project offer to content creators.
Digital technology has played an important role in augmenting the rise of content creation. We have also seen that companies has adopted content as format in promoting brand and product which show that there is more explosion in the area of content creations. "But come to think of it". Have you notice because we have small number of companies doing the marketing distribution of content creation like Photos has brought about retaining 80% of profit while creators receive 20%? This is what has been in the industry for decades.
Wemark Developers notice that creators sign away right and control over their content because of the lack of recognition to attract customers directly to themselves. But the same creators are looking for possible solution to bring back large percent of revenue after their so much hard work.
So what solutions has Wemark brought to the marketplace to avoid control of content creators? Here are the details: Creators will license their own content directly to users and control the price. Distribution terms and royalties cannot be changed without exception after signing contract with creators. Referral program will help creators and marketplace to reach larger audiences which show, there will be reward for sharing content and growing the number of users.
Wemark has brought a total transparency to digital content creation with this Blockchain ledger they have created. Wemark is backed by leading global investors and advisory that are well known in stock photography, Blockchain technology and online marketplace. There is real total transparency in their platform using Blockchain as means of transactions between creators and users.
What a great solution offer by Wemark project!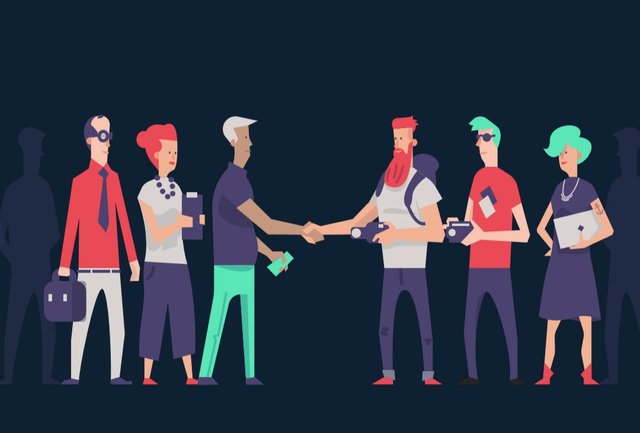 ICO INFORMATION
Wemark has set their own token that will enable license of content between customers and creators and this token will also serve as mean of transactions to the network when there will be no longer third party controlling creators but Blockchain as the next middleman.
Wemark ICO sales is currently on and it's set to end 7/08/2019.
Total supply of 135,000,000 Wemark token and token is supported by ERC 20 wallet.
Soft Cap=3,250ETH
Hard Cap=16,750ETH
WMK Token price: 1ETH=2,375WMK Token
With my review so far about Wemark project, it has been a fantastic solution to content creation when there will be no longer third party. The team behind this project are greatly doing a very nice job to satisfy every users. There is still chance to get your token at cheaper rate before it get to the exchange.
Guys, don't miss this promising project. Find out more information about the project and how to purchase your token below.
Site: https://www.wemark.com/
Whitepapar: https://www.wemark.com/whitepaper.pdf
Bitcointalk ANN: https://bitcointalk.org/index.php?topic=3347524.new#new
Telegram: https://t.me/wemark
Twitter: https://twitter.com/_wemark
Facebook: https://web.facebook.com/WemarkOfficial/
Written by Emmax
Bitcointalk profile link: https://bitcointalk.org/index.php?action=profile;u=2157595