BittWatt ICO Review - B2B and B2C Energy Trading Platform on the Blockchain
 The team behind BittWatt came up with an idea for a platform and complete ecosystem on the blockchain, that will improve cooperation between all major players in the energy sector, from power suppliers to grid operators, with the goal to bring benefits to the end consumer.

BittWatt aims to streamline the production, servicing, transmission, and distribution of the energy in the 21st century.
The demand for energy is projected to grow every year. As energy companies strive to meet these needs, environmental issues have become a big problem. Lately, there is a lot of interest in alternative sources of energy like solar panels and wind turbines, but they have a problem producing constant energy.
There are a lot of problems in the energy sector, so we need to adapt and look for new solutions.
BittWatt plans to build a platform, that will connect power suppliers, grid operators, producers, and consumers. On the platform's marketplace, offers and requests will be matched using smart contracts. Smart contracts are transparent and self-executing digital contracts, so when the electricity is delivered, payment to the seller will be automatically released.
Energy producers are facing a problem that they generate more or less electricity than they sold, on the other hand, costumes may need more or less energy than contracted. Mechanisms behind energy grids are complex, so BittWatt is here to bring balance to everyone.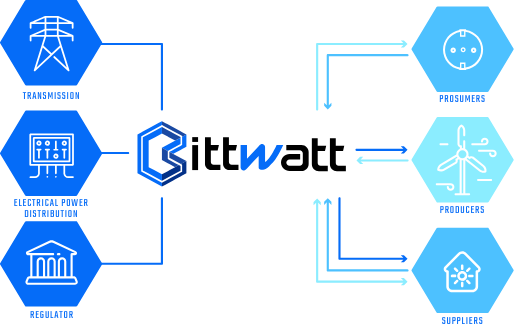 Benefits of BittWatt
Cost reduction: by using the blockchain technology, costs will be lower than on other energy transfer systems.
Faster transactions
Scalability
Disintermediation: platform will be decentralized, so intermediates are no longer required.
BittWatt brings in the factor of peer to peer settlements. These settlements are incorporated into a system of transparency, trustworthiness, and promptness between the market players. BittWatt creates a matchmaking of market demand and market offers on an hourly basis. 
Peer to peer transactions are also beneficial in outlining energy arbitrage and exchange through the use of energy wallet. Users can balance their need to store energy by buying when the prices are low and selling when the prices shoot up.
Through the use of artificial intelligence technology, BittWatt has acquired a smart demand-response supply system that creates an integration of supplies for all participants. This runs all the way from the power plants to the smart consumers.  
Token Sale Details
BittWatt token sale goal is equal to $30,400,000.00 with the soft cap at $25,300,000.00. During pre-ICO, $10.8 M was raised in which 121,500,000 BWT tokens were sold in only five days. This happened between 18th of March and 22nd of March, 2018.
Main ICO is open from 1st April to 27th May 2018. Initial coin offering is divided into 4 phases, with the maximum bonus of 20%.
The BittWatt ecosystem is powered by BWT token. The initial price of BWT token is equal to the price of 1 kWh. This token will be used for all transactions on the platform.
Competition
There are many energy projects on the blockchain right now, but here are some of the key advantages in comparison with the competition:
Unlike Wepower and Power Ledger, BittWatt is a licensed EU energy provider with established business and revenues.
They already have established partnerships with suppliers that will be integrated into the platform.
With the use of BittWatt platform, a consumer can switch between suppliers online.
BittWatt already have a large customer base.
They have a software based on artificial intelligence for prediction of solar energy production.
Adrian Asevoaia, the project manager recently announced that beta version of the platform will have it's first launch in Tokyo, before the closing of the initial coin offering.

Their well-written white paper and FAQ available at  https://bittwatt.com
Facebook: https://www.facebook.com/energyforthe21century/
Twitter: https://twitter.com/BittwattPteLtd
 Bounty: https://bountyhive.io/r/ringzero