TSP Ep. 6: Interview w/Dave Balter, Team Behind FCAS Score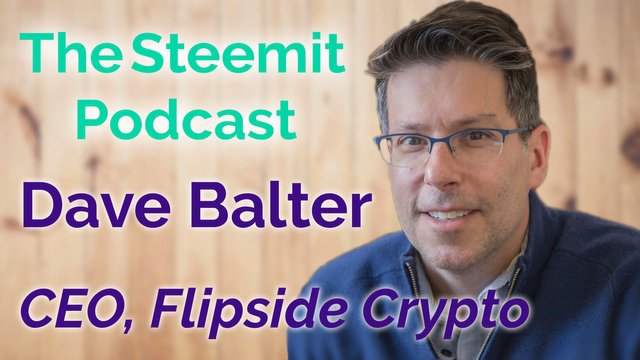 Today's episode of The Steemit Podcast is an interview with the CEO of Flipside Crypto, Dave Balter. This is another installment in our Decentralized Entrepreneurship and Marketing series in which we help prepare you for a future that is being disrupted at an exponential rate by decentralized technologies like the internet and blockchain.
Serial Entrepreneur
Dave is a serial entrepreneur who has started 7 companies including Flipside, the crypto rating company which issues the Fundamental Crypto Asset Score, or FCAS. FCAS is a comparative metric used to assess the fundamental health of crypto projects. The score is derived from the interactivity between primary project lifecycle fundamentals: User Activity, Developer Behavior, and Market Maturity.
Entrepreneurial Lessons
In this interview we discuss the lessons he's learned starting multiple successful companies, like the "Sponge and Stone" system, how he's managed to succeed in a highly technical industry as a sales and marketing person, and the most surprising lessons he's learned inside the blockchain space.
Follow & Subscribe
If you enjoy the episode, you can subscribe to The Steemit Podcast on YouTube or your favorite podcast app, and don't forget to check out steemit.com and flipsidecrypto.com.





---
@steem.marketing is an account created by @andrarchy (Head of Communications & Advocacy for Steemit Inc.), that is intended to be used for the purpose of hosting and supporting content that helps to market Steem. If you are interested in being featured on this account, or otherwise contributing to marketing efforts for Steem, e-mail him at [email protected]
Steem Marketing