I wanted to start writing a weekly Tuesday article called "Tactical Tuesdays", covering specific marketing or social media tactics you can use to grow your business... but I literally just found out that the teaser trailers for the new "Son of Crocodile Dundee" movie, starring Danny McBride, were actually part of an elaborate marketing stunt by Tourism Australia... so let's talk about that instead!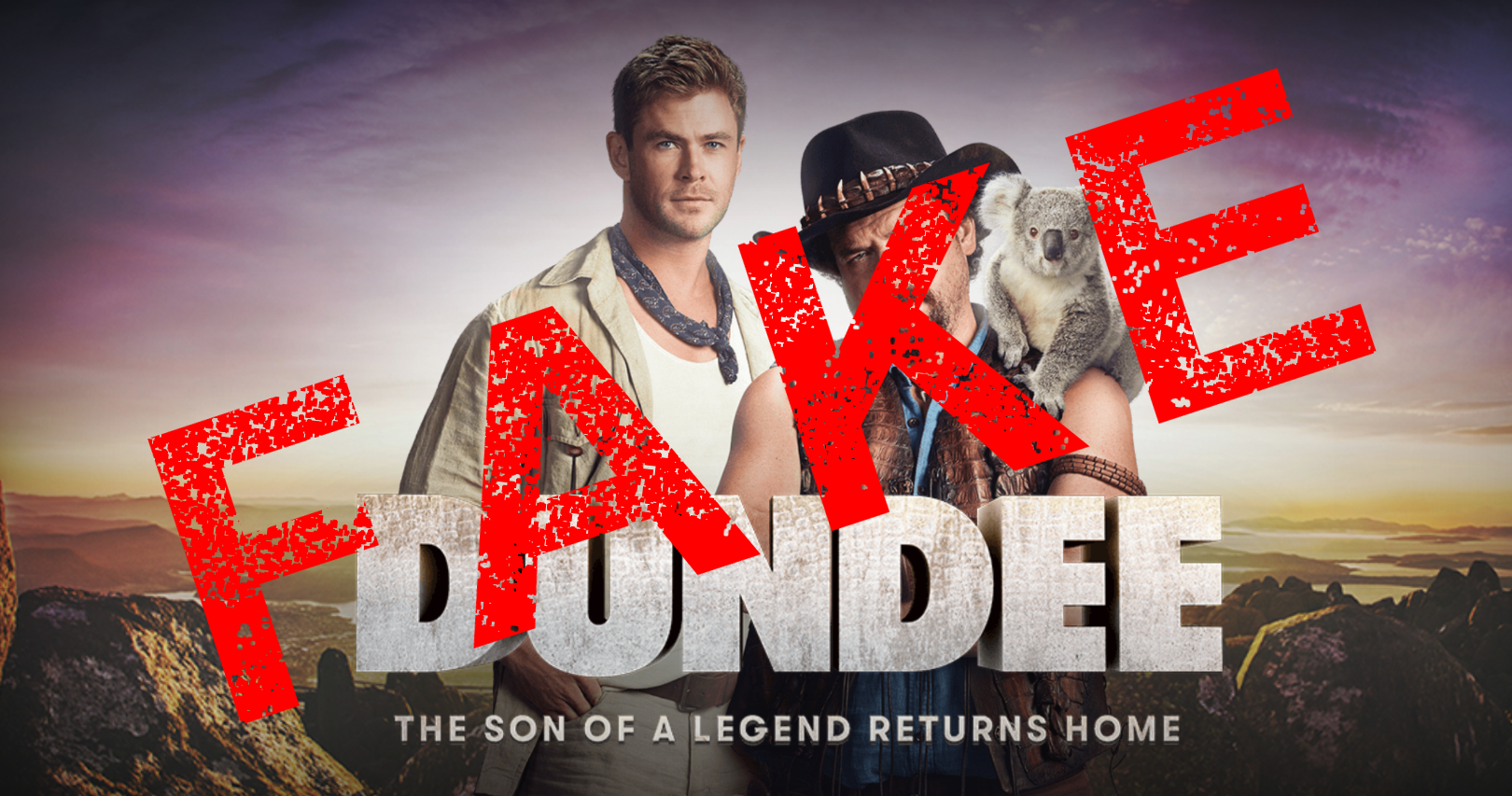 For those that hadn't heard, a couple of weeks ago a teaser trailer for Dundee (2018) was released, with Danny McBride (The Ranch, That 70s Show) set to play the role of Mick Dundee's American son, coming down under to find his father, who's lost in the outback.
The teaser did not look promising, and reactions when I shared it to Facebook were about what you would expect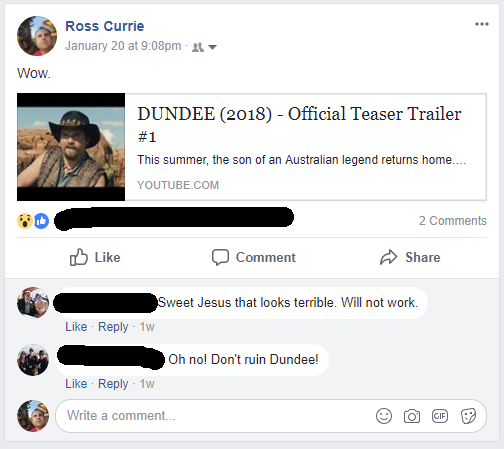 Today, another friend shared the trailer that introduces the film's cast, revealing a star-studded line-up, jam-packed full of Australian actors, including including Chris Hemsworth, Hugh Jackman, Margot Robbie, Russell Crowe, and Liam Hemsworth. Those are some impressive names... and I actually started to think the film was looking okay.
Until one comment on my friend's post, which said it was fake.
Wait... what?
We have a trailer with some really big names, we have a website, instagram, even an IMDB page, along with what appears to be pretty standard PR and marketing for a movie release. What do you mean it's a fake?
Throw Another Shrimp On the Barbie
It turns out that the whole Dundee 2018 movie is just a stunt being run by Tourism Australia in the lead-up to its superbowl ad. It's not clear who first revealed this, and Tourism Australia are apparently not commenting on it, but according to the Brisbane Times, Screen Australia doesn't list the film on its upcoming projects, and the film's director is a known commercial director for a Sydney-based agency, who's produced ads for brands like Nike, Old Spice and Audi. Not to mention that Chris Hemsworth's has been a Tourism Australia ambassador since 2016.
And it's not the first time Tourism Australia have used the fame of Crocodile Dundee to bring tourists to its shores. Ever heard the saying "throw another shrimp on the barbie"? Of course you have, and it can be traced back to a series of ads Paul Hogan did for Tourism Australia in the 80s.
(we actually call them 'prawns' in Australia, not 'shrimp')
Tourism Australia Wins The Superbowl
With the final superbowl ad still almost a week away from airing, Adnews is reporting that digital content engagement around Tourism Australia is up 1256% to the week before the ad aired, and you can be sure that this is only going to skyrocket once the ad airs.
The Daily Mail is questioning the campaign, claiming that the $5m ad slot will cost Australians over $200k/second, but as any marketer will tell you - the ads are the only reason people even watch the superbowl anymore!
Non-marketers might disagree slightly, but even critics of television advertising, like Gary Vaynerchuk, have frequently mentioned how underpriced superbowl ads are, for the exposure that they create for the brands that buy them. The following clip (at 9m20s) is just one of many examples where GaryVee has spoken in favour of Superbowl ads.
Now, obviously, this sort of marketing stunt is out of the reach of most businesses - not only do you need to get the actors on board, but the cost of the ad slot alone is staggering. But, I truly appreciate how great a job Tourism Australia have done in both identifying an opportunity, and orchestrating this massive prank on the entire Internet.
My opinion on Dundee 2018 is completely changed, and I simply cannot wait to see what the final product looks like, and what it actually does for Australia in terms of generating tourism.
Tactical Tuesdays coming soon! :D