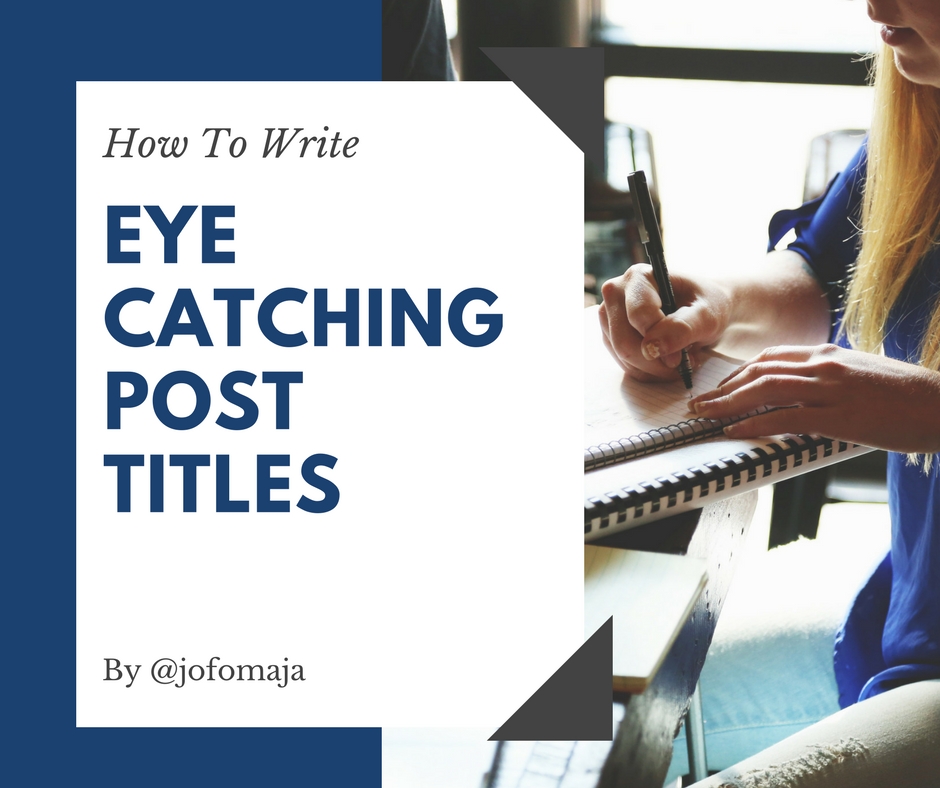 A good eye catching post title is going to increase the chances of clicks through to read your post.
As I promised on my last blog post I said I was going to post on how to write a good eye catching post title.
One of the major reason people click trough to read contents online is as a result of the title.
The title is where you want to take your time to fill.
90% of people click through because of the title they see.
Knowing how important an eye catching title is, I have decided to share with you 7 tips are going to help you write really good high catching titles.
Below are 7 tips to write a good eye catching post title:
Starting with numbers: This is a great way to write good titles. I would suggest you use odd numbers and not even number. Numbers have a way of catching the attention of people; it makes them feel the post is going to be an easy read, have a list in mind. Example can be "7 ways to grow beard fast", "9 tips on how to handle breakups", "3 ways to grow your income in 2018" e.t.c.

Use "How To": This literally means you are providing solution a person may have and people love solutions. "How To" posts are really eye catching. Examples "How to use dtube", "How to get visibility for free on instagram", "How to make more money in 2018", e.t.c.

Use punctuation: Did you noticed how I use it on this post title and my other posts titles, like the way I use the term MARKETING: this is what I mean, you want to use the keyword of your post there. This gives users a clear overview of what your post is actually about.

Be super specific: Make your post titles really specific, people should know what to expect to see on your post with a simple glance of your post title. When your post title is all over the place you lose the attention of the content consumer right from the very first step of them going through your post.

Flag common mistakes: This simply means you should you can call out common mistakes people make and provide solution. Example "Why you are not losing those weight", "3 reasons people don't socialize with you", "5 things people do that make them broke", e.t.c.

Pay attention to length: A good title should not be lengthy, would suggest 25 – 40 characters for your title. When your title is too long you lose some of its visibility on the post feed or even search engines.

Practice: Yes, I am not saying you can do this over night, it took me some time to master, as the saying goes "Practice makes perfect", just keep practicing with these tips I have just given to you and you would surprise yourself.
These tips are best practice tips used be professional copywriters all over the globe. Apply them and get the results you want.
Thank you for going through this post.
UPVOTE | REPLY | RESTEEM If you find this content useful and of value.
I am Ofomaja E. Joshua and I do MARKETING & ENTREPERENURERSHIP
FOLLOW ME NOW @jofomaja for more contents I promise I won't waste your time. Remain blessed.