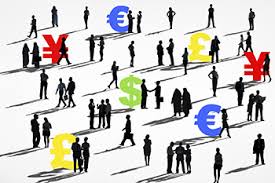 Indians as an investor, has just learned to invest in Equity and Mutual Fund. But, I always find that we indian investors are skeptical of our country's progress. With slight negative news or by few percentage market decline we start worrying about our investments. That is one reason, foreigners have made tons of money from our stock market and lot more than indian investors. They are very confident of our our country's economy. Below are some examples....
Amazon has spent most of out of Rs. 35000 crores earmarked for India, has also announced to spend additional 12000 crores to defy competition. Amazon's spending in India caused amazon USA to report losses in USA. Amazon has such high conviction in India.
Walmart, seeing Amazon's growth trying to buy major stake in Flipkart that will result in to investment of close to Rs. 70000-80000 crores in India story.
Japan's Softbank declared in 2014 it will invest close to Rs. 65000 Crores in Indian market by 2024. In April 2018, it has invested Rs. 52000 crores already and will complete target by 2022 instead of 2024
Global Hotel chain Marriott has now highest rooms in India. Marriott has around 22000 rooms in India and Taj has 14000 rooms. If you go through the plan of another foreign hotel chain The Hilton group, they too want to expand furiously in next couple of years.
HDFC bank declared result last week, as the profit of Rs. 4799 crores for Jan - Mar quarter abd Rs. 17486 crores for last financial year. Bur, who benefits fro HDFC Bank's success story is not Indians. As HDFC Bank 74% is owned by foreigners only they are make profits.
Our entire focus is on Nirav Modi and Vijay Mallya and we choose to miss whole India story. While foreigners also do take note of these guys and invest more when such scams occurs. Other very successful companies, Paytm and Makemytrip are owned by foreigners and Indian have minor stake in them.
I just only want to point out one thing please sit on your investments in Equity and Mutual funds even if the time is bad for Markets. India is growth story and the foreigners are investing here when our markets get crashed. They invest at low price markets are down and earn good profit when market goes up. When we enter the market they are about to pull out the from the market and wait for another crash or down trend in the market.
Image Source : Google