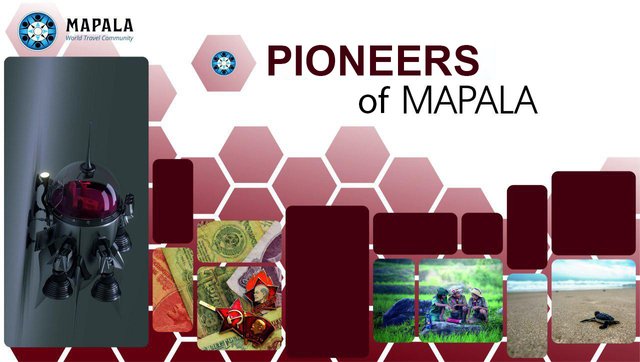 Hello, my friends! A few days ago, we in Mapala team decided to renovate (in a good way) the volunteers' activities. As a rule, volunteers are people who do something for free, so we decided to rename them to Mapala Pioneers. We find this concept the best possible way to express our understanding towards activities of those enthusiasts who help pushing forward the Mapala community. And now we would like to present you a new system of interaction of Mapala active users with the resource. Mapala is a decentralized project, and it means that all interested people can contribute to its development, getting for this a share in the project and becoming its full-fledged co-owners.
Right now, you can become a part of our team, help us develop Mapala, and bear the proud title of Pioneers. By putting your efforts to level up the project, you contribute not only to a specific resource development, but you also discover new horizons for all travel enthusiasts, expand the boundaries of knowledge and understanding of the most interesting places on our planet. We are building a new reality, and you can become a part of it. By joining the project, you will not just come into possession of MPL tokens, you will actually become the main driving force of the platform. Together we can and will do the project better every day.
Contribution to the project development carries not only an ideological, but also a material value which can be estimated on how much effort and time you invest in the project. Within 5-7 years after the ICO, we will distribute 60-80% of tokens to the participants contributing to the platform development.
This is quite an ambitious and major task, and our priority is to make it happen, that is why we are developing a fair remuneration system for everyone who gets the project closer to the goal. For these purposes, we will develop and test out a fair human controlled algorithm. We cannot outsource it to a soulless machine, we will ourselves set the rules of the reward, we will try to make our judgment fully open-minded. And if there is a disagreement with the efforts assessment, we will analyze specific tasks and their costs.
Especially for this mission, we have accumulated a decent MPL token bounty fund, and this post is a red ribbon in front of the door to a brighter future and a new reality. Right now, you can join the Mapala Pioneers Guild and become one of the important driving forces for the project representation.
Starting today, we will be regularly posting tasks that would help attract forces on our bright side and involve parts of the world not covered in the media. You just need to join our board in Trello, choose a task to your liking, fulfill it and get a well-deserved reward, as well as moral satisfaction from participating in the Mapala community development.
Join our channel in Telegram, contact @yudina-cat, the Pioneers coordinator.
In the future, we will be improving the reward system, pick the most active Guild Pioneers and grant them a free journey. And the most ideological and hardworking ones will get a chance to join the core of Mapala.
We will be glad to see you in our chat, join in, it is going to be fun! Let's make the world better, travel more and share our impressions with each other. Let's follow the adventures!
Mapala team