GOOD MANNERS AND DECORUM
Hi Good day my fellow steemians, have a bless day to us guys, here I am again :) I just want to share you guys about this article entitled the "Good manners and decorum".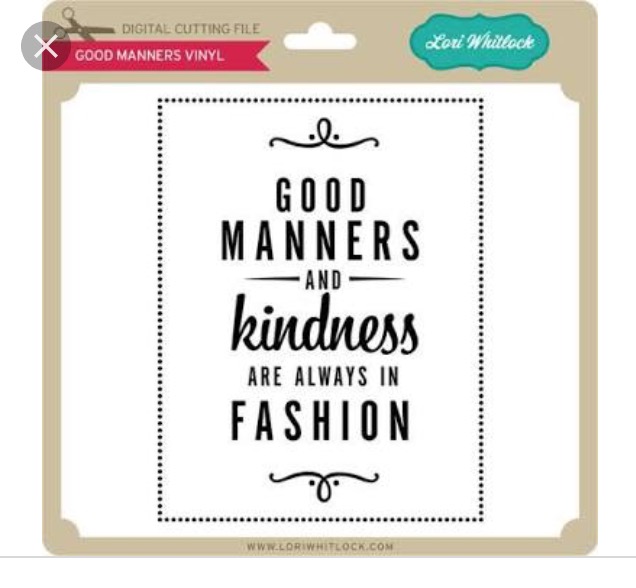 Image source:www.LORIWHITLOCK.com
MANNERS are conducting oneself. The phrase "good manners" encompasses in many things. It includes modesty, gentleness, honesty and dignity. It is neatness and correctness in the home and society. It is saying the right word at the proper time and proper place. It includes also the several forms of kindness like tolerance and hospitality.
DECORUM is propriety and good taste of behavior, speech, dress etc. One who observes decorum can gain the respect of others and is admired to those people sorround you. People expect good manners from you or observes decorum from your home, in school, in office or in any place. Showing manners to others is one way of giving respect.
Knowledge of good manners adds to one's self-confidence and it is the great help to developing our personality. Those who practiced good manners are poised and at ease.
HERE ARE SOME MANNERS IN THE FAMILY :
The filipino family is closed knit. However, even though the family maybe closed kit, each member is entitled to his full share of privacy.
Parents violate their childrens privacy by opening letters to their children.
Reply courteously to parents or to the older members of the family.
Never use personals' belongings, for the sake of personal hygiene.
Never shout out when someone's talking.
Let your parents or the family member know when you leave the house.
Never open your parents' drawer or bags without permission
Thanks for reading this article guys !
Hope you can get ideas on how you handle your manners.
Have a good day to us :)