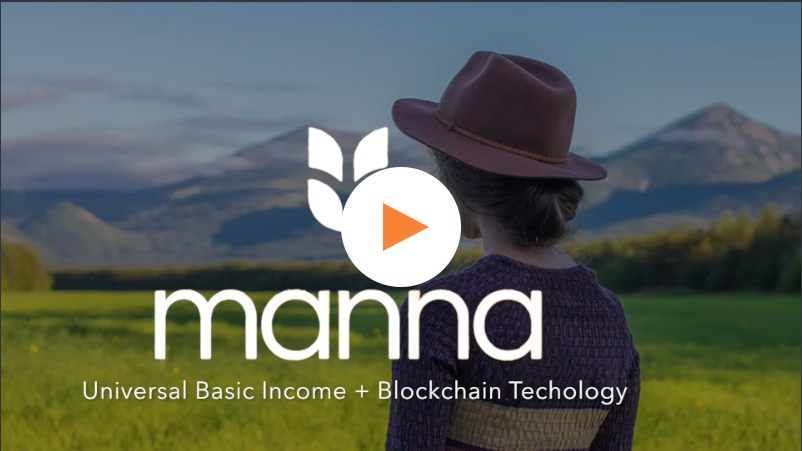 What is Manna? Manna is The People's Currency!
Manna is the world's first universally accessible, people-powered alternative currency.
No matter who you are or where you're from, you have a basic human right to share in the money supply.

Manna Coin is fast, transparent and secure digital money built on decentralized blockchain technology and allows borderless transactions.

Manna is managed and distributed as Universal Basic Income by a 501(c)(3) recognized nonprofit organization based in the USA.
Manna Universal Basic Income provides a social dividend in which everyone in the world can receive a regular unconditional sum of money.

Every person is eligible simply by proving they are a unique human being.
Counterbalance the growing displacement of jobs due to automation.

Automated distributions send manna to all participants on a regular, ongoing basis.
All new money created distributed evenly among all participants.

User verification process to prevent duplicate signups, keeping Manna fair for everyone.
Reduces and alleviates poverty by providing the means to support a basic level of existence.
How do you get Manna?
Go to Mannabase Website. For security reasons, make sure, you use this link: mannabase
Sign up and get your referral code.
Prove you are a unique human being.
Receive regular distributions of Manna in your web based wallet.
Source: Mannabase Website
IMPORTANT: All information in this article are token from the Issuers website and for INFORMATION solely. It is NO invitiation to participate! It is out of our responsibility and fully in your responsibility, in case of loss or damage, because you decided by yourself to participate!
*Useful TIPPS*: To avoid confusion over the Sign Up process to receive Free Manna Currency we provide you with some helpful Tipps I found on FB. 1. The Project has been set up to provide a basic income for every human being on earth regardless of sex, age, nationality etc. It is totally Free and payouts are weekly. 2. Being in it's Infancy the Coins are not yet that valuable but it is projected that in 5-10 years this new currency could be as valuable as Bitcoin or Etherium. 3. The Project is being backed by some very influential figures and by U.S based 501 Charities. It is possible during this start up phase of the Project to increase your weekly payouts by referring other people to sign up to the program. 4. You can use any of the links on this page to register for a new account. After account creation you MUST apply for the UBI (universal basic income) on the website. It can take up to 7 days to get approved so please be patient. The only requirement for approval is that you are a unique human being. If you are in any doubt about the process please send a message and we will walk you through.
Useful links:
Mannabase Discord
Mannabase Twitter
Mannabase Facebook
Mannabase Instagram
Mannabase Register