My original samurai manga -Jingi- chapter40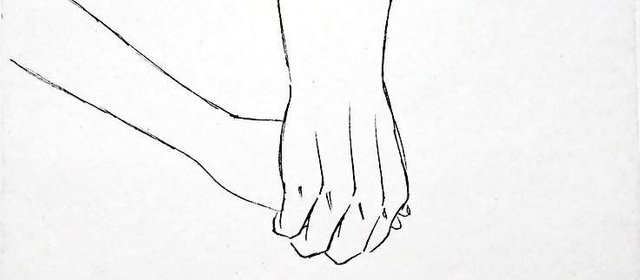 Hello steemians!
I am RYO!
This is a -Jingi- New Chapter post
-Jingi- is not my previous work, it's my original manga that I'm currently working on
About hints to read manga before
Read manga from the right
Red word are Japanese. The meaning is written in (※)
If you do not understand how to read manga please read the sentences under the picture. It's written in the order of manga
-Jingi- Chapter40↓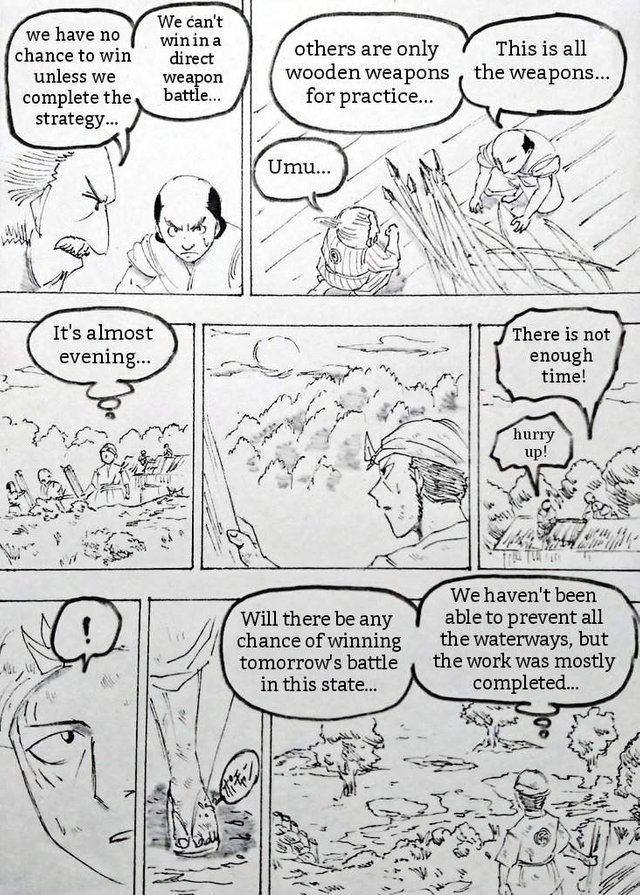 This is all the weapons... others are only wooden weapons for practice…
Umu…
We can't win in a direct weapon battle...
we have no chance to win unless we complete the strategy...
There is not enough time!
hurry up!
It's almost evening…
We haven't been able to prevent all the waterways, but the work was mostly completed...
Will there be any chance of winning tomorrow's battle in this state…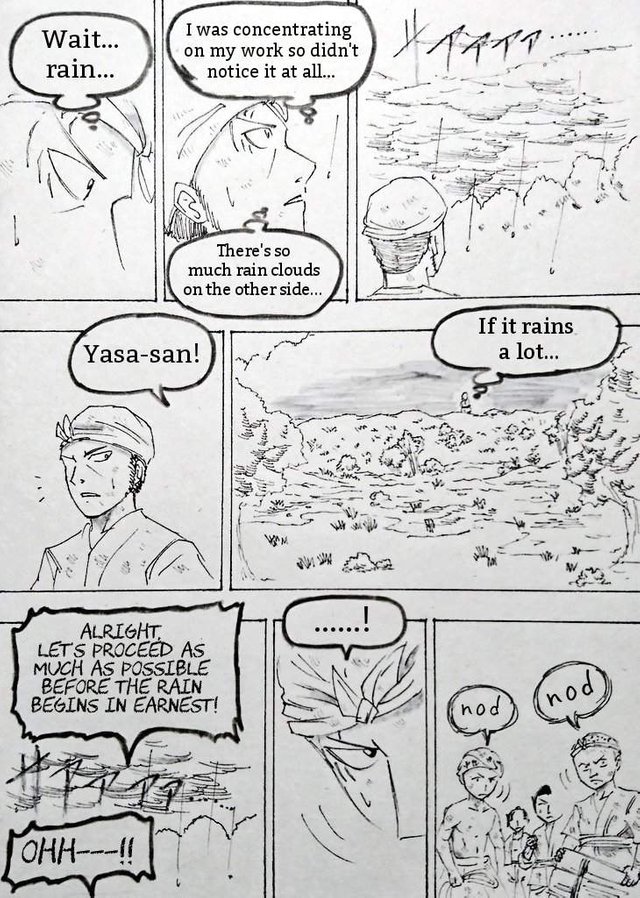 I was concentrating on my work so didn't notice it at all...
There's so much rain clouds on the other side...
Wait…rain…
If it rains a lot...
Yasa-san!
Alright, Let's proceed as much as possible before the rain begins in earnest!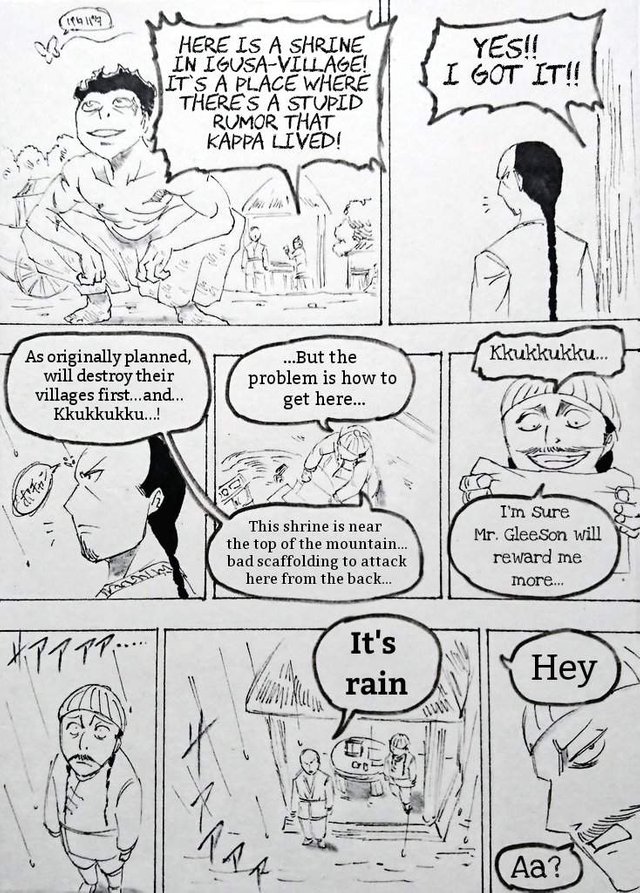 YES!! I got it!!
Here is a shrine in Igusa-village! It's a place where there's a stupid rumor that kappa lived!
Kkukkukku…
I'm sure Mr. Gleeson will reward me more...
…But the problem is how to get here...
This shrine is near the top of the mountain...bad scaffolding to attack here from the back...
As originally planned, will destroy their villages first...and…Kkukkukku…!
Hey
Aa?
It's rain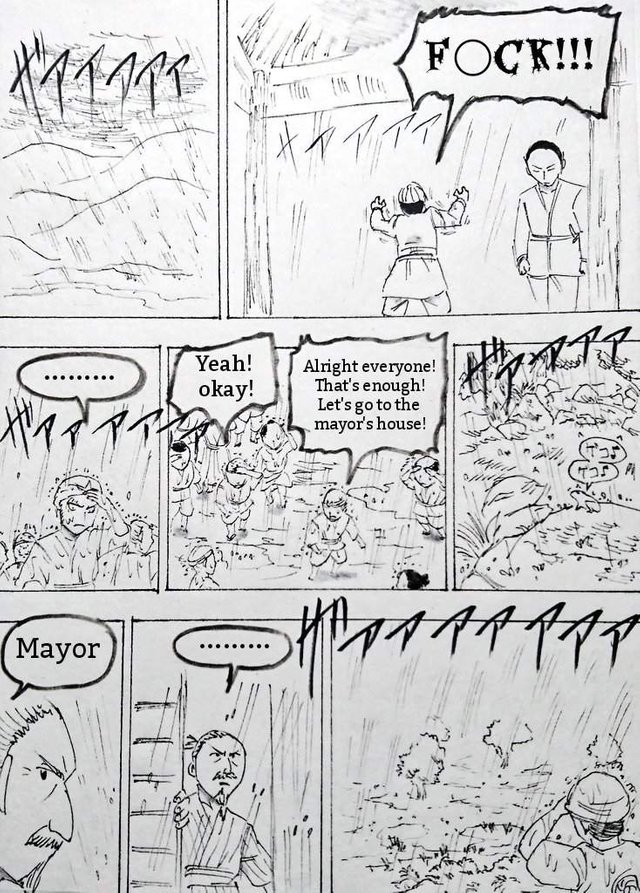 F○ck!!!
Alright everyone! That's enough!
Let's go to the mayor's house!
Yeah! okay!
Mayor!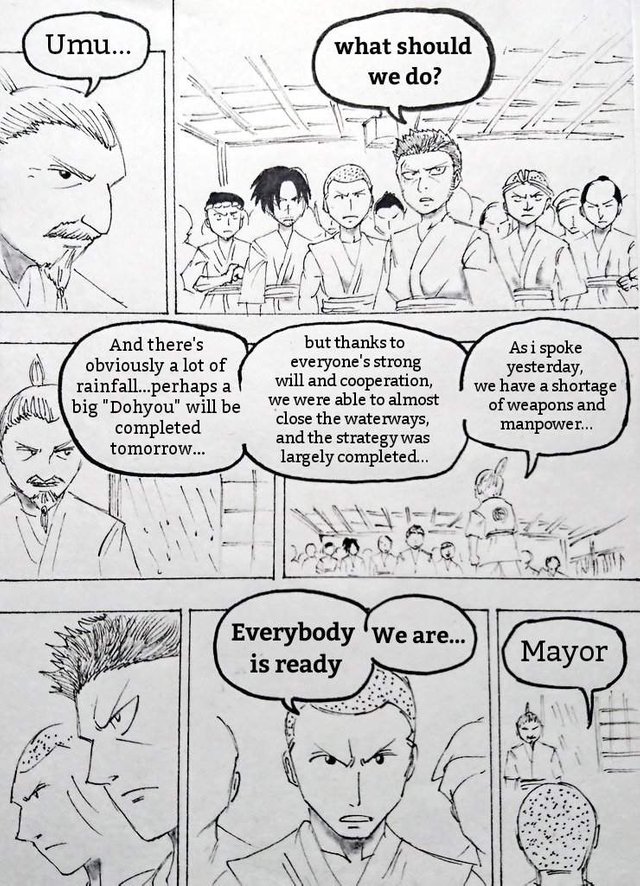 what should we do?
Umu…
As i spoke yesterday, we have a shortage of weapons and manpower...
but thanks to everyone's strong will and cooperation,
we were able to almost close the waterways, and the strategy was largely completed…
And there's obviously a lot of rainfall...perhaps a big "Dohyou" will be completed tomorrow...
Mayor
We are…Everybody is ready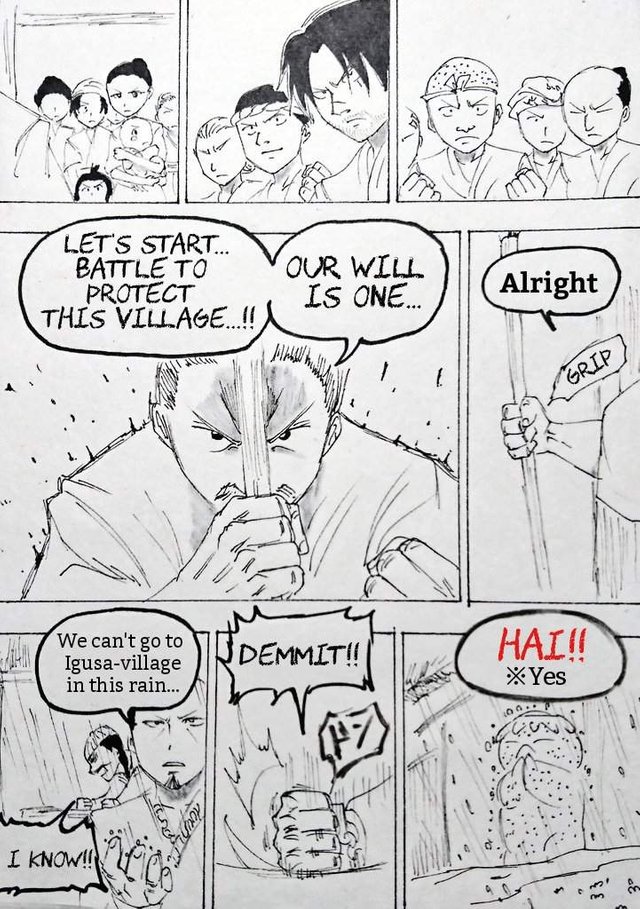 Alright
Our will is one...
let's start...battle to protect this village...!!
Hai!!=※Yes
Demmit!!
We can't go to Igusa-village in this rain…
I know!!
This rain makes the scaffolding worse...It's hard to walk to that village...
but no problem…they don't know we're going tomorrow...Even if the scaffolding is bad, we shouldn't have any problem to forcibly attack!
Anyway, don't be killing time! Grayson is waiting! !
Stupid…We're not your piece...
Have you put together your clothes?
Yes!
Women and children should be prepared to escape immediately after the rain stops!
I want to fight together...
But is it going to get in the way…
…Yoshie…I'll leave children to you
Hai…=※Yes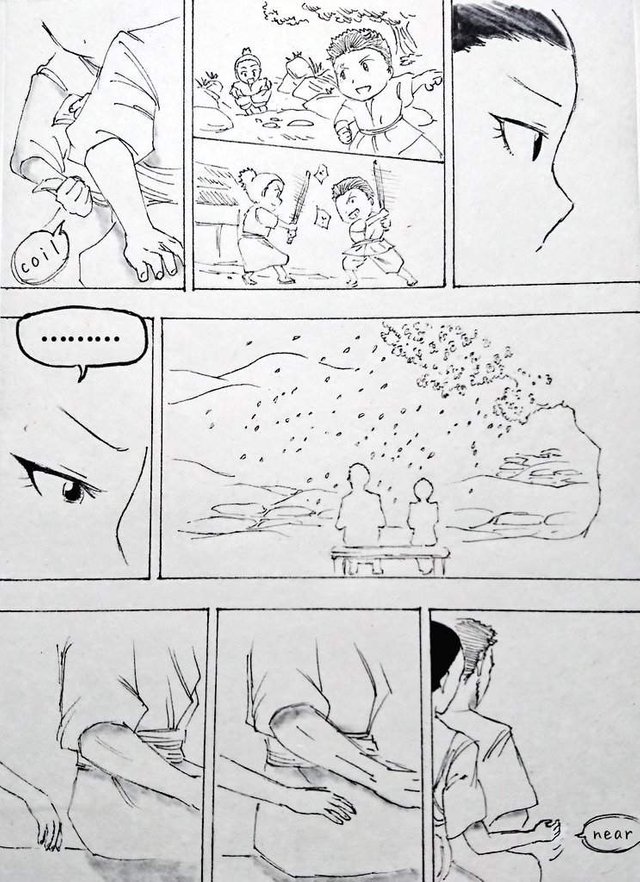 ………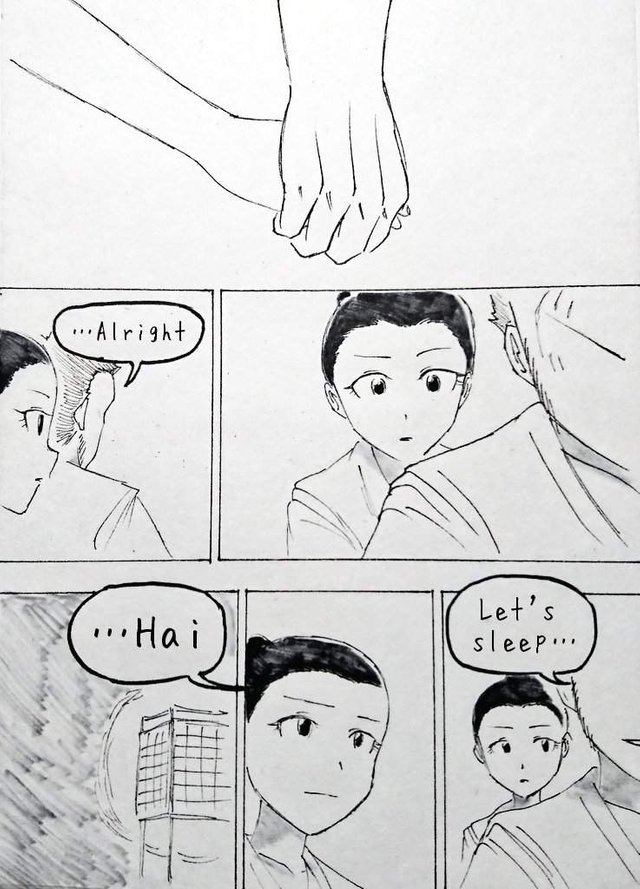 …Alright Let's sleep…
Hai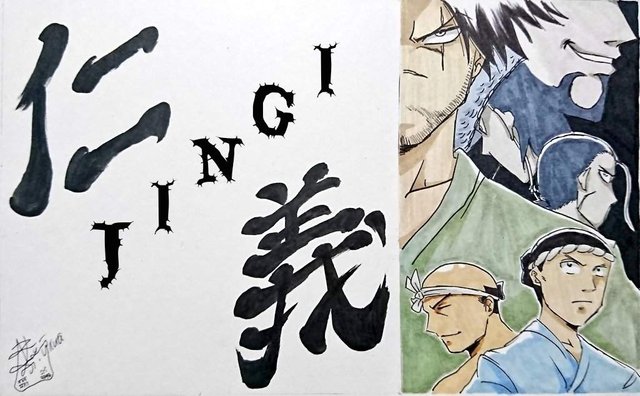 Work process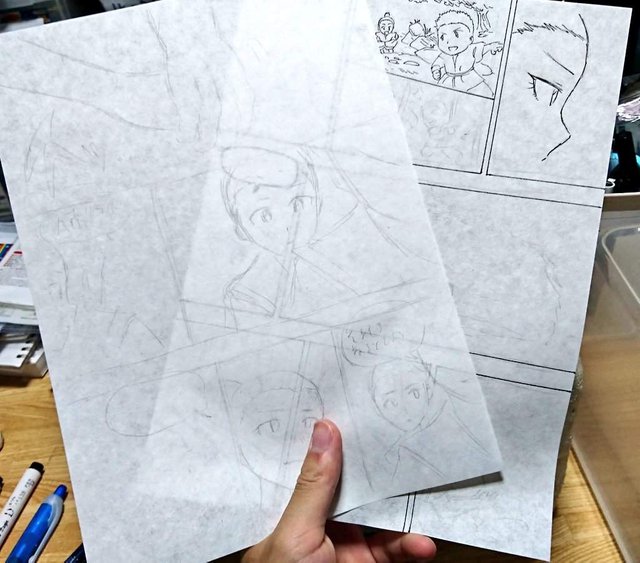 The next chapter will be posted 6 or 9 days later
Thank you for reading!
Arigatou gozaimashita!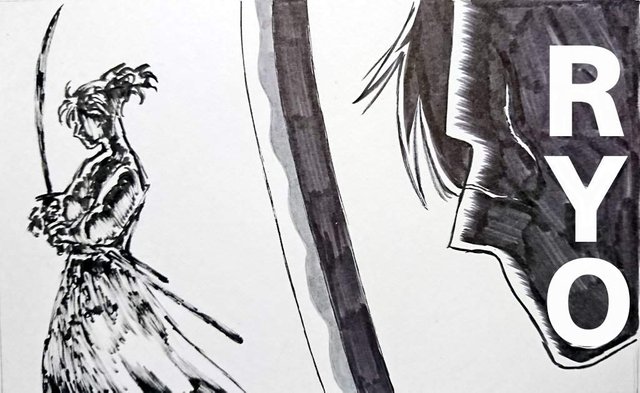 Have not you seen the -Jingi-仁義 series yet?
My Original Samurai manga -Jingi-仁義 can be seen here!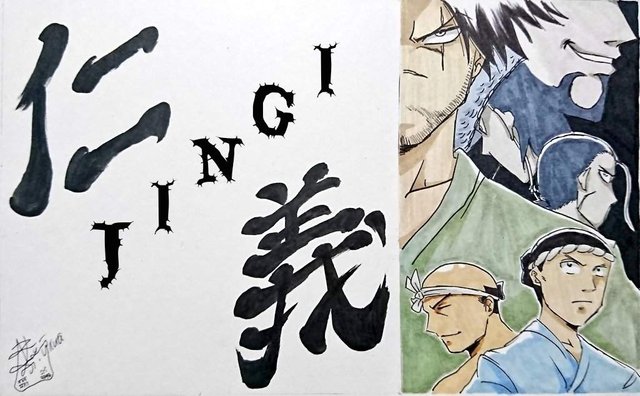 Chapter 1-2-3-4-5-6
https://partiko.app/ryo-6414/my-original-samurai-manga-jingi-chapter1-2-3-4-5-6?referrer=ryo-6414
Chapter7
https://partiko.app/@ryo-6414/the-samurai-manga-jingi-chapter7-grqawewf
Chapter8
https://partiko.app/@ryo-6414/the-samurai-manga-jingi-chapter8-ttoreio0
Chapter9
https://partiko.app/@ryo-6414/the-samurai-manga-jingi-chapter9-hsqg1hln
Chapter10
https://partiko.app/@ryo-6414/the-samurai-manga-jingi-chapter10-ndtrvpio
Chapter11
https://partiko.app/@ryo-6414/the-samurai-manga-jingi-chapter11-u1uou8kh
Chapter12
https://partiko.app/@ryo-6414/the-samurai-manga-jingi-chapter12-amvjv9zp
Chapter13
https://partiko.app/@ryo-6414/the-samurai-manga-jingi-chapter13-bmpvkucw
Chapter14
https://partiko.app/@ryo-6414/the-samurai-manga-jingi-chapter14-ei5ga7kk
Chapter15
https://partiko.app/ryo-6414/the-samurai-manga-jingi-chapter15-bzsgcipn?referrer=ryo-6414
Chapter16
https://partiko.app/ryo-6414/my-original-samurai-manga-jingi-chapter16-2erk8o7d?referrer=ryo-6414
Chapter17
https://partiko.app/ryo-6414/my-original-samurai-manga-jingi-chapter17-zkggrwuu?referrer=ryo-6414
Chapter18
https://partiko.app/ryo-6414/my-original-samurai-manga-jingi-chapter18-gs27fsdh?referrer=ryo-6414
Chapter19
https://partiko.app/ryo-6414/my-original-samurai-manga-jingi-chapter19-lrnweqqi?referrer=ryo-6414
Chapter20
https://partiko.app/ryo-6414/my-original-samurai-manga-jingi-chapter20-2en9sfrq?referrer=ryo-6414
Chapter21
https://partiko.app/ryo-6414/my-original-samurai-manga-jingi-chapter21-vu8lonac?referrer=ryo-6414
Chapter22
https://partiko.app/ryo-6414/my-original-samurai-manga-jingi-chapter22-5fusqjsh?referrer=ryo-6414
Chapter23
https://partiko.app/ryo-6414/my-original-samurai-manga-jingi-chapter23?referrer=ryo-6414
Chapter24
https://partiko.app/ryo-6414/my-original-samurai-manga-jingi-chapter24?referrer=ryo-6414
Chapter25
https://partiko.app/ryo-6414/jyjmg-my-original-samurai-manga-jingi-chapter25?referrer=ryo-6414
Chapter26
https://partiko.app/ryo-6414/my-original-samurai-manga-jingi-chapter26?referrer=ryo-6414
Chapter27
https://partiko.app/ryo-6414/my-original-samurai-manga-jingi-chapter27?referrer=ryo-6414
Chapter28
https://partiko.app/ryo-6414/my-original-samurai-manga-jingi-chapter28?referrer=ryo-6414
Chapter29
https://partiko.app/ryo-6414/my-original-samurai-manga-jingi-chapter29?referrer=ryo-6414
Chapter30
https://partiko.app/ryo-6414/my-original-samurai-manga-jingi-chapter30?referrer=ryo-6414
Chapter31
https://partiko.app/ryo-6414/my-original-samurai-manga-jingi-chapter31?referrer=ryo-6414
Chapter32
https://partiko.app/ryo-6414/my-original-samurai-manga-jingi-chapter32?referrer=ryo-6414
Chapter33
https://partiko.app/ryo-6414/my-original-samurai-manga-jingi-chapter33?referrer=ryo-6414
Chapter34
https://partiko.app/ryo-6414/my-original-samurai-manga-jingi-chapter34?referrer=ryo-6414
Chapter35
https://partiko.app/ryo-6414/my-original-samurai-manga-jingi-chapter35?referrer=ryo-6414
Chapter36
https://partiko.app/ryo-6414/my-original-samurai-manga-jingi-chapter36?referrer=ryo-6414
Chapter37
https://partiko.app/ryo-6414/my-original-samurai-manga-jingi-chapter37?referrer=ryo-6414
Chapter38
https://partiko.app/ryo-6414/my-original-samurai-manga-jingi-chapter38?referrer=ryo-6414
Chapter39
https://partiko.app/ryo-6414/my-original-samurai-manga-jingi-chapter39?referrer=ryo-6414
All my mangas drawn in "Washi(和紙)"
It is a traditional Japanese paper made from 1300 years ago.
This is my Washi of post↓
https://steemit.com/traditional/@ryo-6414/washi-is-process-work-dlm5nqgq