About MANA Decentraland project; fundamentals and technical analysis
Project name: Decentraland
Index: MANA
Project Type: blockchain-based play-to-earn metaverse
Platform: Ethereum
Founders: Ari Meilich and Esteban Ordano (from Argentina; interesting isn't it?!)
to read about "how does it work" I suggest you this article (Image also from this post) by Antony: https://hub.easycrypto.com/decentraland-mana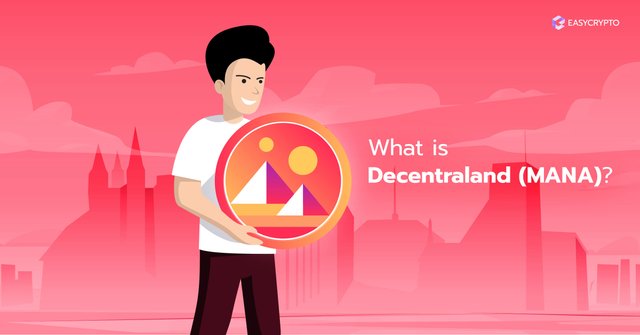 In Decentraland users can explore the 3D virtual world interacting real time with other players, being enabled to buy digital plots to develop into their own gaming experiences.
Decentraland has seen considerable growth as more people have begun to adopt metaverses, maybe thanks to big corporates like Facebook which recently changed in to Meta company.
MANA is the main utility token within the Decentraland ecosystem. users must hold MANA to conduct transactions within the platform; An ERC-20 token that can be traded on DEX and centralized exchanged like Kraken.
MANA also means power to vote on the community. this is like PoS concept and brings more incentive to hold the token, though, you have to change MANA to Warapped MANA to be able to vote. (maybe I can compare it with STEEM power vs STEEM token)
Inflation: MANA tokens are deflationary and this is the interesting part of tokenomics in my opinion. the total supply of MANA is capped at 2.8 billion tokens, half of it in circulation already.
Technical: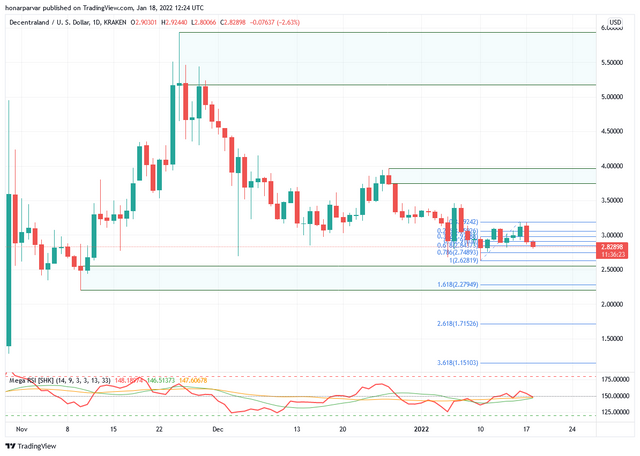 two major supply and demand areas are marked in the chart (Alfonso Moreno's technique for Pivots) and another between them.
A Hidden bearish divergence is detected and confirmed between 26 Dec peak and 16 Jan 2022; and a bullish hidden divergence in weekly chart is VERY PROBABLE with first leg @ 20 Sep 2021 and any week deep soon!
So I look in to a buy order at below two levels: 2.56 USD and 2.28 USD
my target for next wave is 7.9 USD and 11.2 USD (1.618 and 2.618 levels for Fibo ext. on downtrend)
this is not financial advise and I don't get paid to promote any projects! I just share ideas :)