Why a Log Cabin is Perfect for Creating the Ultimate Man Cave
Originally posted on : https://www.loghouse.ie/why-a-log-cabin-is-perfect-for-creating-the-ultimate-man-cave/
John Gray, author of the bestselling book, "Men Are From Mars, Women Are from Venus", described how men felt the need to withdraw from the stress and strain of life. He called their place of refuge a "man cave."
Do you need your own space away from the rest of the family? Click here to learn why a log cabin is perfect for housing the ultimate man cave.
Close to Home
You need a place to retreat to from the pressures of life. Work and home life can be great but it's still good to have a place to go that is just yours. Other people can visit but it's by invitation only and when you want to be alone, you can be.
A place that's near to home means you don't have to take too much time and money to get there. A log cabin in your own garden can be just such a convenient place to go for seclusion. Step out of your home and into your man cave in a matter of moments.
Any Time of Year
A log cabin can be constructed from all-weather materials and insulated too. That means you can be comfortable in your man cave all year round. You can be cosy in winter and in summer, you can be cool.
With thoughtful planning, creative lighting and heating can make your man cave a great place to be even on the darkest winter evening. Specify your needs and your log cabin can be well equipped with spotlights, ambient lighting, and neon to make your dream a reality.
Value for Money
Building an extension to your home can be considerably more expensive than a log cabin. The conventional building involves so much more planning, costs, and disruption. Your man cave can be installed quickly and inexpensively.
A log cabin lasts longer than you might think too. Your man cave may well last for two or three generations. That's value for money.
So Flexible
A log cabin may make a great man cave but perhaps you don't want to limit your options in the future. Your man cave could be re-purposed as a home office, workshop or home gym. You can even combine your man cave with any of these other options.
By day, work from home in your home office. In the evening and week-ends turn your home office into your man cave. Some simple adjustments can make this flexible space a part-time workshop and hobby room as well as a bolt hole.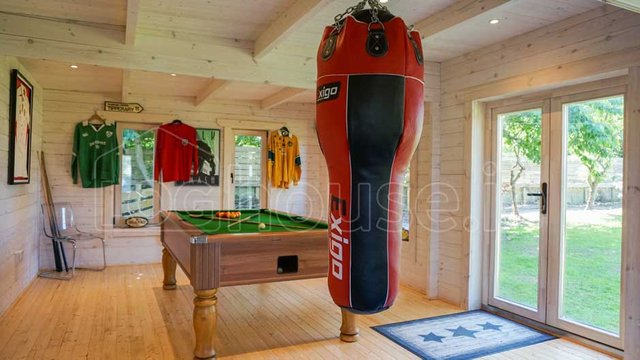 Work-Life Balance
Work-life balance can be an issue for many people working long hours in a demanding job. Getting time away from work is important and spending time with family and friends is a great way to balance work pressure. Even home life with childcare and chores can be hard work.
Having an opportunity to pursue your interests, having some personal time, and resting is part of the balance we all need. A man cave gives you the chance to charge up your batteries to perform well at work and at home. Having it near your home means that you don't have to sacrifice as much time away from family as going to a gym or a bar would involve.
The Ultimate Man Cave
So, what would be the ultimate man cave in a log cabin? What can a log cabin accommodate?
Arcade Games
Having a log cabin with a power supply opens up many opportunities for arcade fun. Arcade games and jukeboxes are perfect for a man cave.
There are vintage classics like space invaders or asteroids. Pinball machines combine bright flashing lights, the sounds of the arcade and a challenge too. There's nothing quite like playing your favourite tunes from your own jukebox.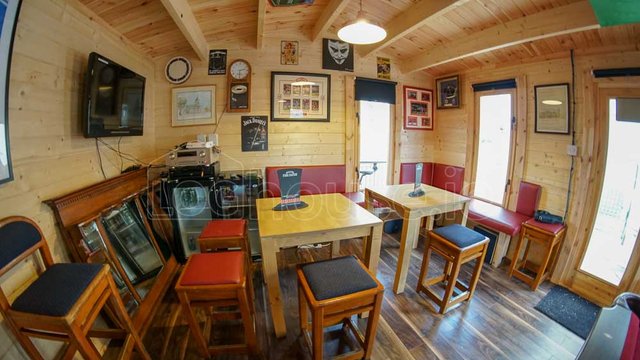 Bar
A bar is an essential man cave convenience. A log cabin can have plumbing services fitted so you can wash glasses and wipe down your bar without having to go back to your home. Fitting a small bar means you can have friends round for a drink or enjoy a quiet nightcap yourself.
Don't forget to fit a dartboard and pool table. They help create a pub-like ambience.
Sporting Memorabilia
Sporting memorabilia might not be of interest to everybody in your home but it's great to have a place you can display it. You can fit frames to the walls of your log cabin with jerseys, autographs or pictures of special sporting events.
A display cabinet for interesting sporting objects such as golf balls or footballs might look out of place in your home. They look perfect in your man cave.
Sporting Equipment Storage
If you are a sportsman you have to have somewhere to store your sporting equipment. Fishing rods and tackle, golf clubs and tennis rackets can all have a home in your man cave. You will always be able to find them and they can be kept in good condition.
A well-built log cabin with proper insulation and waterproof materials is much better than a traditional shed or even some garages for storing your sports gear. They will be dry, free from damp and in tip-top condition.
Beer Fridge
If you prefer not to go to the expense of a fully fitted bar in your man cave there are other options. A power supply and proper insulation mean that you can have a beer fridge in your log cabin.
A fridge can't be housed in an environment that is exposed to very low temperatures. If specified, your log cabin can have a suitable power supply. It can also be built to maintain a temperature that is similar to your home so it's fine for your beer fridge.
Large Screen TV
A power supply, quality security, and comfortable heating and insulation make a log cabin perfect for a home cinema. Fit a large screen TV on the wall, surround sound speakers and seating. You can enjoy movies or gaming with or without your mates.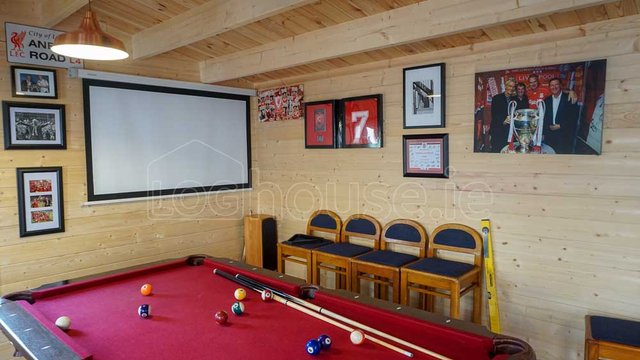 Make It Yours
A man cave is good for your wellbeing. It's a great stress reliever and if you want to, you can invite other people to share the fun too. Make it yours but customizing your log cabin, man cave.
All images are the property of : https://www.loghouse.ie/