Friday Night Magic - How good is Karn, Scion of Urza in Limited
So my story for magic is pretty late, but here we go. Like always i'm talking about another FNM experience.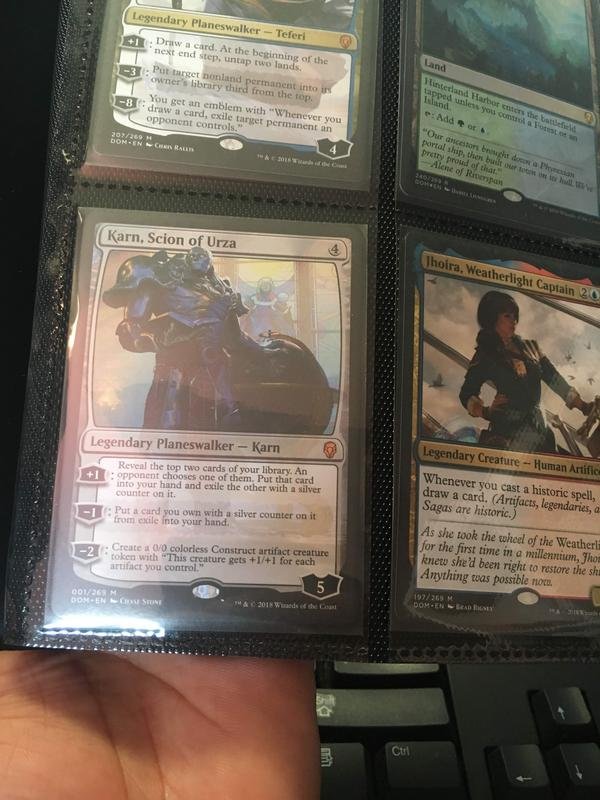 Last week i pulled a Karn, Scion of Urza in my second pack. At the moment he is the most expensive card in the Dominaria set, so it was a save pick. But just to be honest, he is in my opinion, the strongest planeswalker in the set.
Here are some points i like about this card
he fits in every deck and color combination
he generates a lot of card advantage
he comes in pretty early and starts on 5 loyalty
he can make metal dudes to protect him, working sick artifact heavy deck
So i played black/green Saproling with some decent support of removal spells. I fetched like 15 Saproling related cards, generating a ton of tokens on my side of the board. Besides of that, i got some combat tricks and KARN.
Even though i went 2-2 again, it was the strongest deck i ever played. Main reason for losing those 2 games, is my bad luck with mulligans and being manascrewed all 4 games i lost.
Let me focus more on Karn.
When he came into game early, i started to draw a bunch of cards, getting my silver marked staple of exiled cards higher and higher. Then, after getting the needed boardstate, i just fetched the needed the cards out of exile.
In late game, with the help of 1-2 artifacts, he was able to protect himself against other creatures. But still, his impact didn't feel as good as at his impact in early stages of the game. Late, he is more of a win more card.
Over all, i was pretty surprised, how good he fitted into my Saprolings deck.
The Value of this card in my opinion
Right now, a lot of people are using Karn, Scion of Urza in Standard, where he fits for example in to mono-red vehicles. Outside of Standard, like Modern, i don't see him appearing a lot, which let me implicate, that after his rotation out of Standard, he might just drop hard in Value. I'm not an expert, but he might be still to slow or just needs to find the right deck.
So guys, how do you feel about Karn? Did you draft him already?
Me and my girl are still figuring out our trip to the GP in Brussels, want to make a vacation out of it.