Manage your Clouds Easily with CloudMounter!
Would you like to learn about a Mac application that can help you manage all your cloud-based storage drives and that is very easy to use because this might be very useful for you?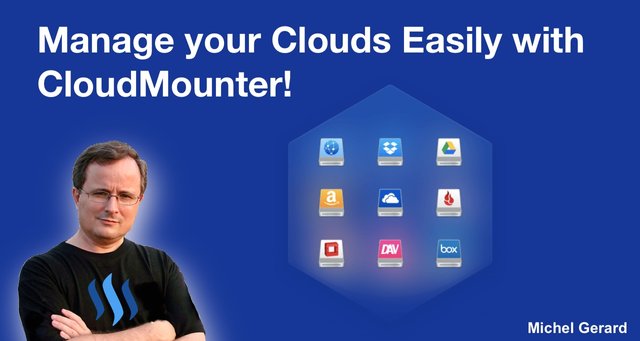 I have been very frustrated lately trying to manage a DropBox, which is not synchronized with my Mac because if you have tried to move around files, rename them or just view them on the Dropbox website interface, then you will understand what I am talking about.
What I needed is an application that could connect with DropBox, the same way as FTP applications do, so I could manage files and directories on my computer.
Manage your Clouds Easily with CloudMounter!
Today, I am very excited to show you an application that will help you a lot if you are using DropBox or other cloud-based storage like OpenStack Swift, Amazon S3, WebDAV, Google Drive, Box, Microsoft OneDrive or Backblaze.
This is a Mac application named CloudMounter and I guarantee that after you have tried it, you won't want to work without it: https://cloudmounter.net
I am not affiliated with them and it's a direct link.
First, you might want to watch their video that explains what you can do with it.
Secondly, this is their website.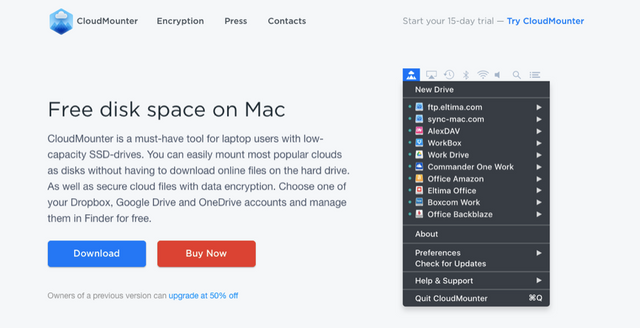 After trying a few other applications, I tried CloudMounter and not only it worked to set-up several DropBox accounts, but it was easy to do.
This is what they say about their awesome application.
CloudMounter is a must-have tool for laptop users with low-capacity SSD-drives. You can easily mount most popular clouds as disks without having to download online files on the hard drive. As well as secure cloud files with data encryption. Choose one of your Dropbox, Google Drive and OneDrive accounts and manage them in Finder for free.
And that's all the clouds that you can mount as disks on your Mac. You can also connect via FTP/SFTP/FTPS if you have a server and you want to drop files in a particular folder like I do.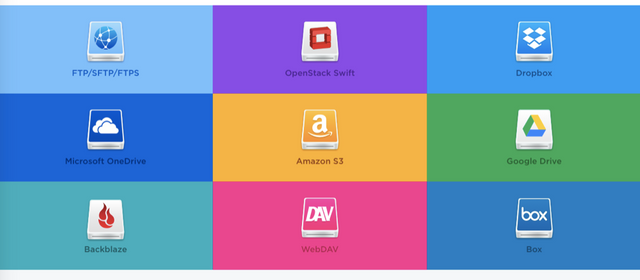 This is something that we do not think about because when we use DropBox, we use it as backup and we synchronize our files on our Mac and other devices.
If you have a Microsoft and Google accounts, then you can get extra storage for free. This is useful if you want to store photos on the cloud, for example, and if your laptop has a small hard disk.
You can use extra free DropBox accounts, which will give you 2GB of storage each, which you don't synchronize with your machine, extra Google Drives that will give you each 15 GB of free storage, and OneDrives that will give you each 5 GB of free storage.

This is just amazing and CloudMounter has 5-star reviews based on 58+ reviews. They deserve it and now I understand why.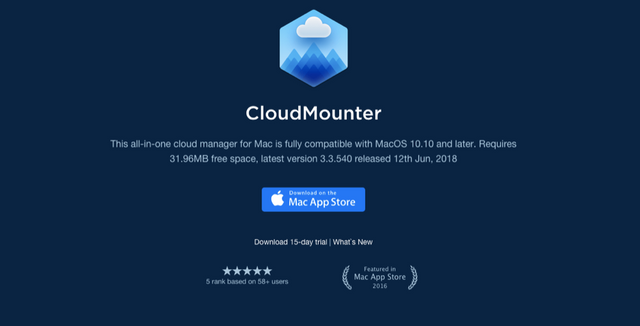 If you have a PC with Windows, then you are in luck, because they have just released a Windows version.

The only draw back is that it is not free, and I know some people will say, "What? Not a freebie?"
A license for one Mac is $44.99 and it is well worth the cost because of the time it will save you and the extra drives you can connect to and that will give you free storage.
How to use CloudMounter
When you create a new drive, you will see a window like this and you can click on one option to set it up.
You can see that I have 3 DropBox accounts here, OneDrive and Google Drive accounts, and also a FTP account on my own server.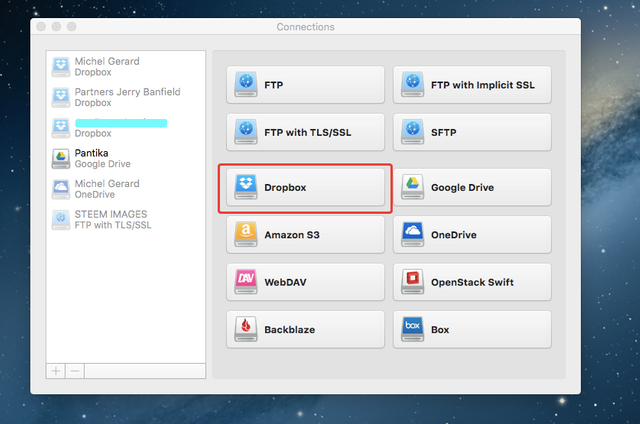 Connecting DropBox is easy, just click the button and you will see this screen. Then, you have to sign in with DropBox and you are good to go.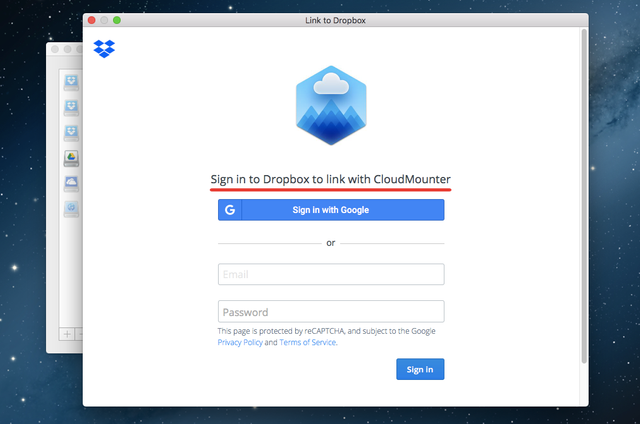 Then, you can access CloudMounter and your drives on the top bar of your Mac.
Notice the "New Drive" option in the menu and all the drives that are set up. You can mount and unmount them from there. You can also encrypt your drives, which I haven't tried yet.

This is how you see your DropBox or other clouds on your computer.
I connected here to the Jerry Banfield's DropBox for which I have access to because I am a partner and I can use all his PLR videos for my own use. You can become a partner too, if you click this affiliate link: http://pantika.us/jb-partners (I will get a small commission if you join.)
You can see that I can easily go to the folder I want, select the file I want, and even view the video without downloading it.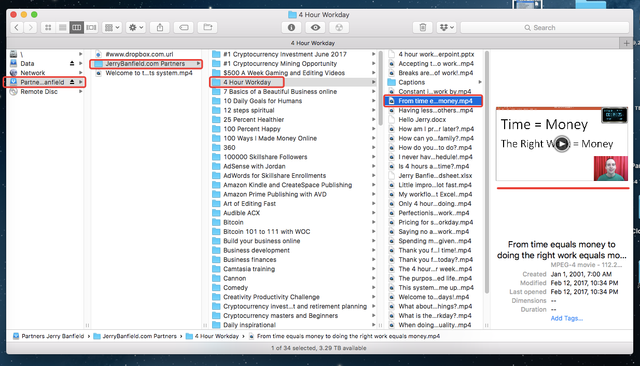 What you can't see is that not only I don't have to download the videos to use them, but I can upload them directly to another cloud or to my course hosting website like I did for these courses here: https://mgc.podia.com/.
One of them is free to join, so enjoy!
This is such a time-saving solution to directly be able to upload somewhere else without having to download on your machine first.
Below are the drives mounted on my MacBook Air.
The "Data" one is a Time Capsule that I can access only when at home with 2 TB, then I have my DropBox, and just connected a Google and OneDrive disks, which gives me an additional 12 GB that I can access from anywhere.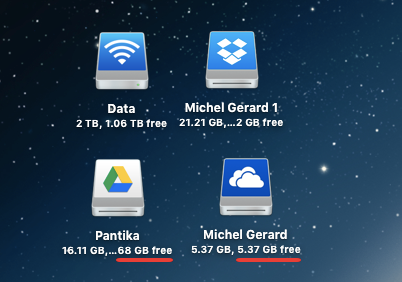 Isn't that awesome?
I hope you enjoyed reading this post and that you will try CloudMounter.
Would you upvote this post and follow me for more because this will encourage me to write more posts like this one?
I have categorized my posts on Steemit for easy access:
Steemit tools | Steemit strategies | Steem economics | Steem on WordPress | Blogging on Steemit | Steemit posts I curated | Cryptocurrency | Cryptocurrency trading | Mac computer tutorials | WordPress & online marketing | Self-development & motivation | Travel in Thailand | Travel in Japan | Travel in Europe | Life in Thailand | Fitness challenge | Fruit-veggie juices & smoothies | Education | My answers on Quora | Fundition tutorials & projects | Miscellaneous writing
You may prefer to go to my Steemit Posts Directory.
The most important votes you can make on Steem are for Witnesses. The top 20 witnesses can influence the addition or removal of features in future Steem hard forks. Read my post: What is a Steem Witness, How to Vote and Why?
Michel Gerard