A More Secure Setting for LastPass!
Would you like to see what setting I used in LastPass to make it as secure as possible to protect the cryptocurrency wallets that I have on my computer and also my Steemit account because you might want to do the same?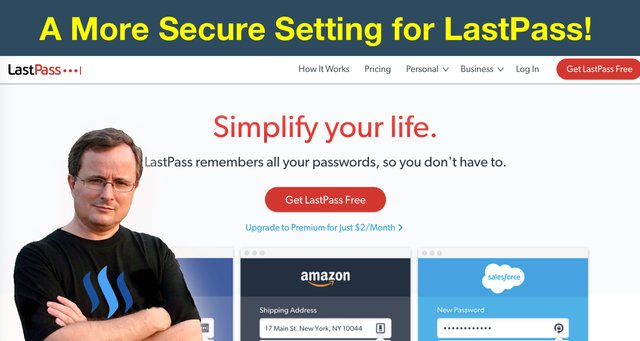 I have been using LastPass for ages and never had an issue with it, creating strong passwords, saving all my usernames and passwords for all the different websites that I am visiting. I even use "Secure Notes" on it, which is very useful.
If you haven't tried LastPass yet, go to https://www.lastpass.com and install it on your machine, on Chrome, Firefox and Safari.
With cryptocurrency wallets on my machine and also Steem, I recently realized that I could make it even safer than how it was and revisited the preferences and security settings.
A More Secure Setting for LastPass!
This is the Homepage of LastPass that you can download and use for free. I haven't felt the need to go premium as the free version already does everything a regular user would need.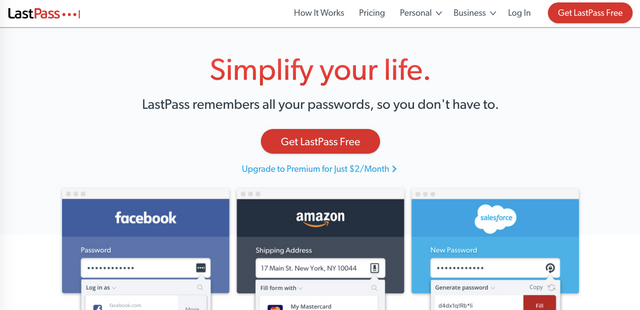 I am not going to show you how to use LastPass, but how to secure it better.
The first thing to do is to go to "Preferences."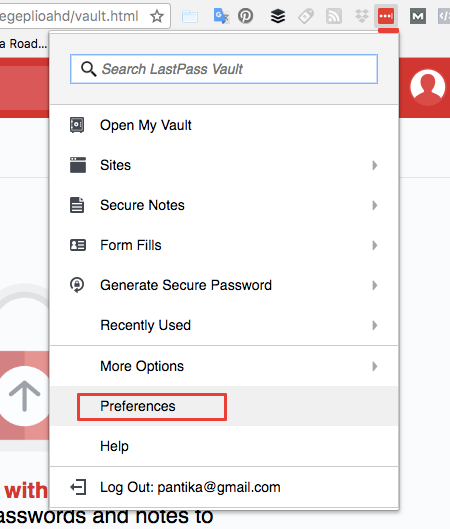 Then, under the "General" tab, check the two "Security" options to automatically log out after a certain time. Without that set up, it's like you are continually logged in, which is convenient, but this can be a weak point if your computer is unattended for just a few minutes and someone access your passwords. Do this for each of your browsers.

Then, in the vault, you have more options and "Account Settings."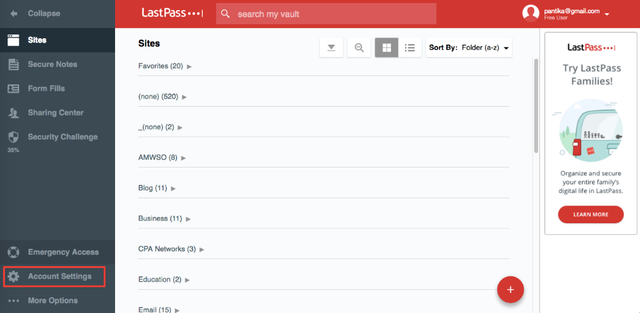 Under the "General" tab, go to "Master Password" and change it for something that is more challenging and that you can remember easily.
I admit that I have used a short password for quite a long time because it was fast to input, but very week.
It is changed now to something that may be taking 2 more seconds to enter, but much more secure.
Below this "Login Credentials" section, there is a "SMS Account Recovery" section that I did not have set up, and which I went through. This would be silly to be logged out of LastPass, not being able to log in and lose all the passwords stored there.

This links your phone to the account, which makes it a bit more secure.
Then, on the "Multifactor Options," they have a list of authenticators that you can use.
I use "Authy" for all my crypto needs and it works just like the "Google Authenticator."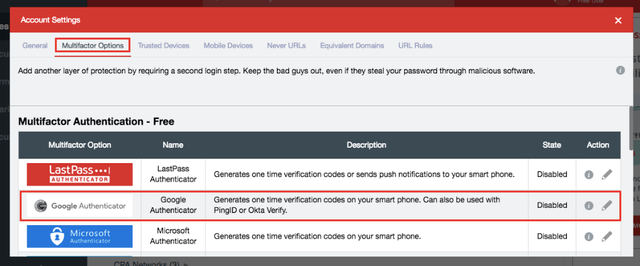 Click on the pencil, to set your 2-Factor Authentication (2FA) for LastPass.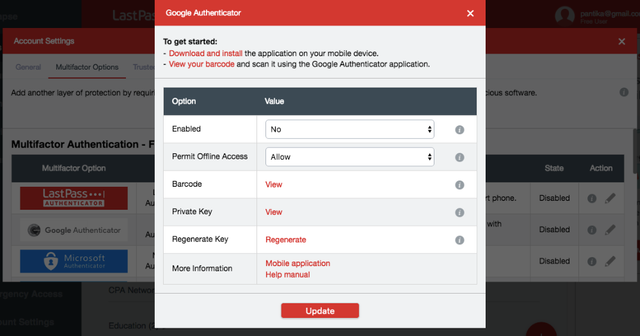 First, select "Yes" for "Enabled" and "Disallow" for "Permit Offline Access."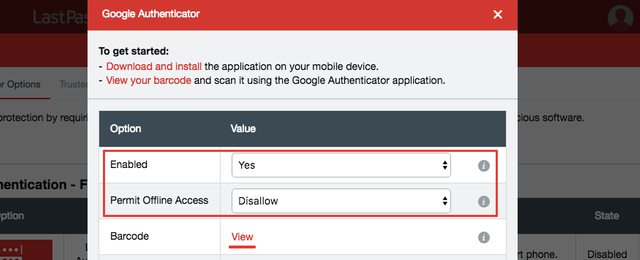 Click "View" to see the "Barcode."

It will ask for your strong password, click "Continue."
I masked the code, but this is what you have to scan with the "Authy" app on your smart phone.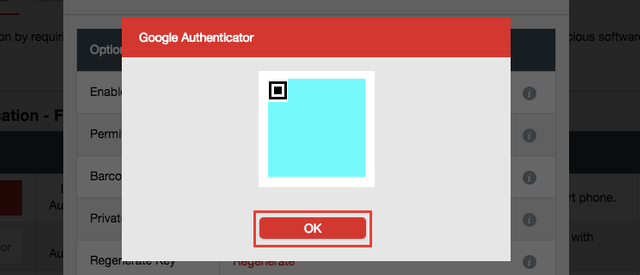 Click "OK" when it's done and then "Update."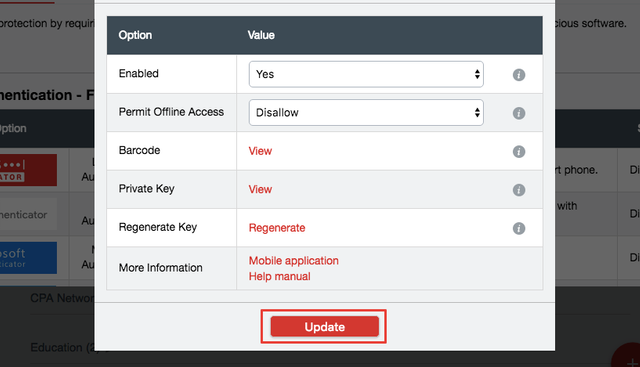 You will have to enter your first 6-digit code from "Authy" on your smart phone into here and click "OK."

You will get a confirmation message that the settings have been successfully updated.

Click "OK," then log out and re-log in.
This pop-up will show and you will have to run "Authy" for LastPass.

Enter the six digits number, check "Trust this computer for 30 days" and click "Authenticate."

This will show it's on the Chrome browser for this computer on the "Trusted Devices" tab.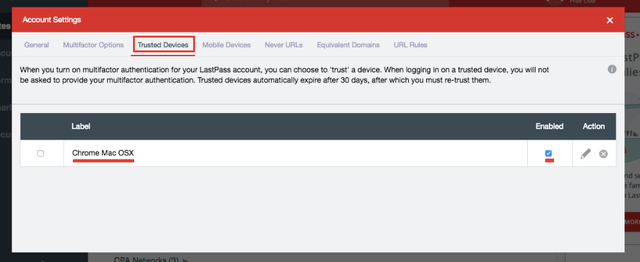 When you try to access LastPass from another computer and/or browser, you will have to use "Authy" again and authenticate the same way.
It's what I did with another computer and browser.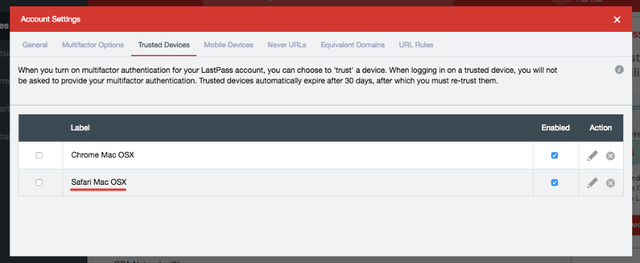 Now, I don't have to use "Authy" each time I want to log in, I am good for 30 days, and this is a good security measure to prevent unauthorized access to your LastPass account.
If someone gets your LastPass master password and tries to log in from another computer and browser, they will need to authenticate, and without your phone in hand that will be really difficult, nearly impossible to log in.
I hope this is useful for you if you have been using LastPass, or just want to try it, and that all your websites and cryptocurrency wallets will be much more secure now.
Would you upvote this post and follow me for more because this will encourage me to write more posts about online security like this one?
I have categorized my posts on Steemit for easy access:
Steemit tools | Steemit strategies | Steem economics | Steem on WordPress | Blogging on Steemit | Steemit posts I curated | Cryptocurrency | Cryptocurrency trading | Mac computer tutorials | WordPress & online marketing | Self-development & motivation | Travel in Thailand | Travel in Japan | Travel in France | Life in Thailand | Fitness challenge | Fruit-veggie juices & smoothies | Education | My answers on Quora | Fundition tutorials & projects | Miscellaneous writing
You may prefer to go to my Steemit Posts Directory.
The most important votes you can make on Steem are for Witnesses. The top 20 witnesses can influence the addition or removal of features in future Steem hard forks. Read my post: What is a Steem Witness, How to Vote and Why?
Michel Gerard