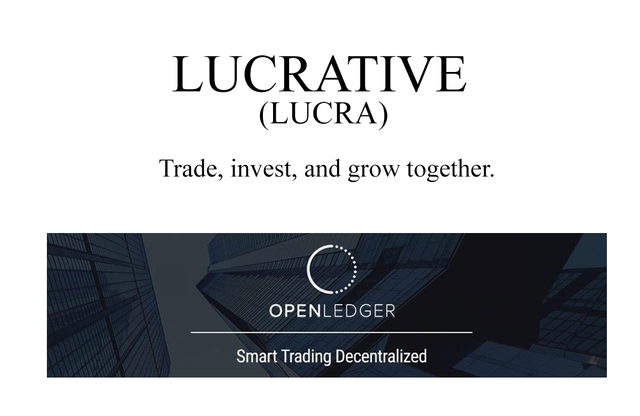 LUCRATIVE (LUCRA) is a digital asset on the Openledger Decentralized Exchange.
LUCRA is a long-term diverse investment plan, we will be investing in Openledger's Digital Assets, Steemit, Poloniex Lending, and Genesis Mining. Monthly or quarterly, a percentage of LUCRA's profits will be used to buyback & burn or a sharedrop that will increase LUCRA's value and decrease LUCRA's total available supply.
LUCRA will be using a percentage of its profits to buy Genesis Mining hashpower, while using a selected amount of promo codes from its holders monthly or quarterly. This will give a selected amount of LUCRA holders free hashing power. A percentage of the profits from GM will be used to buy more hashpower, as well as to buyback LUCRA or a sharedrop for all holders.
LUCRA will be investing in other assets on Openledger, then lending them on Poloniex Lending using our own Poloniex lending bot. A percentage of the profits will be distributed back to share holders by a buyback or sharedrop, increasing LUCRA's value and of its holders. LUCRA will also be trading on Openledger with similar buyback and burn assets.
LUCRA will invest in the Steemit platform by posting only on Steemit; giving LUCRA holders upvotes on all their blog posts. LUCRA will be purchasing Steem using profits from other investments, and saving it as Steem power to increase the value of the upvotes.
Finally we have a digital asset that will invest in the platforms we all enjoy. Using the Openledger platform will allow you to securely trade LUCRA in real time, with ultra-low fees. LUCRA has plans to hold other digital assets on Openledger in the future, this will increase the value in LUCRA and may expand its investments to other projects. LUCRA will do the investing for you.
---
LUCRA will be available starting today on Openledger.
We are also waiting for a new account to be accepted on Steemit that we will be using for all post related to Lucrative. Stay in touch as we will be posting more info on each investment as they start.
If you don't have a Openledger account CLICK HERE and signup.
Openledger Decentralized Exchange LUCRA/BTC
Openledger Decentralized Exchange LUCRA/BTS
Openledger Decentralized Exchange LUCRA/OPEN.BTC
http://cryptofresh.com/a/LUCRA