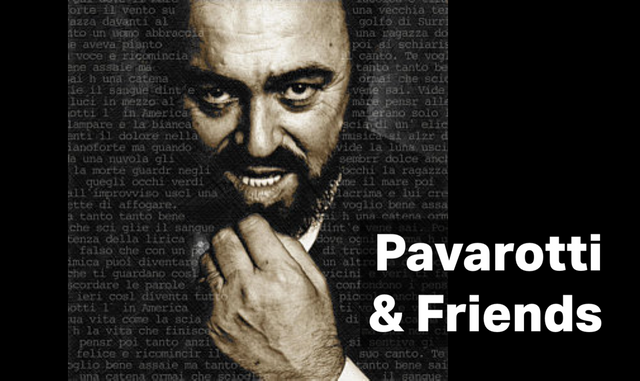 Who doesn't know Luciano Pavarotti!? He was one of the most well known and maybe the commercially most successful operatic tenor. He used his talent and skills to create bridges between classical and modern/pop music. I always appreciate artists making cross-overs, bringing some specific kind of music genre to a wider audience.
Pavarotti worked with many well known pop artists like Eric Clapton, George Michael, Liza Minelli, Sheryl Crow, Joan Osborne and many, many, many more. He also supported many good causes through eg benefit concerts he held under the name of "Pavarotti & Friends" in his home town Modena, Italy. One of these benefit events he organised, I share with you the video recording today.
Artist: Pavarotti & Friends
Set: For War Child
Year: 1996
"For War Child" supported the children in Bosnia, were a devastating war just ended.
NJOY this Great master & All the Fantastic Singers

Pavarotti & Friends - For War Child (1996)
Tracks
1 - Eric Clapton/Luciano Pavarotti - Holy Mother
2 - Ligabue - Balliamo Sul Mondo
3 - Sheryl Crow/Eric Clapton - Run, Baby, Run
4 - Jon Secada - Angel
5 - Lisa Minnelli/Luciano Pavarotti - New York, New York
6 - The Kelly Family - Ares Quie
7 - Litfiba - Spirito
8 - Sheryl Crow/Luciano Pavarotti - Là Ci Darem La Mano
9 - Joan Osborne - Saint Teresa
10 - Zucchero - My Love (Il Volo)
11 - The Kelly Family/Luciano Pavarotti - Ave Maria
12 - Eric Clapton - Third Degree
13 - Paco de Lucia/Al Di Meola/John McLaughlin - Mediterranean Sundance
14 - Ligabue/Luciano Pavarotti - Certe Notti
15 - Liza Minnelli - Long Ago And Far Away/I Have Dreamed
16 - Joan Osborne/Luciano Pavarotti - Gesù Bambino
17 - Edoardo Bennato - Dotti, Medici E Sapienti
18 - Edoardo Bennato - Le Regazze Fanno Grandi Sogni
19 - Zucchero/Eric Clapton - Un Piccolo Aiuto
20 - Jon Secada/Luciano Pavarotti - Granada
21 - Elton John - I Guess That's Why They Call It The Blues
22 - Elton John/Luciano Pavarotti - Live Like Horses
more Music
Spotify: click here
YouTube: click here
Soundcloud: click here
Discography
Discogs: click here
Website
Artist Foundation Website: click here

sources [1]