Wrong Love, I'm Back
Good mornings friends? Congratulations on activities this morning. this morning I wanted to make my post titled wrong love, I returned.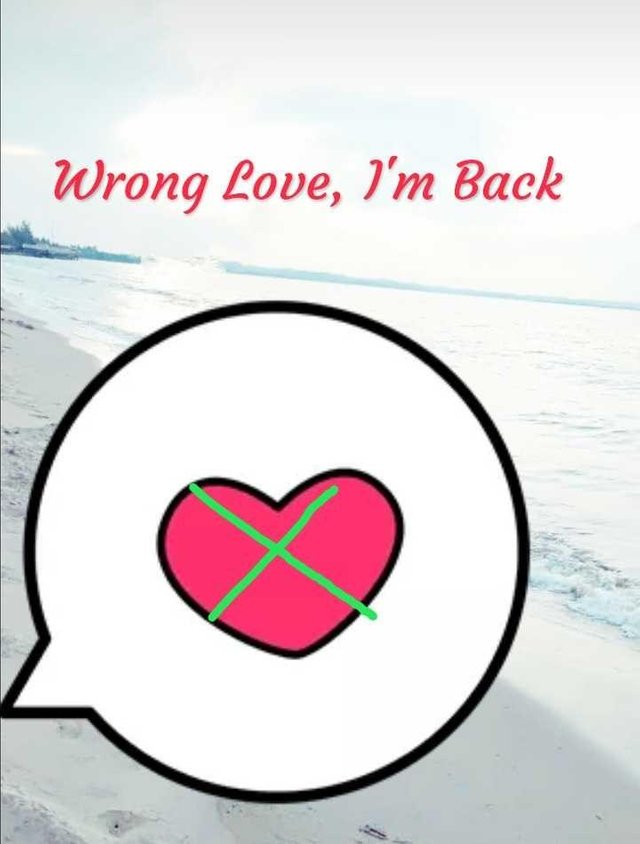 Love, he is only five letters and one word but is contained in millions of meanings. Engraved with the sense of atmosphere and the creation of many flavors. Therefore the darkness becomes light, the bitter becomes sweet, the distant becomes near, the weak becomes strong, and the dead becomes alive.
The greatness of love is able to penetrate the longing window and kill the conscious world. His charm made Zulaikha not feel pain and pain when his hand was cut by a knife when he saw Joseph's beautiful face. The struggle of love was able to break tired, so Bandung Bandawoso did not refuse the request of Roro Jonggrang's lover in the making of Prambana temple overnight.
However, behind the wise love there is destruction does not escape felt. Love is able to close the eyes of Sangkuriang's heart towards the bundle, to be crazy and force to marry her. The same thing has landed on this lara soul. Drifting in life and dissolving in evil.
Insaf, the soul trembles to whisper, this is wrong, this is wrong love, the soul must return. Back to His love and the love He has. It turns out that love is sacred and not deserved to be sullied, love is great, not deserving of humiliation, and love is grace that is patiently wrapped.
Love is truly a blessing from the owner of love, Allah SWT. His grace for love makes the soul release the wrong love relationship. Because of His mercy for this love also makes the soul beg at the end of the prostration so that the one who comes and is visited by the bearer of love based on faith, united in the contract. However, because of expecting His love to give noble love, the soul is patient in death.
Faith teaches the soul to be able to love Him. Sulaikha gave a story, when she pursued Joseph's love, God made Sulaikha away from Joseph. But when Sulaikha pursued His Love, God made it near Sulaikha with Yusuf to unite in His blessings.
In my do sometimes there is your name, in my request tucked into your life expectancy, in reaching heaven, even you can be alone with you. You, you crooked ribs. Created to be addressed weakly and softly, because it is left to be increasingly bent, but when it is worn it will break.
"How many souls see immorality in the name of love. Accompanying in His prohibition but intending to expect His blessing. It is love that is wrong, then immediately return".
Only this is what I can say, hopefully useful.