Digital Lottery. What Loteo offers us. Moon of Fortun as a substitute for Dice !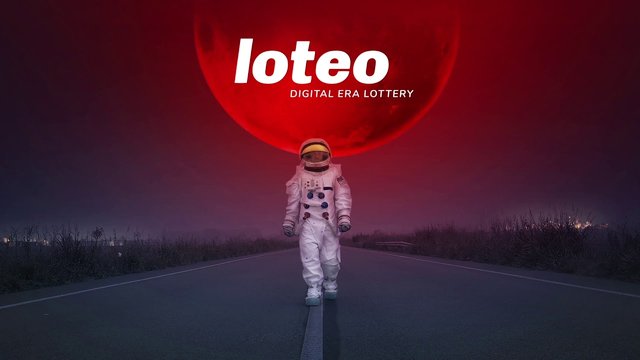 Greetings, dear friends. Today I have nothing new for you. As you know, I keep a close eye on projects based on blockchain technology, behind centralized projects. And today I came across an interesting project. It will be about the gaming field today, namely, on a new type of lotteries that use advanced blockchain technologies. I liked it because I hadn't met such people before. The fact is that this is an entertainment platform. Where you can earn a little money. It is also completely open and you can study all the statistics. Because the project is built on the Ethereum blockchain. I think many of us tested Dice on the Steemit platform. And everyone likes to use cryptocurrency as a means to play. The platform we'll talk about today is called LOTEO. A platform that offers us a whole range of gambling. Let's take a closer look at this platform and how it will interest us.
The official video of the Loteo project
Today the platform offers us 3 games. This is the weekly lottery, daily lottery and the Wheel of Fortune (moon of Fortune). The team is also developing many more games that have not yet been released on this platform. Tickets for the weekly lottery can be bought using the ETH and BTC cryptocurrencies. Let's look at the features of this platform, we will see how to play it.
Weekly Loteo Lottery
To participate, you must register on this platform. Where you will have a personal wallet where you can transfer money to buy tickets. The team will offer us to buy one ticket. Buy an annual subscription. Or buy the number of tickets that you need. This is a very convenient tool that simplifies the work with this platform. So you bought a ticket at the price of 10 euros. You need to register it once in the draw. After which, after the end of the week, thanks to the Ethereum Smart Contract, the winner will be selected. Unlike classic lotteries. Here the winner will be every week. To specifically, the algorithm draws among all cryptocurrency wallets and selects the winner. You get a reward directly to your wallet in the amount of 75% of the draw. The jackpot can be any, it all depends on the number of participants.
Chance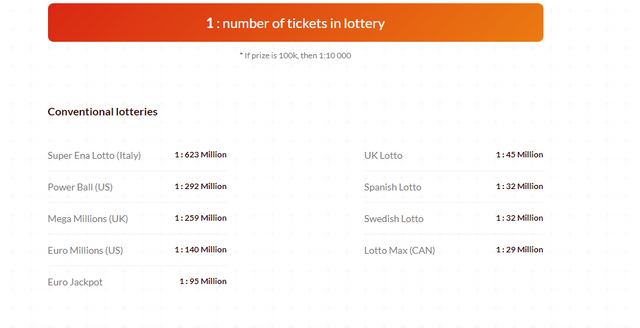 Prize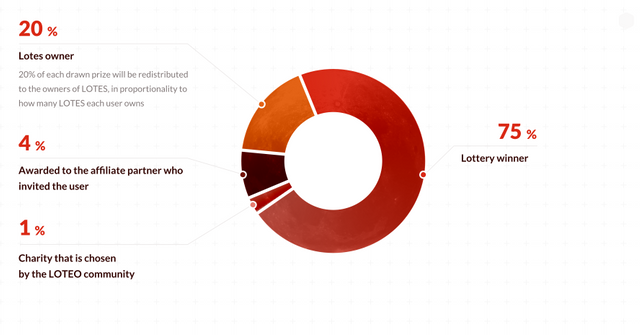 Since these are new technologies. Developers ask players in the weekly lottery. Use tickets in advance.
It is recommended to use the ticket at least 30 min. before lottery drawing happens, otherwise we are not able to guarantee participation in current week round.
Moon of Fortun
In my opinion, the easiest way to use this platform. I have already looked closely. And maybe I'll try to play. This wheel offers a range of settings. For the most gambling users or for users who have small bets. To the wheel offers us to try our luck and get from x1.2 - Up to x49 depending on the complexity of the game. It reminded me of Dice. I want to try my hand at Loteo.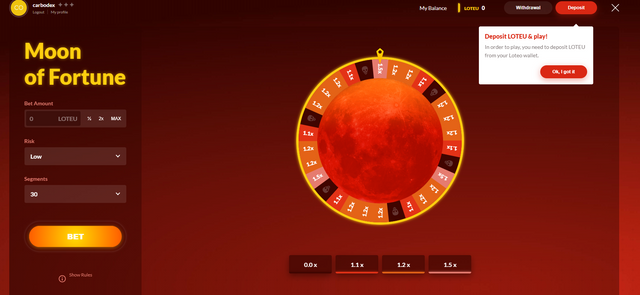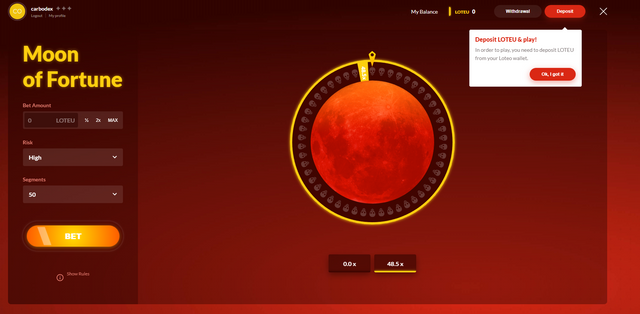 Everything is very easy to bet spin the drum. If you lose, you can choose the mode easier. Each user will be able to choose their mode.
Conclusion

Easy to use platform. Suitable for those who like the lottery and gambling. All operations on the platform can be checked. The platform is open. It also offers an excellent referral program. There is also an affiliate program. I liked the platform. Thanks for attention.
---
Website: https://playloteo.com/
Register Here: https://playloteo.com/
ANN Thread: https://bitcointalk.org/index.php?topic=5116114
Twitter: https://twitter.com/loteomission
Telegram: https://t.me/loteomission
Autor
Bitcointalk Username: anatolij.shishkin
Bitcointalk Profile: https://bitcointalk.org/index.php?action=profile;u=2280356
ETH 0xae291938EcF7887cbD6edAa42Dec3d9abC9dEa94