Inspiration for Losers.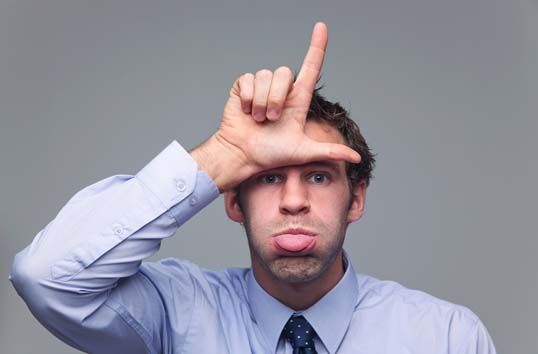 Inspiration for losers.
IF YOU FEEL LIKE YOU ARE LOSING.
THEN YOU MUST READ THIS NOW.
Many people FEEL LIKER LOSERS for this sole reason.
THEY WANT TO FIT IN BUT JUST CAN'T.
Why?
THEY ARE GENUINE LEADER/MASTERS.
THEY ARE NOT FOLLOWER/SLAVES.
What does this mean?
The SLAVE MINDSET is to blindly serve, abdicating responsibility and embracing CONFORMITY.
This person FITS IN perfectly.
They do what the education system has taught them to do.
TO BE A WORKER DRONE.
This person wants to keep everything the same.
And is valuable to the establishment.
Because they obey the rules.
That often hurt people.
By exploiting them.
FEELING LIKE A LOSER IS THE GROWING PAINS OF A PERSON WHO IS BREAKING FREE FROM CONFORMITY.
I WANT YOU TO BE A LOSER.
I WANT YOU TO LOSE CONFORMITY.
The LEADER MINDSET is to CHANGE everything.
To help the most people to experience a value.
This person CHALLENGES THE ESTABLISHMENT
and is fundamentally DISRUPTIVE, because,
they want to change something broken.
This person STANDS OUT perfectly.
And is a threat to the establishment.
Because they disobey the rules.
That often hurt people.
By empowering people,
To come into value.
On their own.
FEELING LIKE A WINNER IS THE METAMORPHOSIS OF THE LOSER TO UNDERSTANDING AND THEN EMBRACING THEIR TRUE IDENTITY AS A DISRUPTIVE INNOVATOR.
However, DISRUPTION is not the key driver to winning.
COLLABORATIVE INNOVATION, learning to work and play well with others, to show them WHY and then HOW TO CHANGE, will make that person a world leader.
So if you are a loser.
YOU ARE MY BEST FRIEND.
Because I see a future leader walking.
I'm going to be right beside you cheering.
AS YOU CHANGE THE WORLD
BY CHANGING YOURSELF
TO BE THE REAL YOU.
Love you.
Glyn
NOW TAG IN SOMEONE TO THIS POST - LIKE I HAVE - AND SAY SOMETHING TO ENCOURAGE THEM!