London Steem Meetup | High St Kensington | Friday 21st June, 4-10pm
Finally setting up the June Meetup!!
I posted a week ago, asking the regulars which day they preferred to have the June Meetup, 21st or 28th, and most said 21st. So there we have it!
Our next informal London Steem Meetup is:
Date: Friday 21st June 2019
Time: 4-10pm (Very Casual. Come and go as you please)
Location: Canteen at Whole Foods Market
63-97 Kensington High St, Kensington, London W8 5SE
Venue caters for all dietary needs
Nearest underground station: High Street Kensington (1 min walk away)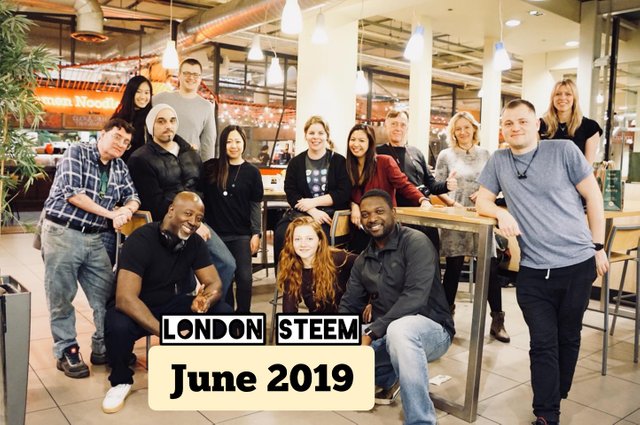 Some of the regular London Steem peeps:
@adetorrent @colossus39 @dougalporteous @ezzy @immarojas @nanzo-scoop @rea @rod.crisafulli @steevc @susanlo @teodora @toolanm @ultravioletmag
Tagging for interest:
@allasyummyfood, @andabout, @atomcollector, @blackrussian, @bleepcoin, @breadcentric, @buttpacker, @charitycurator, @cryptogee, @davewuk, @donatello, @donnadavisart, @earthkind, @eternalsuccess, @gillianpearce, @hockney, @hopehuggs, @ingaaa, @jameshsmitharts, @justyy, @kabir88, @lloyddavis, @lolzwithlisa, @maneco64, @marczanto, @markangeltrueman, @molometer, @mrprofessor, @nakedverse, @nickyhavey, @nonzerosum, @pjau, @robintherunner, @scalextrix, @sergiomendes, @shazza, @simonjay, @slayerkm, @stav, @steevc, @stimp1024, @termitemusic, @travelling-two, @winkandwoo, @yasminep, @zoltarian, @zool237, @revisesociology
---
If you're new on Steem or to the London community, or new to Crypto and want to come and learn more, come and join us!
We are a fun bunch (most of us :P), I can't guarantee you'll have an amazing time, but I'm sure we can make you laugh (or cry) at least once.
Comment and let me know!
Or feel free to message me privately on
Twitter
Instagram
Telegram (@redrica)
Discord (RedRica#0895)
Hope to see you next week!
Much Love from Red