Welcome to the part of my blog. I thought long time what to make this blog post about so after some thinking I decided to make this about some of my favourite photos that I've taken over the years. I found myself often gazing at photos that were simply amazing and most of the time you will only see the photo and wonder how on earth the photo was taken from a technical perspective. More so I often was wondering what the story behind the photo is. Some photos won't let you go and you find yourself staring at them and wonder what the moment was when the photos were captured.
As I didn't find an answer to this question yet I decided to start a section for that in my new blog here on marianandchristian.com to give you more an insight of how I taken the shot and what happened behind the scenes. The start to the series will be this aircraft here that I shot near LHR (London Heathrow airport)
This shot was, thank God, a sharp shot. I say that because even a seasoned photographer like me makes the mistake of setting the wrong settings that render some photos into a blur, quite literally, more about that later.
First off let me rewind a little bit and tell you how I got into this position to shoot this plane this close. If you know Heathrow you know that the airport is quite big and literally in between commercial and residential property. This in itself imposes a few problems. First and foremost, Heathrow doesn't feature an observation deck which for me is a major bummer. Some plane spotters know a few locations such as on the Thistle hotel. However, I wanted something easier and more guaranteed. Some people ask kindly and are granted to spot aircraft, but it's not a given. Plus I only had 3 hours during which I could spot some aircraft, so I wanted to make the most of it.
My journey started from a small town called Marlow near Maidenhead, my current home town. I made myself on the way equipped with my MiFi device (in this case a Z10 solely used as mobile hotspot), a 6 inch Android phone and my iPad 4th gen. I roughly new where to go to spot some aircraft, starting or landing. I remembered that my wife and I once came from Hounslow and went to a Tesco Extra (this one here). I made my way off the M4 and drove around the airport, namely Faggs Rd, Great South-West Rd, Southern Perimeter Rd, Stanwell Moor Rd, Colnbrook By-Pass, The Parkway) Visualised here: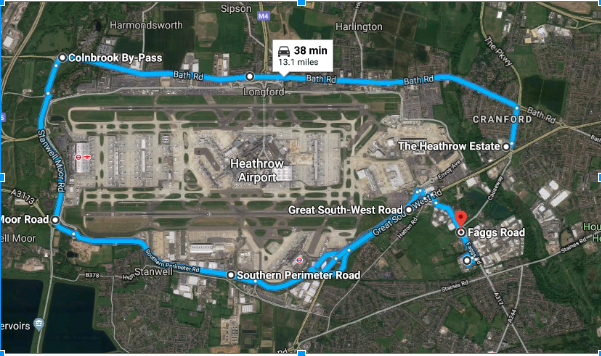 Once I made it to the airport the most difficult task was awaiting me. As you can see from the image there are plenty of opportunities to get a glimpse of the airport and planes, but it is next to impossible to park the car anywhere near the perimeter to take, what would be, extremely nice shots of aircraft taking off or landing. So the choice was to start out with the Tesco Extra linked above to take some shots of aircraft. Last time we went there planes were landing on 27L, and this day it was not different. However, the view was very limited and I knew that taking a good shot here would be 2% only. After some footwork and scouting I decided to drive to the nearby industrial park, which you can see in the screenshot too.
This looked much more promising and I for the first time knew that I would find a good spot to spot. After driving slowly gauging the situation I ended up in Spur Rd opposite Royale International Courier Ltd. Since it was quite late in the day, around 18:30 I stopped and got ready to take a few photos of aircraft. For all of you who do not know what I am using I use a D3100 with a 18-55mm, 55-300mm, and a 35mm lens. All lenses are working exceptionally well and I decided to go with the 55-300mm lens to get some far and close-up shots. The camera settings were 1/100 with ISO 400 and an aperture of around F5.6. And here is my mistake that I mentioned earlier on. Shooting fast moving objects with 1/100 means that your panning action must be spot on or otherwise your shots end up blurry as the shutter does not work fast enough to capture the speed of the object. Unfortunately I should find my mistake out way back later when importing my files into Lightroom..
So this shot was perfect from that perspective. The sky did not give away too much details, but I love how the aircraft, having Qatar livery sort of blends in with the sky. What makes it even more beautiful is the fact that this is an Airbus A350, one of the sexiest planes in the sky today. I managed to snap a few other planes that were in focus before I had to return to Maidenhead, I wanted to leave a bit early as I was a bit worried about traffic. This was, in some respect my second mistake. What I did not tell you is that the first aircraft were all small aircraft, such as A320, A321 and the 767. The A350 was the highlight of the shoot. I however was desperately was ready to snap some heavies, those are aircraft such as the A340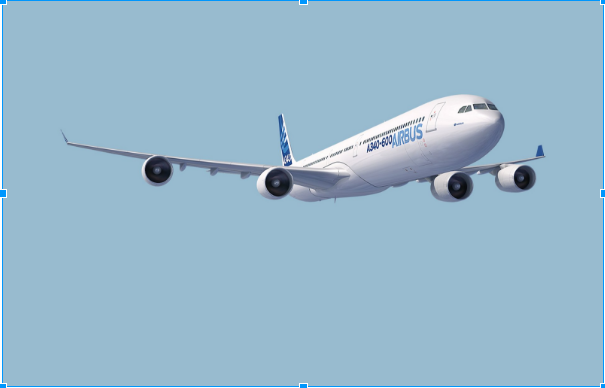 Especially I wanted to see the Virgin Atlantic A340-600 up and close. Since I did not see any more heavies, it was rather disappointing, I left and stopped on Central Way to enter the destination into Google Maps. My camera setup was laying beside me. As I was entering my destination I heard a loud sound of engines and I could not believe my eyes. A Virgin Atlantic A340-600 was passing by me. This is what I call tough look. After this I jokingly said to myself what would be worse is to see an A380 pass by me now. Guess what, not even 2 minutes later an Emirates A380-800 passed me also!
So here is some lessions for you. When you go out to snap some photos and to planespot, overstay and use all minutes you have for taking some shots. You never know what comes around the next minute. Unless of course you check the arrival board. Lession 3, that is.
I hope you enjoyed my first behind the photo post. More to come in the future.
Chris