Serve Ecosystem | A Faster Logistics Platform on the Blockchain

The e-commerce business is growing rapidly and with this development comes the challenges of last leg delivery of goods and services purchased to buyers' homes, businesses or defined addresses. Most customers are not at home to take delivery of items purchased which is a problem for both the logistics delivery providers, the enterprise and their customers. With this, logistics services end up with plenty of undelivered packages. Their customers are not happy because items are not delivered on time. Hence, all the stakeholders are stressed in making alternative arrangement on how to make delivery of uncollected packages. This result in a waste of time and resources. Moreso, unattended deliveries are exposed to weather and theft if left on the customer's front door or porches.
Currently, there are online logistics service platforms that provide more efficient and effective last-mile logistics services that suit the need of the buyers, sellers and the supply companies. One of such logistics business is the Serve platform. The Serve Ecosystem is out to provide a decentralized supply chain management services with a cost reduction and efficiency services applied in the transportation of goods to its final destination.
The Serve Ecosytem
Serve is a next-generation supply chain management service that has provided a last-mile logistics platform. The Serve platform is out to provide logistics services better than we have now. The Serve logistics service platform is built on the decentralized blockchain protocol. It aims to provide an excellent customer service experience that will make transportation to final destination hustle free for all parties involved.
The platform is created for a global last mile activity that has harnessed the Serve cryptocurrencies economy to logistics services. The platform intends to give its customers the best experience that they will ever get in the logistics and supply chain service industry. The Serve logistic service provides last mile logistics that will go beyond the expectation of its users'. Service like on-demand delivery, same day delivery and much more will be offered seamlessly.
The Serve platform is an open source platform such that its source code is made available for use or modification by its users or other developers so as to create features that will fit the business market needs.
The Problems of Last Mile Delivery
Users before now use to wait for days before their purchases arrive at their destination and with it comes the frustration of no one at home to receive orders, untimely delivery, missing or damaged items.
Urban commuting is another problem of last mile delivery that contributes to the delay in delivering goods and service, especially where wrong and incorrect addresses are used at the point of making purchases.
The logistics delivery providers are often underpaid and undervalued thereby causing delays in delivery due to the driver's nonchalant attitude or attending to businesses that will pay more.
There are high fees paid by the users which are up to 40% and also high entry cost for small businesses that have to compete against big and already established businesses which results in a limited area of services.
What the Serve Ecosystem Offers
Distribution networks have their own challenges and the Serve platform is out to solve these challenges in supply chain management. The Serve project has revolutionized the supply chain industry with its innovative platform that ensures quick and efficient service delivery. Thereby reducing the cost for the users and transaction fees at 0.00, giving up to 100% service price to the businesses and the delivery drivers.
The platform is an open source platform that is maintained by a community of developers which ensures cost reduction and creates value for all the stakeholders.
The Serve platform empowers its users with its cryptocurrency and also exposing them to the cryptocurrency economy and its usage. Stakeholders will be deriving benefits such as transparency, immutability, security, efficiency and trustless services. It is a win-win situation for all parties involved in the transaction process as the Serve platform was created for that.
The platform has eliminated the need of a third party broker. All parties transact directly with one another thereby creating trust and mitigating fraud to an extent. The platform has inbuilt dispute resolution smart contracts that are just and fair to all parties. This smart contract is being used to settle logistics dispute amicably.
The Serve platform allows its users to order for goods and services and receive such, within no time or at the time the patron stipulates globally.
Logistics delivery drivers are well compensated for their effort as they are seen as a significant member of the project. Their roles as last leg delivery vendors are really crucial to the success of the logistics business. Their efforts can make customers happy and bring more business by recommending their services to friends, customers, and colleagues or make customers angry and lost their patronage and others that will come in contact with them.
Most importantly, efficiency and timely delivery are achieved on the Serve platform. Excess fees are eliminated with the Serve transaction cost with the user paying less compared to competitors.
Transaction with competitors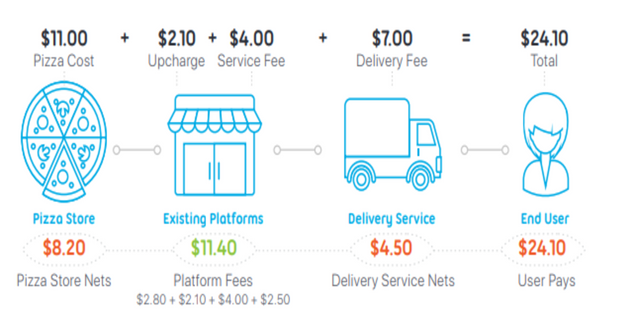 Transaction with the Serve ecosystem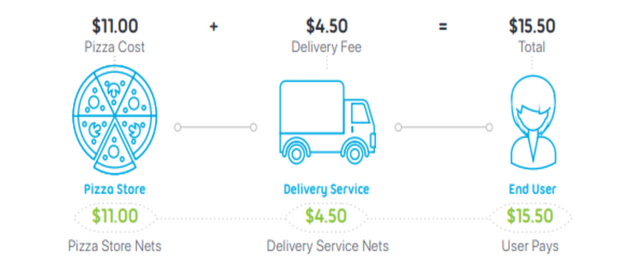 How it works
The Serve platform utilizes the serve token which is an ERC20 cryptocurrency. All stakeholders who are the user, enterprise and delivery providers make use of the token by staking the Serve token. The user makes purchases using the Serve token while the provider and enterprise stake the Serve token for every transaction thereby promoting efficiency and high-quality service. The stake tokens are returned to the enterprise and delivery provider after every prosperous transaction.
On the Serve platform, the users, enterprise, and delivery providers have direct access to each other thereby eliminating middlemen and cost associated with them. The platform has a trustless escrow smart contracts that hold transaction and Serve tokens until transactions are successfully completed.
Conclusion
The Serve platform is built to accept fiat currency and convert it to the Serve tokens for purchases of goods and services through trusted escrow. Users are incentivized with rewards for participating in community activities, visiting locations, content writing, and reviews. The project is backed by hardworking team members that are working tirelessly to see that the Serve project is successful and is proceeding according to the roadmap.
For more detailed information visit listed links
Website : https://serve.io/
Whitepaper: https://serve.io/whitepaper/html
Facebook: https://www.facebook.com/ServeToken/
Twitter: https://twitter.com/servetoken
Telegram: https://t.me/servetoken
Author's Authentication : https://bitcointalk.org/index.php?action=profile;u=1163494
Bounty0x username: Munareal
LTC to BTC Exchange: https://www.switchain.com/best-rate/LTC-BTC