Making the most of the Up Vote Bid Bot
Everyone wants to know how to make the best return on their investment, especially on the Steemit platform.
Following and supporting new bots can be a great way to buy up votes and get a fantastic return on the investment.
Let me show you what returns you could potentially get from @greengrowth at the moment.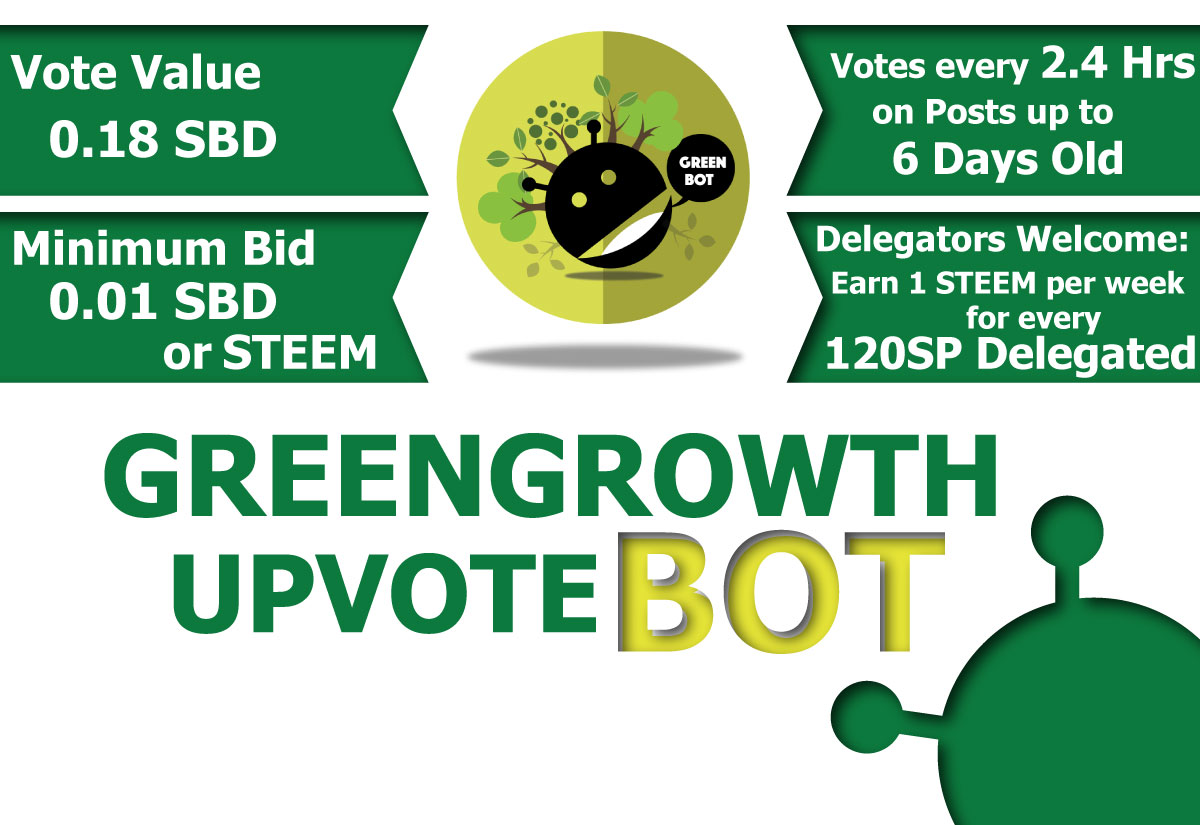 | Number of 0.01 Bids | Up Vote Value |
| --- | --- |
| 1 | 0.18 |
| 2 | 0.09 |
| 3 | 0.06 |
| 4 | 0.045 |
| 5 | 0.036 |
| 6 | 0.03 |
If you look back through the history in my wallet, you will see that many users have been getting 100% or 50% upvotes. That is because this is still a new bot, we don't have an enormous amount of users, yet!
When is the best time to vote?
Well, the best thing to do is to look at my wallet and check the recent transactions. You can get an idea of who is bidding.
You can also check out my api data to see what votes have been placed in the current round and in the last round. This data can be a bit harder to understand, but it still entirely possible. You can get it by clicking [here].

As you can see this data isn't so easy to read yet. But you only need to see the 'current_round' section and see how many bids there are and what value. Remember at the current STEEM price you can get a 0.18 maximum upvote from @greengrowth.
How do I send a bid
Simple:
1 - copy the URL of the post you want the bot to vote on.
2 - Go to your wallet
3 - Transfer 0.01 or higher to @greengrowth.
4 - Paste the URL into the memo field of the transfer window.
5 - Press send.
Bidding rounds are every 2.4 hours. This allows my vote to recharge to 100% in between bids. Check your post after a while and you will see the up vote on your post.
You can share this with friends and encourage other people to use the bot. As we get more users we will power up. Remember the monies from this bot go towards helping the sustainable communities on Steemit.