I was kind of compelled
to read this book that I found out about in an unbelievably random and bizarre way that almost got me to think there was a divine reason for me to read it.
Here is how it went:
One day, years ago, or at least it feels like years ago, I posted "And then it's all gone" on Facebook, referring to Linking Park's song "Hit the floor" (a song that used to give me some comfort and absorb my anger towards my job and my bosses). Someone commented "Gone with the wind". I knew it was a title of something, back then I thought it was a song. But then the name kept coming back to my mind every time I listened to that song, which was one of my favorites. I don't remember well but I must have googled it, so I thought it was a movie. Finally, a month ago, I read another reference to "gone with the wind" in a book. I believe it was in "The Great Gatsby" and it was referred to as a book. That left me no other choice but to read it right after "The Great Gatsby" and now it's one of my few favorite books.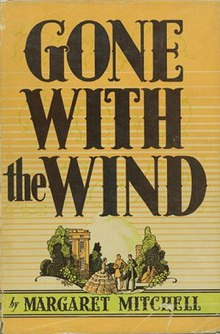 Source
I learned so much
about so many things related to the history of the United States and about human relations and internal and external struggles:
About the early days of the US and the struggle between the north and the south. The early days of the Republican and the Democrat Parties. The relationship between white and black people before and after the fall of the Confederacy. Love, honor, betrayal, loyalty, losing what you have for not appreciating it until it's too late. Wanting eagerly what you can't have until you finally understand it and realize you don't really want it. Who's more racist, the republicans or the democrats and the difference between what they are and what they claim to be (according to the writer) and much more...
Now I (kind of) understand
why my American friend, who happens to be from Alabama, was kind of defending Trump last time we met. And maybe I can better understand why would someone ever vote for Trump. It wasn't at all about his character or his potentials but it goes deeper back in history and into their own identities.
I think, thanks to this book, I have much more to talk about with my American friends who live here in Tunisia and I think I've gained some better understanding of that young country that has accomplished so much in so little time.
My favorite part(s):
I have so many favorite parts of this book that I can't decide which one to write here, but I'll randomly choose one that almost doesn't spoil the story at all:
all looking to her for strength, for guidance, all reading in her straight back courage she did not possess and strength which had long since failed.