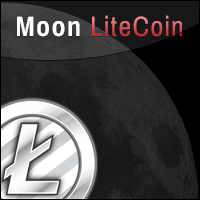 In this post, I'm going over the using one the faucets I enjoy, the Moon Litecoin faucet.
For those of you not familiar with not with faucets, they are web sites that have evolved from giving away token amounts of crypto to people as a means of spreading usage and now they've evolved to be ad-filled revenue sites that earn money for the owners by getting clicks, and to get clicks, you guessed it, they pay out token amounts of cryptos. One thing I like about the Coinpot Moon faucets is the continually accumulating payout; you can claim every 5 minutes, every 5 hours, or every 5 days (and there's reasons not to that I explain in the video,) but you get a continual payout, which is nice.
Currently, between the faucet and using browser-based javascript mining on a laptop with a newer generation i5 processor, I'm getting about $10 a month in free litecoin. People might say it's not a lot, but for a couple minutes a day, I'm not going to turn down $120 in free litecoin every year.
If you are interesting in using this faucet, here is a link
Enjoy, everyone.
---
---
Disclaimer: This is not financial advice, merely my own opinions and views. Before making any investment decisions involving money, always do your research and use your discernment before you commit. Any decision you make is on your shoulders.
Be well, everyone.
Looking to start purchasing cryptos? Open an account at Coinbase, and you'll receive $10 in free bitcoin by signing up with this link:
https://goo.gl/4P5p7C
Get started with crypto mining using Minergate: https://t.co/kv78msItjZ
Need a good, basic crypto wallet? Download the Exodus wallet https://goo.gl/Em9akY
Follow Tiny Crypto Blog on:
Twitter @tinycryptoblog
Wordpress - tinycryptoblog.wordpress.com
Facebook: www.facebook.com/tinycryptoblog
Donations graciously accepted
Digibyte - D7h48VbmsH9EBCA4TJrTBbU9FvagK29Vvs
Vertcoin -VsLNy2atarqw9375GSSm9f3q4jSMXkDyLQ
Earn free cryptos via faucets (yes, I like crytpo faucets! )
Moon bitcoin faucet: earn and mine free Bitcoin. https://goo.gl/vPg3FK
Moon litecoin faucet: earn and mine free Litecoin. https://goo.gl/imBwXs
Moon dogecoin faucet: earn and mine free Dogecoin. https://goo.gl/7owQBd
Moon Dash Faucet: earn and mind free Dash. https://goo.gl/1weMZN
Bonus Bitcoin: earn between 50-150 bitcoin satoshis every 15 minutes. https://goo.gl/VNMrDk