Technical Analysis: Coins Jump as Litecoin Leads the Way Again
The short-term triangle pattern that developed in Bitcoin and in most of the segment, resolved today as expected, and it did so in a bullish manner, with the majority of the majors gaining close to double digits during the session.
The consolidation phase, which saw a meaningful decline in volatility and the further breakdown of the correlations between the coins, could be the base for another leg higher following the huge decline that started in December.
Having said that, while we advise long-term investors to hold on to their positions, and even add to them on the short-term dips, traders should be aware that the dominant trend is still downward sloping, and volatile swings are still likely, which could hurt leveraged players badly.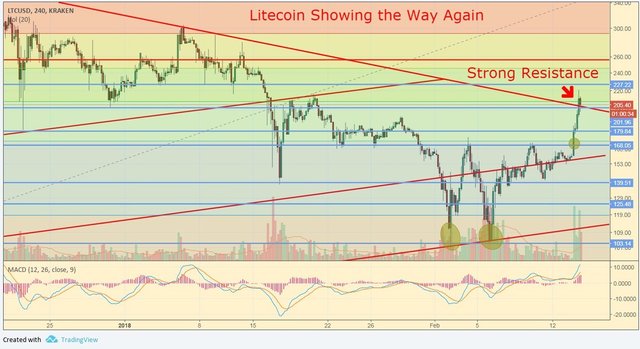 LTC/USD, 4-Hour Chart Analysis
Litecoin pushed forward before the rest of the market, adding more than 30% in a day and topping the key $200 level, marking a 100% day off the crash lows. The coin faces strong resistance near the current levels, but it remains in a positive technical position from a long-term perspective after gathering strength below the $170-$180 zone where primary support is found now.