How I Bought Litecoin at Yesterday's Low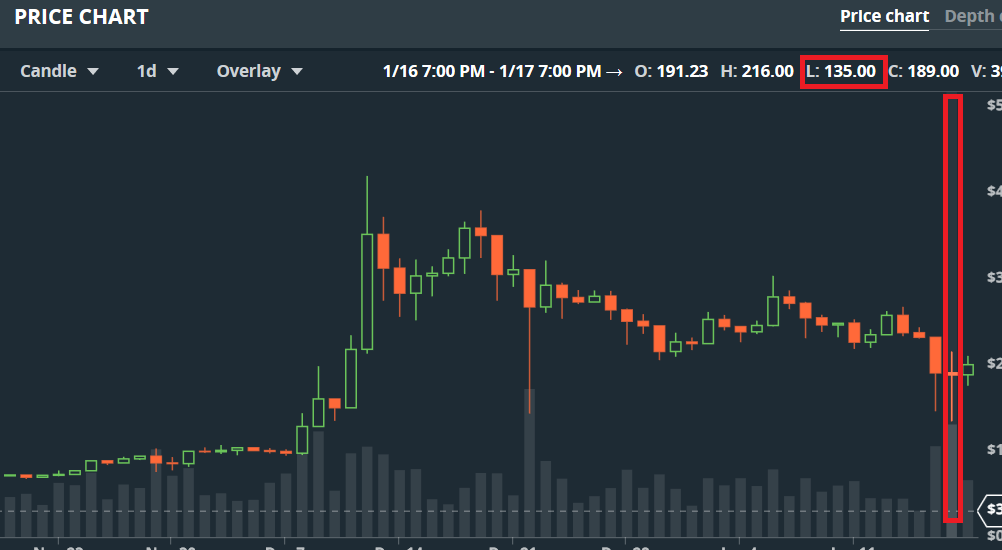 I was buying during the panic selling on both Tuesday and Wednesday of this week. On Tuesday, which is shown in the red candlestick above that precedes the box in the red rectangle, I bought Bitcoin and Ethereum, and, yesterday, on Wednesday, which candlestick is in the red rectangle, I bought Bitcoin, Ethereum, and Litecoin.
Today I was both surprised and happy to see that I got the bottom tick on Litecoin (bought at the low) on GDAX (see images above). I used to trade more actively and still trade somewhat actively, so I know this is a very rare and fun occurrence, mostly due to luck, but somewhat due to limit orders and the depth and sentiment of the market you're in.
In this post I'd like to explain how I bought this low, and why I was buying during this panic-selling downturn in the first place.
First, my general view of the crypto market is that the bull market will remain intact until we are much closer to and at the beginning of a US and/or global recession. I think there is still room left to run before that happens. How much room, one can never be sure, but excluding major unforeseen economic shocks, I think there is still time, and I'm monitoring economic indicators closely.
Because I'm bullish and believe this market will continue to grow for a while, it's somewhat of a no-brainer to buy the dip, or BTFD as people like to say. (The expression is quickly growing on me.)
On Tuesday, I began buying when I saw significant volume, and then I placed orders under the market below the most-recent previous low. On Wednesday, most of those orders executed, one of which was the Litecoin buy order at 135. I also bought Bitcoin under $10k.
I think we can attribute the Litecoin buy at the low to luck, and also to the fact that there was so much panic that there was a seller out there on GDAX willing to accept my low-ball offer just to be out of the darn market already. So it goes in panics. I've been on both sides of this in the past so I get it. The emotions can be crazy, and certainly we see a very high level of emotions in the crypto markets.
More importantly, I'd like to explain more about why I was buying.
In addition to the fact that I'm medium-term bullish on the crypto space (I see it as a speculative rise with room to run), I saw a large amount of panic in the past couple of days.
The panic was clear on YouTube, and could be seen in the large number of live and pre-recorded videos about the dropping prices. People were jumping out of positions because they thought this was the end. Others were encouraging speculators to stay calm, pointing to the fact that such large drops are not uncommon in crypto. But everyone was nervous. I felt it too, that's for sure.
In addition to this, during the worst of yesterday's downturn, two of my friends were texting me, telling me that they were dumping their positions, that they had had enough, and that crypto was dead. I did ask them if they didn't want to buy on the dip instead, but they needed to get out.
What I saw happening was a high volume sell-off, and the sellers here were panicked and wanting to be relieved of the stress of being in this market. As these weak hands fold, they remove selling pressure from the market, and are replaced by whom? By other speculators who see value at these levels and who, presumably, are more likely to hang on for a while.
I continue to be fascinated by the markets and the human psychology that plays out within them. It's so interesting that when prices are falling, it feels like they will fall forever, and when prices are skyrocketing, it feels like they will rise forever.
While we all said when Bitcoin was between $15-20k how great it would be to able to buy it at $10k, or, if you're into Ripple, I heard people saying they'd load the truck at under $1, it's much harder in practice.
I look forward to future action. It is certainly far from a mundane market!
You can find more of my posts at http://mooseworth.com. Thanks for reading and take care!
Disclaimer: All data and information provided in this post is for informational purposes only. It should not be considered legal or financial advice. You should consult with an attorney, financial advisor, or other professional to determine what may be best for your individual needs. I am not an investment advisor and I do not provide investment advice.