Hello Everyone!
As promised, here is the first video in our course, "The Cryptocurrency Value Investing Program."
I will be posting one video each Wednesday and answering questions in the comments below for those of you who have some. I would love to start some dialogue on this topic, so please share and resteem if you enjoyed this post.
In this video I will break down what cryptocurrencies are. This is a basic understanding of what cryptocurrencies (Digital Assets) are and how the function. We will cover them in more depth in module 2.
Here is a layout of Module 1, so you know what is to come in the weeks ahead!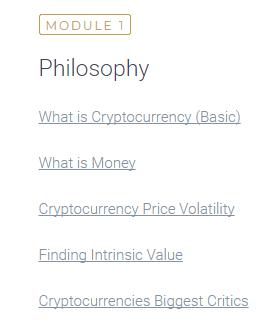 If you have any questions at all please feel free to comment below
Enjoy my fellow Steemians!