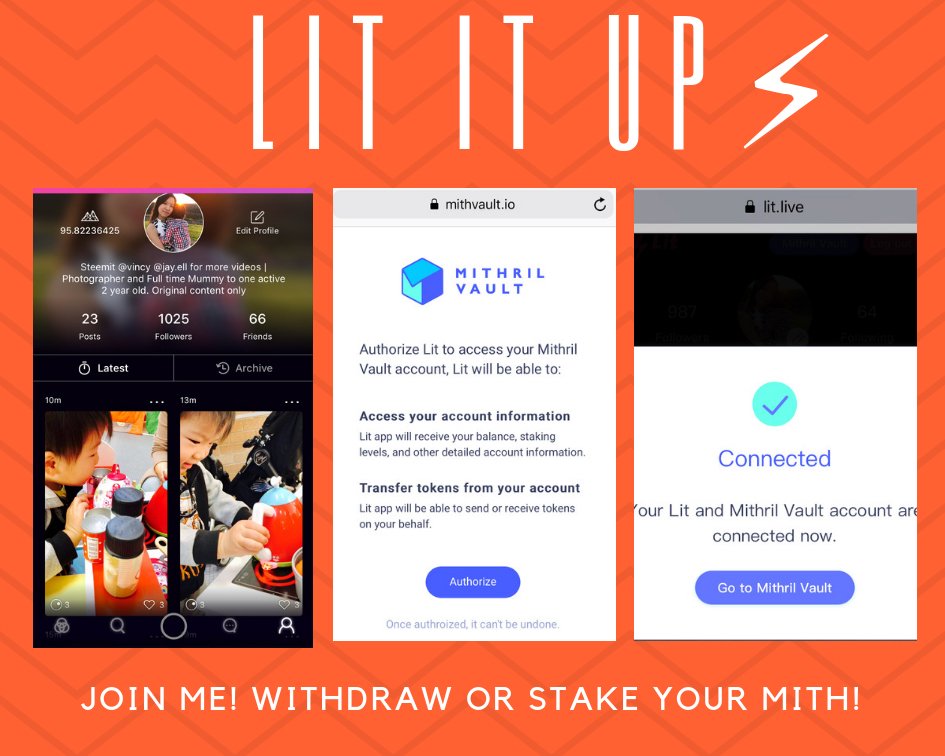 Hey Steemians!
I'm not sure if many of you know about the social mining app called Lit ⚡️ but I recently went back after a short hiatus due to their laggy and crashing service and they've not only improved heaps but the MITH VAULT IS OUT!!
I didn't realise it but maybe that's why it was so laggy cos they were ironing out the new vault and connection.
What I also don't know is how I ended up on the feature/front page for the last week or so and have actually gained followers even faster than steemit!!
I am at the point where I have almost enough to stake on the vault! (100Mith)
Staking means you invest in the platform to earn more like how you power up in steem power ;)
I'm so excited that Lit Finally has a way to withdraw their coins!!
Just hope their value goes back up again haha..
It's not bad atm but it was better a few months ago!
Currently 0.3USD to 1 Mith
😬
I have to admit that whenever I'm super active on Lit I am not as active on steemit in terms of picture posts haha cos it's just so simple and easy to put up the photos 😜
So for those who want to see more of the daily happenings of my life feel free to join me in mith and earn there too!
I would love to have more friends there rather than randoms who spam photos not their own (there's a bit of that) or people who just spam in general.
What I love following are original content creators! I'm so glad there are people like @alexabsolute and some of my @steemitmama friends like @alimamasstory, @khimgoh and @happycrazycon on it!
I want more friends there please!! Hehe
Let me know you're on it by sending me a message there!
I use the same handle @vincy
You can get it for iOS or Android.
See ya there!!
Posted using Partiko iOS