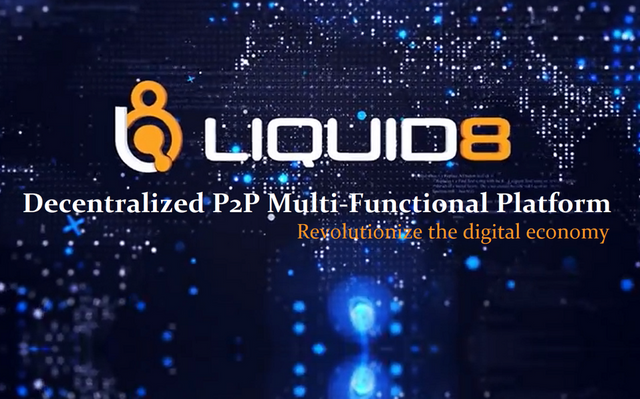 ---
Liquid8 is a community based platform that enables member exchange of assets, offer or receive loans on a peer-to-peer basis. The project aims to bridge the gap between real world assets and the digital economy though tokenization. The act of tokenization of real world assets enables the owners to trade them in the Liquid8 exchange or loan them to other users through the platform.
Liquid8 uses smart contracts to ensure that all trade-able and loan-able assets are properly controlled and accounted for without the need for intermediaries. The platform empowers owners of assets to gain access to financial services through digitization of the real world assets. The tokenization of assets creates immediate liquidity for traditional assets with low liquidity giving holders quicker access to funds. For instance it will enable startups gain access to funding by tokenization of their assets and using them as security with investors or venture capitalists.
The concept of Liquid8 is the creation of a global digital economy through tokenization.
The platform is a peer-to-peer matching system that connects users in need of definite financial services such as exchange or loaning of assets to other users that fill such needs.
LQ8.IO Introduction Video
---
Many owners of assets have traditionally had challenges securing loans due to the barrier created by geography and attendant differences in financial policies of different jurisdictions. This creates limitations in the scope and market available to such entities since they cannot access the global market due to these limitations.
Traditional exchanges even with their high liquidity have the disadvantage of over-centralizing funds and control with the attendant risk of hacks by cybercriminals. This has resulted in losses to investors unlike with decentralized exchanges in which users keep their own funds.
In the words of the co-founder and CEO of Liquid8 May Sukumpeeranont, the project was described as
"a Digital services platform will create an ecosystem with real world utility. We will not be selling dreams – we will be leveraging proven technologies that are readily available, such as Ethereum, Kyber Network, 0x Protocol, and similar technological protocols. At the same time, we will continue to focus our research on the challenges of application, to improve the platform and its underlying technologies, with the sole purpose of making life easier and better for our community. Liquid8 looks forward to becoming a gateway to unite quality start-ups, consumers and financial service providers within a secure, transparent and fair ecosystem."
May Sukumpeeranont at Bangkok Blockchain Conference explaining blockchains and Liquid8
(
My Personal Input
- Great video to watch for anyone involved in crypto. Explains money, financials, blockchains, tokenization, and how cryptocurrencies relate to internet. I highly suggest watching.)
---
Liquid8 will develop a tokenization protocol for real world assets that ascertains the existence of such assets using a proof-of-assets protocol. All assets submitted to the platform are scrutinized and validated using on-chain and off-chain protocols that confirms ownership, value and compliance thereby ensuring that the system is foolproof and safe for users.
The Liquid8, off-chain online due diligence uses data extracted by oracle or Internet of Things (IoT) devices to complete smart contracts. Its offline off-chain module used data collected from relevant agencies to ascertain proper due diligence. This can involve physical paperwork signed by necessary authorized persons before applied to asset tokenization and smart contract.
---


https://lq8.io/
---
Liquid8 [LQ8] Public ICO Starts Soon!
ICO Sales dates
Private Sale Live! Ends in 2 days - 10th August 2018
Pre sale (45days): 25th August 2018 - 8th October 2018
Public sale (30days): 9th October 2018 - 7th November 2018
Additional Investor Information
Website: https://lq8.io/
1-Page Pitch: https://lq8.io/assets/docs/one_pager_2.pdf
Whitepaper: https://lq8.io/assets/docs/whitepaper_4.pdf
BitcoinTalk [ann]: https://bitcointalk.org/index.php?topic=4507173.0
Social Media Links
Telegram: https://t.me/lq8en
Medium: https://medium.com/@liquid8.lq8
Facebook: https://www.facebook.com/Liquid8-152207538972474/
Twitter: https://twitter.com/LQ8_Liquid8
---

---
---
BitcoinTalk user: Mr.Ease
User link: https://bitcointalk.org/index.php?action=profile;u=803528
Ethereum Address: 0xfd797888c66DfEbf7bA5A6927a50F2F75Ad7175e
Follow Me for Upcoming Token Sale Information