Lion's Den Network (in a Nutshell)
Hello everyone this is Your fellow Lion & Steemian Cryptotash101 here to briefly tell you about this Epic Community called "Lion's Den"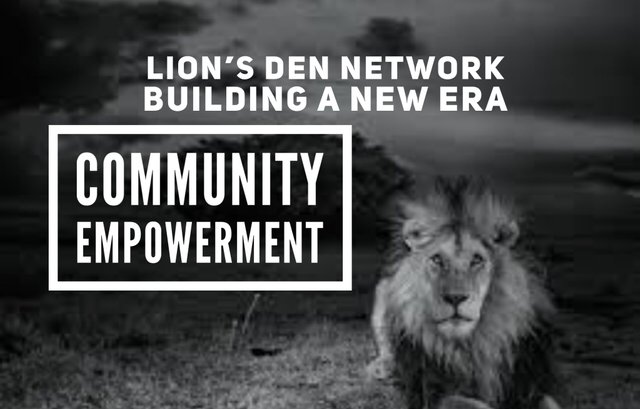 Lion's Den was Created to make transitioning into the Crypto-Space much easier and effortless . As a individual plankton or Minnow within the the ecosystem, it's tough to stay motivated to learn & earn with limited Resources . So we've created a new Outlet to form a collective effort of Community growth within the Steem Ecosystem !
(What are Lions ?)
"Lions" are the Builders & Creators of the Lion's Den Ecosystem .
Each member is responsible to do his / her part to keep this ship 🚢 afloat.
(What does Lion 🦁 Stand for? ⬇️)
(L) - LEADERS
(I) - INFLUENCING
(O) - OPPORTUNITIES
(N) - NOW
(What is the Mission ?)
The Mission is to create a platform connecting like minded Steemians through Mutual interests & Collective brainstorming. Through this process Each Lion will become apart of a collective unit , no longer an individualized source .
(What's the Plan ? )
While growing within the Steem Ecosystem together , we will launch 🚀 additional features & services to create this platform as a one stop shop for Lion's & Steemians to take part in such as (but not limited) to E-Commerce , Gaming , Trading (Multiple instruments pairing physical and digital assets for exchanging &/ or Bidding)
🌟The Overall ending product will be a Creation of a Virtual Reality World Bringing the Governance of the Ecosystem & the Free Market back to the PEOPLE
My vision is to Create an open source project that is Built and ran by the PEOPLE , while staying connected we can build and obtain anything we can imagine. Every member will take part in building a portal of freedom which we all will obtain as a Collective.

Let your voice be heard and become apart of a new era of Cryptocurrency , whether you're a Crypto Vet or the Crypto Newbie let's stay 2 steps ahead of the herd and build whatever we imagine as a collective through mutual interests &
collective brainstorming.
Check in with our Community Tour Guide to win additional Steem Monster Cards : @larrythelion
The Building of a new era Starts in the Den .
https://discord.gg/RJrvtCx
Thanks for your time I can't wait to see you there .
Follow me on Twitter : https://mobile.twitter.com/TashWhite101
-🦁:90