One of my favorite memories of 2016 was participating in the Light the World campaign with my family. This campaign is intended to "... celebrate the birth of Jesus Christ by serving others this Christmas season. As we follow His example, we can help #LightTheWorld."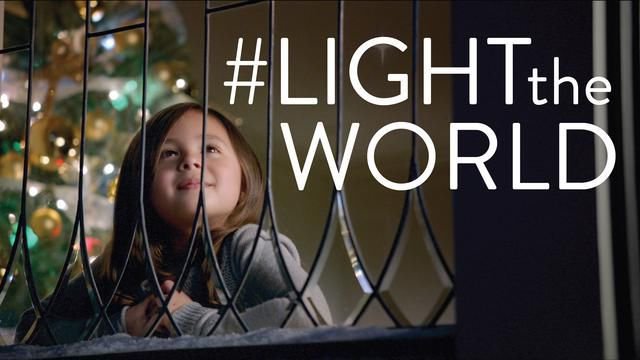 This is not my daughter... but she has the same wonder in her eyes.
That might be the official mission statement of the initiative, but as my 10 year old daughter MJ put it, our family took part in "Good Deed Days" last year. She has been looking froward to doing the same this year. Actually my whole family has... but she is the only one who has been counting down on her calendar.
That is the true beauty of Light the World. It is about doing universally Good things. It is not called "Only Christians Should Light the World". It is open to everyone with love in his or her heart regardless of the religion he or she practices... or doesn't practice. You don't have to be Christian to recognize the role modeling of Jesus. Many religions and philosophies preach the importance of treating others how you would like to be treated and helping those in need. Light the World is a chance for all people to do more than simply "talk the talk". For the first 25 days of December, let's all "walk the walk". Actually... how about we start with those 25 days and see how far we can make it?
Today's lesson is: "I was thirsty, and ye gave me drink."
The official Light the World website explains that:
"People around us are thirsting both physically and spiritually. We can help them receive the life-sustaining water that their bodies need and the living water that their spirits need."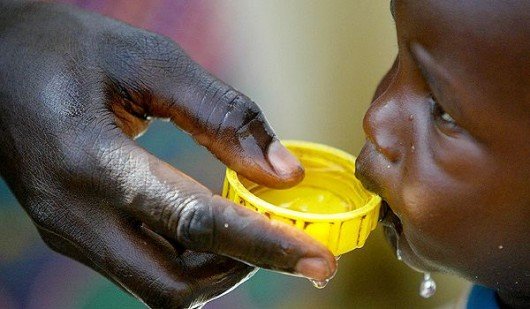 At least 783 million people do not have access to clean and safe water worldwide.
The site gave some really easy, yet meaningful, ways to help "quench others' thirst".
Consider donating to a cause that helps provide safe water to individuals or communities.
Donate a case of bottled water to your local shelter.
Help someone who is "spiritually thirsty."
To be honest, I didn't get past that first suggestion. As soon as I read it, it immediately reminded me of something I had seen back in August of 2014. That summer, I participated in my first viral social media campaign known as the ice bucket challenge. The goal of the challenge was to raise awareness and donations to fight ALS. Basically, participants filmed themselves dumping a bucket of ice water on themselves, explained why they did it and then "nominated" others to do the same. The campaign raised over $20 million... and countless spirits. Many celebrities got into the act. My favorite was from Matt Damon.
Damon not only used the opportunity to help raise money for ALS, he also shined a light on a global crisis that many were unaware of.
Damon has done much more than simply pour toilet water on himself (ummm I hope that wouldn't be his greatest accomplishment). He is one of the founders of water.org, an organization that aims to "empower families with access to safe water and sanitation through affordable financing."
Do you have 70 seconds to learn more about the water crisis?
I had always intended to follow up and donate to the campaign... and then I forgot. But Light the World has reminded me. More importantly, it has reminded my children... and there is no way they will let me forget again.
Therefore, today's good deed will be for my family to donate to water.org. My kids are going to do some extra chores around the house in order to earn their portion of the donation.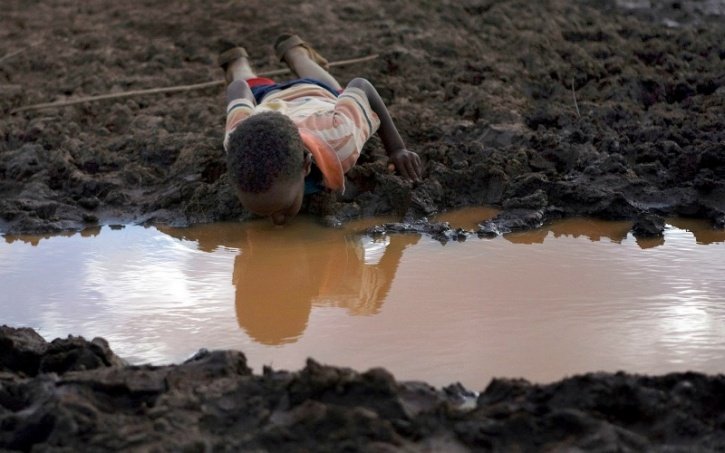 Nearly 1 out of every 5 deaths under the age of 5 worldwide is due to a water-related disease.
Here are some facts and statistics about the water crisis from another charity called The Water Project:
783 million people do not have access to clean and safe water worldwide.

319 million people in Sub-Saharan Africa are without access to improved reliable drinking water sources

1 in 9 people world wide do not have access to safe and clean drinking water.

443 million school days are lost each year due to water-related diseases.

In developing countries, as much as 80% of illnesses are linked to poor water and sanitation conditions.

1 in 3 people, or 2.4 billion, are without improved sanitation facilities.

Exposure to unsafe drinking water, inadequate sanitation and poor hygiene is a leading cause of cholera and a variety of infectious and tropical diseases in the African Region.

Half of the world's hospital beds are filled with people suffering from a water-related disease.

Of Sub-Saharan healthcare facilities, 42% lack an improved water source within 500m, 16% lack improved sanitation, and 36% lack soap for hand washing.

Women and girls are responsible for water collection in seven out of ten households in 45 developing countries.

Over half of the developing world's primary schools don't have access to water and sanitation facilities. Without toilets, girls often drop out at puberty.

Less than one in three people in Sub-Saharan Africa have access to a proper toilet.

Nearly 1 out of every 5 deaths under the age of 5 worldwide is due to a water-related disease.

According to the World Health Organization, for every $1 invested in water and sanitation, there is an economic return of between $3 and $34.

By investing in clean water alone, young children around the world can gain more than 413 million days of health.

The United Nations estimates that Sub-Saharan Africa alone loses 40 billion hours per year collecting water; the same as an entire year's labor in all of France.
I was thirsty, and ye gave me drink.


Image Links 1, 2, 3, 4, 5

For more information on #lighttheworld, please visit https://www.mormon.org/christmas/25-ways-25-days/day-2
@gavvet wrote about day 1. I just took care of day 2. Now we need someone from the community to inspire others on day 3. Tomorrow's theme is: "Wherefore it is lawful to do well on the sabbath days." You can find more information here.
If a post is especially creative and inspiring, @gavvet and I will reward that post with a significant up-vote. Then that person can choose the "winner" for day 6.
If you decide to participate by creating your own post for day 3, please make sure to use the #lighttheworld tag and include the day's video, theme and link, as we have done.
Although we will be on the lookout for great #lighttheworld posts every day, we will definitely need contributions on days 3, 6, 9, 12, 15, 18, 21, and 24.

My daughter MJ just asked if I would add this picture. In it, the kid is thinking "I love good water." Santa is then putting the water under the tree as gifts for people who need it. Santa has clearly been drinking a lot of water and exercising. Good for Santa!